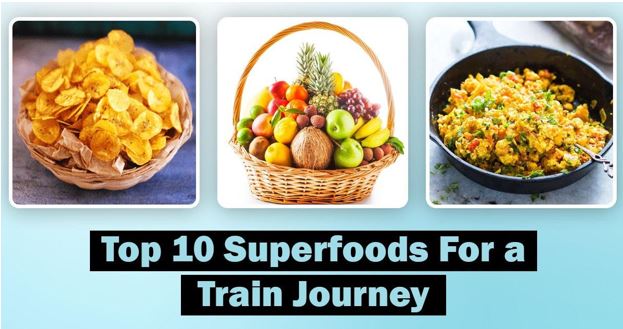 The long travel hours by train makes your mind drowsy and stomach upset. Indians have a habit of finishing off their journey by munching and chewing different foodstuff. Devouring healthy food on train seems difficult as the food stalls on stations sell uncovered and unhealthy food items. The food might look tasty but is unfit for consumption and can cause stomach disorder.
If you are planning to maintain a healthy diet while travelling via train, then it might be a little tricky as each stop has only fast food choices. You might be left with unhealthy food options. There are many 'superfoods' that are tasty and nutritious and can be carried for your train journeys. Incorporating these superfoods during travel will ensure that you'll have a healthier and happier trip.
Here are ten healthy food ideas to pack when travelling so that you and your family are eating healthy, nutritious food during your train excursion.
1. Bread Dhokla
Bread Dhokla is a spongy and yummy superfood for train journeys. This light and tasty dish is convenient to pack and a healthy option to carry for long trips. It is a steam cake made of some Rava and bread crumbs. These delicious snacks can be paired with ginger and green chillies. You and your family can have a treat of Dhokla at any time of the day. You surely will love this on a pleasant journey.
2. Yoghurt
When you're on a train ride, eating unhygienic and fatty food causes indigestion. Yoghurt is a superfood to combat an upset stomach. Yoghurt is a repository of good bacteria that supports digestion and a healthy digestive system. Yoghurt can also be combined with many foods like Biryani and Aloo Paratha.
3. Banana Chips
Banana chips are crispy and light wafers that delight your taste buds. It is easily available in the market. They are an amazing munching snack to have with you on your trip and can be easily made at home. Banana chips are sprinkled with some red chilli and salt to enhance its taste. You only need an air-tight container to store them for long days.
4. Fruits
The best foods to depend on while travelling are fresh fruits. Fruits are readily available and can be purchased from anywhere. It is not acceptable to get cut fruits from outside as the pieces are uncovered and are prone to cause several health issues due to contaminations and bacteria. Fruits are light and easy to digest. It gives you vitality which you will need for a long trip.
5. Paneer Bhurji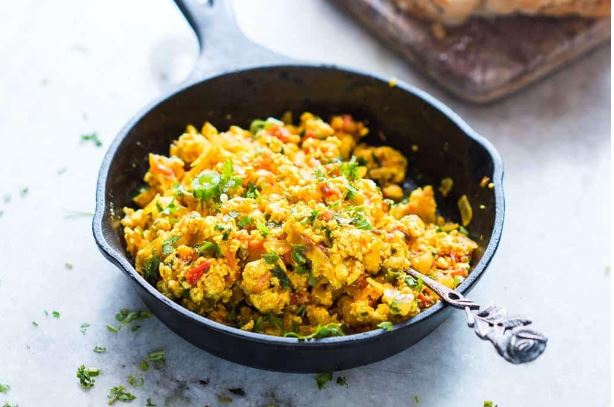 Paneer Bhurji is a popular superfood dish to take with you for your travel. It is made with cottage cheese (Paneer) blended with flavours. You could pack them with a couple of Rotis, Bread, Pav, Pooris, or Parathas. You could likewise utilize it as a stuffing for your KathiRolls, Bread Rolls, or Sandwiches. It is easy to make them before your excursion. To make it healthier, you could include a few vegetables like peas, carrots, and capsicum.
6. Wheat Flakes Nut Mix
Before heading on a trip or while on vacation, we purchase snacks from shops. You can avoid this practice by replacing it with homemade nutritive snacks. You can stock a bunch of almonds, peanuts, pistachios, nuts, and roasted Bengal gram of your choice to pack for happy trips. These can be blended with lemon juice, salt, olive oil or mustard oil, and you're all set to have a healthy snack while on your train tour!
7. Lemons
Your trip can be ruined if you get ill. This is the reason you should have lemon with you. Since lemons are plentiful of Vitamin C, they go about as an immune booster that will assist you with warding off fevers and colds. You can also prepare a refreshing drink, lemonade, with lime and sugar. Lemon water and salt can be drunk to make you energize and help your digestion. It is a beneficial superfood for the train journey.
8. Chocolates and candies
We always crave for something sweet while travelling on a train. The sweet foods that come to our mind predominantly are chocolates and candies. Chocolate is a mood-lifting superfood to have while travelling by train. So it would help if you go for low-calorie healthy chocolates.
Some chocolates in India that are good for you are Snickers, KitKat, Gems and Cadbury Dairy Milk products. Snickers contain peanuts and have low carbs. Kit Kats are the most nutritious chocolate bar due to its main component, light wafer. But these chocolates are high in fat and should be consumed in a limit.
Candies are a favourite treat on the train. You can pack sugar-free candies with you. Candies made of almond and raisins are also healthy options.
9. Indian Snacks
Indians love to consume snacks when planning for any excursions. While travelling for long distances, relying on snacks is the only choice. Desi snacks give a taste of home during the journey. Indian travel snacks can be easily packed and taken along during the trip. Thepla, Papad, Fafda, Khakhra, Namak Para, SevMurmuraand Papdi will add on a spark to your journey. These dry snacks can be stored for longer than a week and are great food while travelling in a train.
You can also order these snacks during your train journey from train food delivery providers who will deliver healthy food of your choice at your seat.
10. Cookies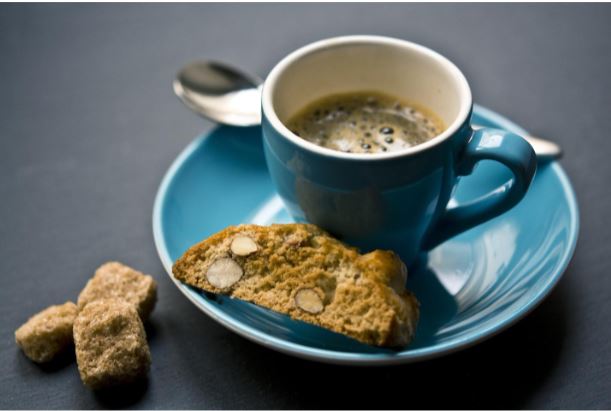 Who can ignore having crispy homemade cookies with a hot cup of tea? Everyone loves snacking delicious crispy bites of cookies on the way. The readily packed cookies are very easy to carry and are long-lasting food for train journeys. You can pack up cookies loaded with chocolate chips, nuts or dry fruits. The baked cookies are popular and healthy snack food for train journeys.
---
Interesting related article: "Best food and drinks to boost your brain power."