With so many companies making a permanent switch to remote or hybrid workforces, many businesses are looking for new ways to connect with remote employees. After all, the typical office benefits, such as catered lunches, don't really work when all your employees are staying at home. If you're looking for alternatives, promo packs and gift sets are a fantastic way to connect with remote workers, whether they are across town or the world. Here are 14 of our favorite items to include in remote work promo packs:
Noise-Canceling Headphones
Everyone on the Zoom call benefits when you use noise-canceling headphones with a good microphone, which is why they should be one of the first gifts for remote workers that you should look at if you haven't already given everyone in your company a pair. A good-quality pair of noise-canceling headphones is an investment, but it will totally pay off in terms of call quality, so give these consideration for your end-of-year holiday gift.
External Webcam
Many built-in webcams offer subpar video quality, so giving an employee an external webcam is a useful promo that they probably wouldn't splurge on for themselves. Make sure that the webcam you get them is compatible with whatever type of computer they have; not all accessories that work with Windows work with Macs and vice versa.
Lap Desk
Let your employees work truly from anywhere (including lying horizontal on the bed) with a lap desk. This is a great option if you don't have the budget to spend on standing desks or another more expensive option. Lap desks come in several different styles, including small tables that hover above your lap and ones with cushions that rest directly on your legs.
Hand Sanitizer
Many companies shifted to remote work at the start of the COVID-19 pandemic, and keeping employees healthy is still a high priority even though restrictions are easing. Show employees that you still care about their health by giving them custom hand sanitizer bottles emblazoned with the company logo.
Blue Light Glasses
All that light from computer screens isn't exactly great for our health: It can strain your eyes, disrupt sleep, and cause other problems. Wearing non-prescription blue light glasses can help take some of the strain off your eyes and make it easier to work on the computer all day, which is why they are an excellent addition to any promo pack for remote workers.
White Noise Machine
Concentrating on work is difficult when a baby is crying or a neighbor is watching TV too loudly. A white noise machine helps to drown out background noise, making it easier to focus on work despite the ambient noise. As a bonus, they will also help your employees get better sleep at night, so you should definitely consider adding them to your next remote work gift set.
Office Supplies
One of the drawbacks of working from home is potentially having to buy your own office supplies, which is why the best companies cover these costs for remote workers. Go the extra mile with customized spiral notebooks, personalized pens, and other office essentials that are branded with your company graphics.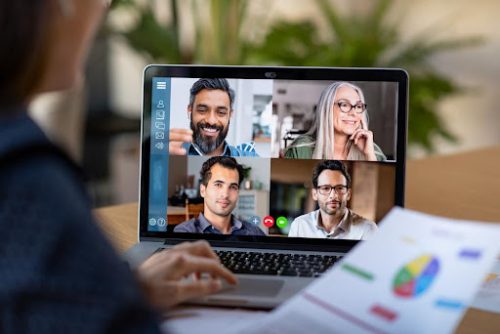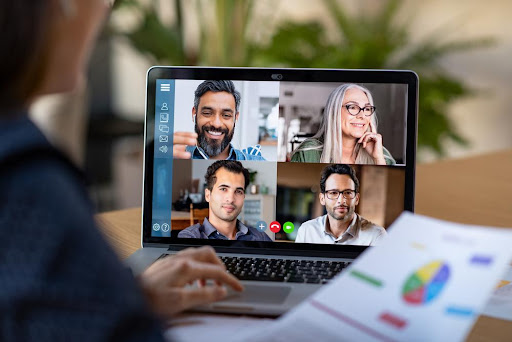 Desk and Wall Organizers
Help employees keep their files sorted with a desk and/or wall organizer. These organizers either sit on a desk or can be mounted on a wall and will turn a chaotic mountain of papers into a well-organized filing system in just minutes.
Desk Calendar
Desk calendars are a fun way to add some personality to someone's desk without taking up too much space (and still serving a practical purpose!). If you're looking for a custom office giveaway in bulk, desk calendars usually aren't too expensive, either. You can choose from lots of preset designs or customize one with your company branding.
Digital Photo Frame
In a similar vein to the noise-canceling headphones, digital photo frames are a premium gift that are sure to wow your employee recipients. These photos allow you to upload digital photos directly to the device — no printing required — and then cycle through them to display all your favorite images in a rotation, so you don't have to pick just one.
Easel Dry Erase Board
Every employee needs something handy to jot down notes during calls and meetings, and a mini dry erase board is a great alternative for cutting down on paper waste. Look for a small, easel-style board that doesn't need to be mounted on the wall so they can just prop it up on their desk and go.
Throw Blanket
One of the great benefits of working from home is being able to stay warm and dry on the couch when the weather is cold and inclement. Help your employees achieve maximum coziness with a custom throw blanket emblazoned with your company logo.
Coffee and/or Tea
Most office workers thrive on caffeine, either coffee or tea (or a combination of both). Thus, remote work promo packs geared around this idea are sure to be a home run. Giving premium coffee and tea from local vendors is an excellent idea, as are high quality mugs, coffee and tea accessories, and other related accouterments. 
Snack Subscription
Another drawback of working from home is missing out on all the great office snacks that would appear in the kitchen as if by magic. You can replicate this experience by signing up your employees for a snack subscription service that mails snacks right to their homes. Just be sure to check in about any dietary restrictions or preferences before committing to the subscription.
What's the best employee present or curated gift assortment that you have received as a remote worker? Drop your recommendations in the comments below to keep the inspiration flowing!
---
Interesting Related Article: "Remote Workers: What One Needs To Know About Workers' Compensation"