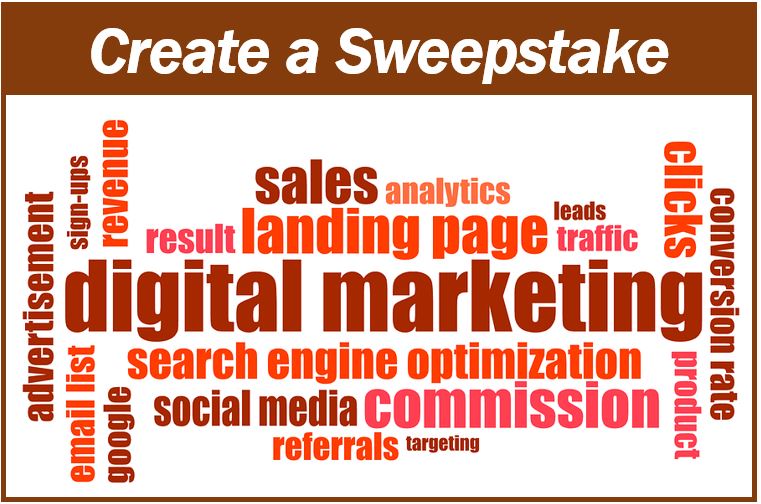 Marketing is essential to the success and longevity of a business, and a lot has changed since the days of phone books and leaflet delivery. Digital marketing allows for far more flexibility in how to reach out to your customers, as well as a much wider and more readily available potential audience to work with.
If you're starting to feel fed up with the standard business marketing techniques, even those that are online, it may be worth considering hosting a sweepstake. They present a win-win situation for everyone- while you, the business, offers competition entrants a fun opportunity to win the prize, you are naturally bringing in more business exposure without the process feeling "forced".
Take a look at the article below if you're interested to learn how to create a sweepstake to effectively promote your business.
What is a sweepstake?
A sweepstake is a competition which is advertised, usually online, to a wide audience, who are given the opportunity to enter for free by submitting their details. An allotted period of time will be left open for entry, after which the winner will be announced. It is common for businesses to host sweepstakes to promote a service or product, offering one of the two as a prize.
What are the benefits of business sweepstakes?
The benefits of sweepstakes from a marketing perspective is that you are drawing a new audience to your websites, social channels and blogs in a fun and completely natural process. Sweepstakes can help you to grow your email list, encourage new website visitors, generate advertising content and build relationships with new customers.
Hosting a sweepstake is a great way to bring in more visitors to your website, as if entrants want to take a better look at the prize they have a chance of winning, your product pages will be the first place they venture to. You can also encourage more people to follow your social channels, such as through promoting your sweepstakes on there and setting one of your competition terms as the entrant following your business' Facebook or Instagram page.
In short, sweepstakes are good for brand exposure, because they help you to reach out to new potential customers in a way that does not feel forced or annoying. By willingly entering into your sweepstake, entrants are being exposed to your business in a positive way, with your business coming across as desirable because of the prize you are offering.
What are some examples of sweepstakes that work well?
In case you need proof of just how effective a sweepstake can be for business marketing, let's take a look at McDonald's Monopoly. In order to be in with a chance of winning one of several prizes, ranging from small (free burgers or milkshakes) to large (cars, vacations and substantial sums of cash), McDonald's customers must purchase food from the restaurant, which exhibit Monopoly stickers on the packaging.
The reason why McDonald's Monopoly is so effective is because it is designed to bring customers back to the store again and again, giving away enough small prizes for customers to feel like they're winning. When customers return to the store for their free milkshake or McFlurry, they are very likely to purchase something else alongside it, bringing profit to the business.
How can I create a successful sweepstake?
Creating a successful sweepstake is not as hard as it seems, but you need to know what you are doing to make sure it runs to its full potential. If you are getting started on putting together a sweepstake for the first time, take a look at the tips below:
Without any form of plotting and preparation, sweepstakes can be incredibly general. The whole idea of your sweepstake is to bring in your desired target audience, so it's worth having a think about how you can appeal to those people the most. Consider theming and format- how can you make it current and relevant to the entrants? A few good, easy themes to use can relate to holidays, like Christmas, or vacation period, national days, back-to-school, or a well-known event.
As tempting as it is to not want to part with your more valuable products and services in a competition basis, you may be missing out if you choose to offer a smaller prize of less appeal. The process generally works with a bigger prize bringing in more entrants, and therefore creating a more widespread brand awareness.
Think about it: if you happened across an online competition where you could win a notebook, you might not bother to enter. If you could win a vacation, however, you'd be far more likely to stop to enter your details and give the terms and conditions a once-over- meaning you're being exposed to a brand you may not have heard of before.
Consider seeking external help
Sometimes, it's best leaving it to the experts, and this can be the case with sweepstakes, especially if you're a newbie to the process. There are a number of laws regarding sweepstakes that need to be taken into account when you set about creating the competition, and it is sometimes easier to let the professionals take charge of your sweepstakes administration for your own peace of mind.
A sweepstakes company can not only set up your competition to ensure it is legally compliant, but also select and notify your winner, handle the online data entry, and make sure your sweepstake reaches as wider audience as possible.
While we're not all frequent browsers of the general internet, you can almost guarantee that your potential audience is lurking on some form of social media on a daily basis. You can use your social channels to promote your sweepstake to not only your current audience, but also to your non-followers, through targeted ads. This is one of the easiest ways to find and target sweepstake entrants without forcing advertising on them.