Have you ever wondered how a seemingly little item like a golf bag can significantly improve your performance on the greens? Golf bags are more than just practical ways to transport your equipment; they also organize and make it easy to access your clubs and other equipment. They are a golfer's reliable acquaintance and were made with a purpose. 
But how can you navigate the world of golf bags to discover the ideal fit for your game when there are so many alternatives available, each touting its distinctive features and styles? Join us on a journey to explore the golf bag secrets behind these necessary companions and how they may improve your performance on the golf course.
What makes Golf Bags Superior?
When it comes to golf bags, quality, and material are important considerations that can have a significant impact on a golfer's experience on the top. Insufficient craftsmanship and low-quality materials can cause annoyance, irritation, and even damage to your priceless clubs. So, when making your choice it's essential to be careful.
Durable construction, enhanced stitching, and strong zippers are characteristics of high-quality golf bags. Since they are made to resist the rigors of the golf field, they will last a long time and provide dependable performance. In the manufacturing process, premium materials including premium leather, tough nylon, and weather-resistant textiles are frequently used. These materials provide excellent weather protection in addition to adding a sense of luxury.
Types of Golf Bags: Choosing the Right Fit for Your Game
Golf bags are of four basic types and further we have some categories to add to this. Here we tell you everything about these golf bags.
Golf Carry Bags
When it comes to golf carry bags quality is paramount. These bags are made with longevity in mind and sometimes out of premium materials that can survive the demands of the golf course. Every component is carefully handmade to ensure a lifetime, from stronger stitches to strong zippers. Golf Carry bags also include characteristics that meet the requirements of serious golfers. 
They often have durable, yet lightweight, shoulder straps and flexible grips for simple travel. Clubs, balls, clothing, and accessories may all be stored in the many pockets and compartments, which keep everything well-organized. For valuables, water bottles, and rangefinders, some even have separate compartments. There are many options available on the market all competing for consideration. 
Golf Club Bags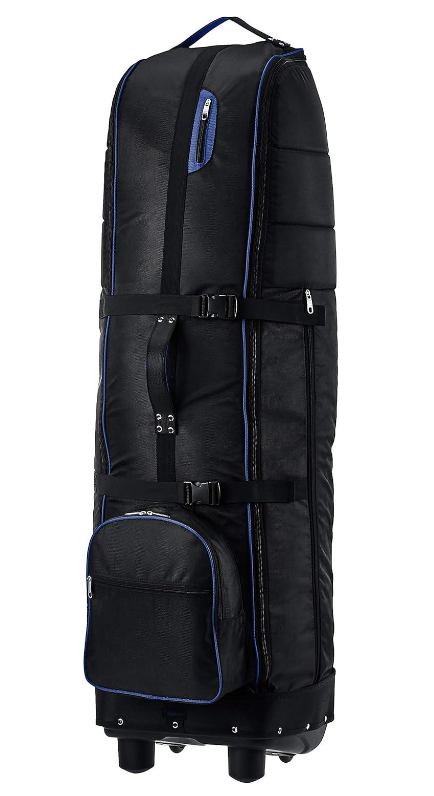 Golf Club bags are one of the most selling products in the market because of their unique features and quality. In addition to durability, a high-end golf bag guarantees that your clubs will be safeguarded during your game. A top-notch experience is enhanced by additional features like various compartments, padded dividers, and insulated beverage pouches. 
The performance and longevity of the bag can be better understood by reading reviews from other golfers. You may find a bag that properly fits your playing style with the help of objective evaluations on comfort, storage capacity, and general design. Although quality is crucial it's important to remember that there are fantastic solutions available at various price points. 
Golf Stand Bags
Golf stand bags have changed the way golfers carry their equipment on the course. These bags which are prized for their great quality are made from strong fabrics that can resist the demands of the game. To keep your clubs accessible and safe, they include reinforced stands that offer stability on any surface. These bags keep your things tidy and avoid club overcrowding thanks to their many storage compartments and separators.
Golf stand bags come in a variety of price points to accommodate different spending limits. For between $70 and $100, entry-level golf clubs are a great value for amateurs or casual players. Priced between $100 and $250, mid-range alternatives offer a balance of quality and added features like extra pockets and smart stand techniques. 
"Top Golf Bag Brands: Quality and Style for Every Golfer"
Bridgestone Golf Tour Bag
The Bridgestone Golf Tour Bag is a high-end golf bag that stands for the height of design and quality in the golf accessory industry. Professional and amateur golfers alike love this branded tour bag because of its superb craftsmanship and attention to detail.
This tour bag's exceptional durability is one of its best qualities. It is made of high-quality materials and can survive the wear and tear of even the most demanding golf rounds. All of your golfing necessities, including clubs, clothing, and accessories have plenty of room to store in the bag's many pockets and sections. You can readily access your gear while keeping superb balance and stability thanks to its ergonomic design.
Golfers may add their distinctive touches to this premium gear by customizing the Bridgestone Golf Tour Bag, which also offers customization choices. The Bridgestone Golf Tour Bag with its blend of style, usefulness, and brand reputation is a pick that represents your dedication to the game as well as your admiration for fine craftsmanship.
Shark Golf Stand Bags
The branded Shark Golf Stand Bag is proof that design, usability, and toughness can coexist in the world of golf clubs. This stand bag is a good pick for selective golfers because it is made by the respected Shark brand which is well-known for its dedication to quality. It was designed with quality materials to provide the ideal blend of strength and portability, guaranteeing that it can withstand the demands of the course while being easily portable.
Additionally, even during lengthy rounds, transporting the bag is made easy by the ergonomic shoulder straps and padded handles. Golfers who use the branded Shark Golf Stand Bag enjoy a sturdy equipment carrier as well as a fashionable conversation piece that showcases their dedication to both performance and style on the greens.
Resume
In this comprehensive guide, we have given you the overall about golf bags. We tell you about the features materials and composition used in its manufacturing. We hope that you gather much knowledge by reading this article. So, we are happy to listen to your reviews about the golf bags. If you want to read more valuable content for all golf information, let's explore mmm-us.com.