If you have time on your hands at the moment during the lockdown, then you might be wondering whether to enhance your current TEFL qualification and add a specialist string to your bow.  Or, you could be a new learner to TEFL and like the look of a longer more intensive course that not only gives you the magic 120 hours of coursework but also factors in some specialist learning like business English.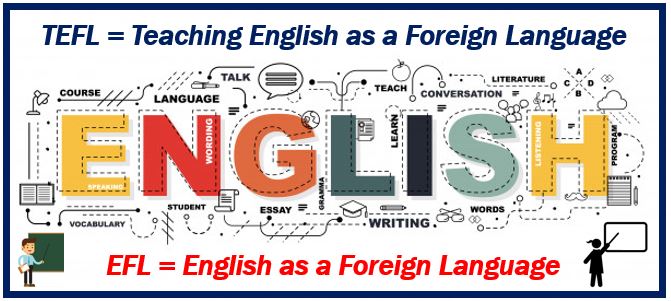 If you want to teach adults English rather than children then business English posts overseas offer some of the best remunerated positions available.  English is the language of international business so there is an almost unending supply of adult learners.  Most are motivated and keen unlike the truculent teenagers and disinterested children you might encounter in TEFL posts in schools and colleges. Class sizes are generally smaller and salaries higher.
What kind of scenarios and training might a business English TEFL course cover?
Teaching business English is not just about improving vocabulary, it is about the use of the language in specific contexts so it will cover lots of different scenarios including:
How to write a CV or resume in English including styling and layout
How to conduct a job interview in English in particular social etiquette
English report writing and presentation skills
Conferences and meetings in English both face to face and video conferencing
Social etiquette for business situations
Business English for phone calls and email
Sales calls in English
Negotiating skills and dispute resolution
Where are the hot spots globally with a high demand for business English teachers?
China
There is always a demand for experienced and qualified business English teachers in China and most posts attract good salaries with extra benefits like performance-linked bonuses and accommodation and flights.  To land a good job, you will need a TEFL certificate as well as previous business and teaching experience.  A track record of work in a commercial setting will stand you in good stead as will a degree in business or a related subject. Many classes are held during the evenings and at weekends to fit in with the students' current study schedules. Their homework load can be significantly reduce by relying on assignment help giving them more time to study English.
Taiwan
Taipei in northern Taiwan is a popular source of work for TEFL teachers with many students in this city including corporate clients. Positions are well paid but usually, the hours are less conventional: the timetable for classes needs to be pretty flexible to fit around the students' work demands so lunchtime sessions and evenings are favourite.
Japan
Tokyo is the centre of the TEFL business English demand in Japan and with the Olympics postponed to 2021, planning a placement for next summer could be very attractive.  The positions tend to be funded by corporate employers and so salaries are higher than in Japanese public schools or language schools.
Demand for this type of work is high amongst TEFL teachers and so employers are usually looking for the best-qualified candidates.  Those with a first degree in business studies as well as previous experience teaching business English will bag the best jobs.
South Korea
Culturally, South Koreans can be a little reluctant to speak English although their actual proficiency levels are usually good.  Salaries are very competitive for good business English TEFL teachers but just like the other Asian countries, classes tend to be fitted around work schedules so teachers are expected to work in the evenings and at weekends.  However, this does leave you with a lot of free time during the day.
Thailand
Thailand doesn't offer the volume of job opportunities as other Asian countries but there are some roles for business English teachers in Bangkok.  Most commercial organisations prefer to direct their staff towards short term courses in a language school and there is a lot of competition amongst TEFL teachers for the available roles.
United Kingdom
Right under your nose and easy to overlook, London, Oxford, Cambridge and Dublin are awash with international students keen to learn English including business English.  Work for a language school which offers business English courses.
How to teach business English successfully as a TEFL teacher
As with teaching of any nature, the key is to make the course content both relevant and interesting.  Before you start your new job, it pays to plan out your classroom sessions and thoroughly prepare, here are some handy hints:-
Do your homework. Research thoroughly the context of your students so you can make the classroom lessons relevant to their field or industry.  Those who just need to brush up their language skills will have totally different requirements to someone who has a team of employees to supervise.  But remember, you are not teaching business studies but language and skills associated with business – your sessions should remain primarily language-based tuition
Allocate your first session to establish with your students what their goals are. It could be learning telephone skills, particularly daunting in a foreign language, chairing meetings or writing emails.  By identifying and organising sessions to deal with the specific needs of your learners, this will keep them engaged and motivated
Business is global so include elements in the teaching programme which reference cross-cultural communication so that you explore how different nationalities conduct business
Student interaction and talking time is likely to be higher in a group of adult learners than in the school classroom context. So keep self-study and reading for homework and use teaching time for engagement between the students, role play activities and collaborative tasks
Use learning aids and materials which create authentic situations in class – the best source of these is the experience of your own students which you can use to create real-life situations in the classroom. You can also create leaflets, emails and PowerPoint presentations to use within role play scenarios and which your students can take away
Homework should be studying and improving what is learned in class so reading and worksheets which follow on from these tasks
There is lots more information online about teaching business Engish, both resources to help the TEFL teacher and information about different job posts around the world.
---
Interesting related article: "Dealing with language barriers while studying abroad."