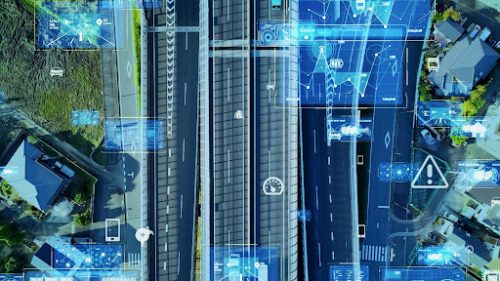 When searching for car insurance, it can be a challenge to find the type that's best for you and your driving habits. If you're a new or young driver, it can be even harder to find a policy that fits within your budget. 
But, never fear, because insurance telematics for cars is here to save the day! 
Read on to learn exactly what telematics insurance is and how it can benefit you as a driver.
What is telematics?
Telematics are location-based services that can allow insurers to cater your policy to you and your driving. 
To do this, your insurance provider will use telematics to gather data from telecommunications (phone lines, cables and cellular networks, for example), and informatics, which is essentially computer systems, to accurately measure how you drive. 
The data is collected using a special chip installed in your car's windshield, or through a specialist app on your phone. The handy gyroscope and Global Positioning System (GPS) that's already installed in your phone will be used to measure things like the time of day at which you drive, how frequently you drive, how you abide by the speed limits, and whether you perform maneuvers safely. 
Even better – you don't have to change a thing, just simply leave your location services enabled at all times! 
The benefits: 
Thanks to telematics, your insurance premium can be personalized to you, and you'll receive a policy based specifically on how you drive, not how people like you are expected to drive. 
A premium catered to you
This leads us onto our first benefit, the fact that your insurance premium is catered to you and your driving needs. As previously mentioned, the informatics on which your policy is based will show things such as the time of day you drive, as well as the distances you drive, and how often. 
Therefore, if you drive mostly in daylight, or for shorter distances and less frequently, your premium will reflect this, saving you money as these are behaviours that either reduce your exposure to the roads, or the time of day at which collisions are more likely and therefore your chances of being involved in an accident. 
Location-based services
Another benefit is that telematics offers location-based services so that in the unfortunate event that you are involved in an accident, you don't have to worry about trying to figure out exactly where you are. Your insurance provider can send out emergency services to your exact location. 
In addition to this, the software can judge whether or not it's actually you driving. So, you don't need to worry if you get in a taxi, Lyft, or on a bus with a driver that doesn't perform as safely as you would, as this will be separated and won't reflect onto your policy. 
Drive safer and save money
Speaking of driving safely, telematics can provide you with data that displays how safely you are driving, as well as how you can improve this. For example, if you're pressing your breaks a little too harshly at stop signs, then your app might flag this to you as something you can change. Once your driving behaviours change and you're driving even safer, you could see a policy that's reduced even further! 
Not only can you save money with telematics insurance, but you can become a better driver and be the holder of a personalized policy, designed specifically with you in mind. 
—
You don't have to be tech-savvy to reap the rewards of telematics insurance, so what do you think? Is telematics right for you?
---
Interesting Related Article: "Analyzing the Latest Advances in Telematics"