Video editing is a time-consuming and skill-centric process that requires spending fortunes on learning the basics and transforming raw footage into high-quality and professional-looking video content. Especially, it becomes a nerve-racking process when you want to proceed with text-to-video operations to generate tons of how-to or educational videos for an e-learning platform, for example.
In case you're looking for ways to save time and convert draft texts into comprehensive videos, AI video generators hit the mark. They are Artificial Intelligence-powered solutions designed to convert raw input texts or even audios into animated character-centric video content. However, the up-to-date AI video generator market is thriving with dozens of technology-driven solutions that offer similar features, so it becomes a laborious process to choose a reliable tool.
If this resonates with your current use case, our post will guide you through the 6 best AI video generators (text-to-video) and figure out how to create a video overlay as a built-in feature for your existing app.
5 Tried and Tested AI Video Generators (Text-to-Video)
GliaCloud is a Taiwan-based AI-driven video creation platform launched in 2015 to facilitate the video generation process and simplify the way creators do their heavy lifting. Backed with $2.5M funding and >100,000 MAUs, the software vendor provides a top-notch video generator tool for blogging, marketing, publishing, and social media industries.
The provider offers time-saving and video maker-oriented functionality like pre-made text-to-video templates, URL-to-video, article-to-video, image-to-video, and many others. Having an avant-garde product-market fit, GliaCloud is trusted by multiple market-leading brands like TikTok, Youku, KKBox, and others.
The core features of GliaCloud include:
Transitions effects
AI-driven automated URL-to-video, article-to-video, image-to-video, and fit-to-video templates
Trimming, cropping, resizing, cutting, zoom framing, duplicate clipping, text positioning effects
Voice overs, video layouts, video music, shareable video preview link
50% time-saving capabilities for content creators through Artificial Intelligence capabilities
Up to 1 million views are potentially available to generate for your generated videos.
Synthesia is an AI-powered video creation and avatar platform launched in 2017 in London, UK. Backed with $66M funding, the vendor has successfully seized the video creation landscape serving multiple industry-leading companies like Reuters Teleperformance, BBC, BSH, WPP, and others.
The product's killer feature is a 60-language text-to-video conversion algorithm that allows enterprises to create most language-specific videos. The core domains and content types include how-to, training, and product marketing videos that actively need wide language support for seamless operations.
More than that, the vendor facilitates wide integration opportunities supporting YouTube, Vimeo, BigCOmmerce, Userpilot, PowerPoint, Monday.com, and even Medium platforms.
The core features of Synthesia include:
50+ AI-powered avatars for seamless educational, product marketing, and training video creation
60+ languages to avoid any burdens of region-specific challenges
25+ built-in video templates to follow on-brand guidelines without time-consuming customizations
AI-enabled voices that simulate world-known celebrities like Morgan Freeman and others
Reuters, Teleperformance, BBC, and WPP are among the top-tier clients.
3. SSEMBLE
Ssemble creates amazing videos with your team. Use ssemble's simple video editor and plugins to make a high converting marketing video for your business. It is an online video editor and video maker that you can use to create videos with text, music, yt to mp4 and  creating amazing videos. Use Vlogr's simple video editor and plugins to make a high-converting marketing video for your business.
The core features of ssemble include:
Online Video Editor, Video Cutter

Zoom In On Video, Add Music To Video

Add Sound Effect To Video, Add Text To Video

Background Remover, Beat Detector

Facebook Video Importer, Instagram Video Importer, YouTube importer

GIPHY-gif, GIPHY-sticker
InVideo is a Singapore-based revolutionizing video generator tool launched in 2017 to change the way nop-tech professionals create on-demand videos across multiple platforms and devices.
Backed with $52.5M funding, 7M+ active users, and 195 countries of global delivery, the video creation platform provides never-seen-before features for market-leading brands like Caterpillar, AT&T, Microsoft, Dropbox, CNN, and even CNBC. Companies leverage InVideo capabilities to build staff training, pre-/post-launch product marketing videos, slideshows, highlights, clips, tailor-made greetings, and many others.
InVideo's key functions include:
Easy drag and drop editor
5000+ customizable templates
8M+ iStock media library
1M+ premium media worth $1500
Video creation in 70+ languages and more
Music-to-video, text-to-video, and image-to-video capabilities.
Synths Video is a US-based AI-powered article-to-video generator tool launched in 2021 to simplify the way marketers, publishers, product owners, YouTubers, and other teams create video content based on content marketing initiatives.
With $125K funding, the vendor serves a narrow yet valuable purpose for Ramsey, The Washington Post, NicePursuits, and other news-related and informational brands. The AI-powered natural-looking lip movement algorithms helped the vendor to create over 40 pre-made human avatars.
So, the killer features of Synths Video include:
AI-powered article-to-video capabilities
40+ pre-made ready-to-use human avatars
40+ different languages
RSS feed support
YouTube video upload
YouTube video optimization.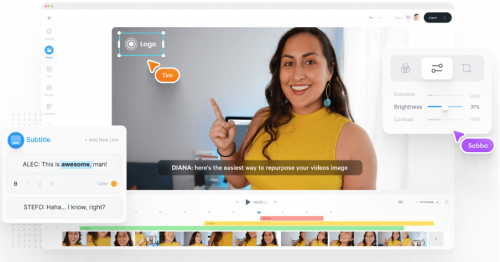 Veed.io is an England-based AI-powered online video editing platform launched in 2018 to simplify the video-based content production process. Backed with $35M funding, the platform has become a game-changing market leader serving such top-tier companies as Facebook, Visa, Booking.com, P&G, Hublot, VaynerMedia, and others.
Industry-leading companies leverage Veed.io capabilities to produce professional-looking intro, outro, invitation, infographic, graduation, explainer, pre-/post-launch promo, tailor, gaming, and multiple other types of content that help improve marketing and ads campaigns, streamline in-house staff training, increase user engagement, and drive sales.
The core features of Veed.io include:
Video Stabilization
Text overlay video editor
Supports HD Resolution
Merge video
Split Video
Video Speed Controller
Media Library
Private workspaces
Integrations (OneDrive, Zoom)
Private hosting & player
Workflow batch automation
Meeting recording
Single sign-on (SSO)
Custom privacy & security.
How to Add Video Editor Effects to Your App
If you're launching a video editing platform, YouTube-like service, or an education marketplace like Udemy, you might be puzzling over how to add video editor effects to your self-developed application. Here comes an SDK – software development kit solutions with pre-made modules that provide must-have functionality out-of-the-box. All you need is to integrate it right into your product, customize the on-brand user interface, and set it up and running.
For example, Banuba's Video Editor SDK. It's an augmented reality-powered video creation platform designed to revolutionize the way users produce TikTok-like short video content and help brands save tons of time and investments on custom app development.
The core features of Banuba's video editor SDK according to the company website include:
Multiple must-have video effects like trimming, cropping, LUTs, video-audio editor, background swap, and transitions
Speed change modes including hyperlapsing and slow-mo
1,000+ real-time augmented reality masks and 3D avatars
AI-driven background removal and replacement
Hands-free mode camera recording
Picture-in-picture video experiences
Cross-platform nature supporting iOS, Android, React Native, Flutter, or Native Script apps.
FullHD support.
Integration takes up to several days and all you need is to request a 14-day free trial token, insert it into your app's source code, customize the UI, and test unlimited features inside out.
---
Interesting Related Article: "The role of artificial intelligence (AI) in the digital transformation of your business"