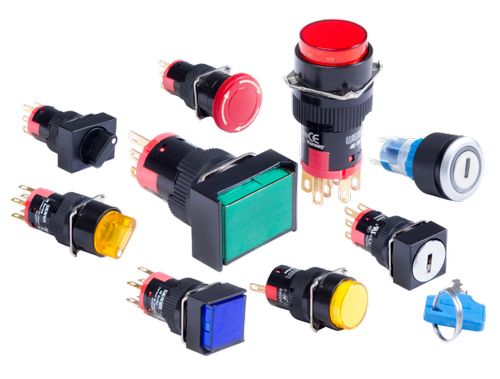 The phrase 'pilot device' is used mainly in industrial places or for commercial implementations. However, nowadays, it is being used for residential purposes too. In this 21st era, modernism and technology have evolved everything, and now, a human being can interact with machines through these pilot devices. It can be differentiated into indication and actuation (some devices perform both). Pilot devices include pushbuttons, toggle switches, selector switches, pilot lights, signal beacons, etc., and CHINT Pilot Devices make sures the top quality. 
Different Types of Pilots Devices 
Pushbutton:

This type of pilot device is widely used for controlling machines, to open or close a part of a machine manually, for instance. Pushbuttons are available in a variety of sizes (16 mm, 22 mm, 30 mm) and features (mushroom, extended, guarded, flush, indicating light, push-pull operator, etc.); for example, the barrel-sized pushbuttons are used to make sure that it fits appropriately in the entrance of a panel of a machine (it can be mounted as per machines). Likewise, there are other featured pushbuttons, such as voltage ratings, operator size, operator colour, contact type, action, etc. 

Toggle Switch

: This is a type of electrical switch that uses a lever to prevent any accidental operations. There are two kinds of toggle switches, maintained contact and brief contact. The former is designed to maintain the position to which it is being moved. Both of these switches can use all the handles (short, ball, standard and extended). The features include lighting,  ul listing, time delay, weather resistance, waterproof, etc.

Selector Switch

: These Selector Switches fit fine in the space of a traditional pushbutton. They are mostly used where spinning is desired. Selector switches and pushbuttons are very much alike, and they only differ in performing an action using knobs or levers. Like pushbuttons, these selector switches can be found in different sizes, like barrel size, activity, contact type, etc.

Pilot Light:

Pilot lights are there to provide a much 'easy to understand' visual indication of the status of a machine. The colours change with the changed status of a circuit or machine, like on or off, alarm signal, etc. Pilot lights' lenses come in various colours, like white, red, green, yellow, blue, etc., with each symbolizing the condition or status of the machine.
At CHINT Pilot Devices, one can get pilot lights in three available designs, relampable (these come with a feature of replacing the colour lens when stops are working), non-relampable (unlike the previous one, these are designed with rooted colour lens and cannot be returned after being useless), and indicator (these pilot lights are designed with LED and are mainly used in telephones or dashboards). You can check out https://chintglobal.com/categories/pilot-devices-7-1251.
Indicators

:  As the name suggests itself, these types of pilot devices indicate the status of functions that are presently going on. There are numerous kinds of arrows at CHINT Pilot Devices. All these pilot devices shares some standard features. For instance, these can be found in mount sizes (these can be fitted anywhere according to the need), audible option (to alert in emergencies, some indicators are made with an audible alarm), light colour (various types of colours are used as to indicate the purpose, and all of them have got different meanings), voltage rating ( the standard AC and DC voltages are used by the indicators depending upon the necessity), etc.
The Meaning of the Different Lights
All the different colours used as an indicator are not there to make a grand illusion. They have got their meaning too. The colours red, yellow, and green are typically used to attract the operator's concentration to notify that some function is complete or needs to be done. The blue and white colours are used to confirm any course of action or commands.
Conclusion
Pilot devices are now used widely in industrial applications. The durability and easy maintenance of these devices have made them a heavily used product worldwide. At CHINT Pilot Devices, these are made to maintain a standard quality of the materials, and one can purchase all these devices blindly at CHINT Pilot Devices at a reasonable price.
---
You may be interested in: Tips For Switching To A New Phone