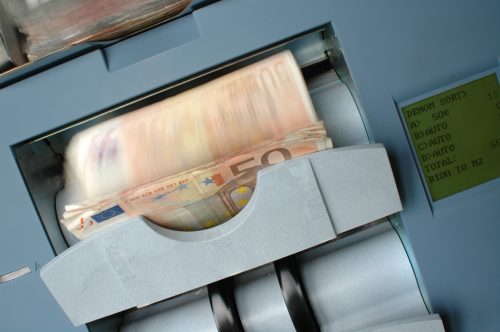 Money counting machines are commonly found in a variety of businesses across the globe. One of Carnation's most popular currency counters, the CR2300, is a compact machine that offers advanced money counting and counterfeit detection features that help to streamline the day-to-day running of any business. Here's a look at the benefits that a Carnation money counter will bring to your business.
The Benefits of a Cash Counting Machine
Accuracy 
Cash counters ensure a level of accuracy that cannot be achieved when counting cash by hand, being capable of detecting any notes that are stuck together or have been damaged.
Time-saving
Cash counters can achieve counting speeds that no human can match so that no time is wasted. Bill counters can count large numbers of bills in a matter of seconds and do not require a recount. They come in a variety of sizes and with different features. A compact bill counter such as the CR2300 can be placed on your desk – helping you save time that would have otherwise been lost walking back and forth to a larger machine.
Intuitive Interface
Bill counters prioritize the user experience and ensure that your interaction with the machine is entirely trouble-free.  All cash counting machines come with easy-to-identify "start" and "stop" buttons. More modern machines are also being introduced with advanced touch screens and high-resolution graphics on a large, LCD display.
Counterfeit detection 
This is becoming a standard feature of many currency counters. Counterfeit notes can be identified using magnetic, ultraviolet, and magnetic thread detection. 
Ease of use
Currency counters are available in many sizes – catering to all individual and commercial needs. Smaller counters offer complete flexibility of use as they can be moved easily from place to place. These machines can also support multi-currency counting and mixed denominations and come with different counting modes such as batch, free, and stamp modes.
Intelligence
Counting machines can also detect abnormalities that would have otherwise gone unnoticed by even the most eagle-eyed individual. They can also perform regular self-examinations, notifying the user if there is a problem with the software, and provide a receipt with the total number of bills counted.
Why Choose The CR2300?
The CR2300 is suitable for both small and large businesses. It is one of Carnation's most popular products for a variety of reasons, including its compact and portable hardware, intuitive interface, and robust hardware that allows large numbers of multiple currencies to be counted accurately and efficiently every time. Here is a closer look at its features:
Intuitive Interface and Compact Design
The machine has a large and clear LCD face that is easy to navigate. The compact body of the CR2300 makes it easy to carry to any location. It has a hopper capacity of 500 bills and is ideal for small businesses that handle cash on a daily basis.
Counterfeit Detection
The CR2300 utilizes UV (ultraviolet), MG (magnetic), IR (Infra-Red), and Dimension conformity to ensure that all bills are thoroughly scanned for authenticity.
Fast, Multi-Currency Counting
The CR2300 has a counting speed of 1000 notes/min. It is also compatible with multiple currencies including US Dollar, Canadian Dollar, Euro, Mexican Peso, and many more.
Modern Functions for Commercial Use
This popular bill counter has 2 different modes – ADD and COUNT which ensure fast and accurate money counting.
Purchase the CR2300 on Amazon today!
---
Interesting Related Article: "Currency Exchange Traps: What to Avoid When Traveling"