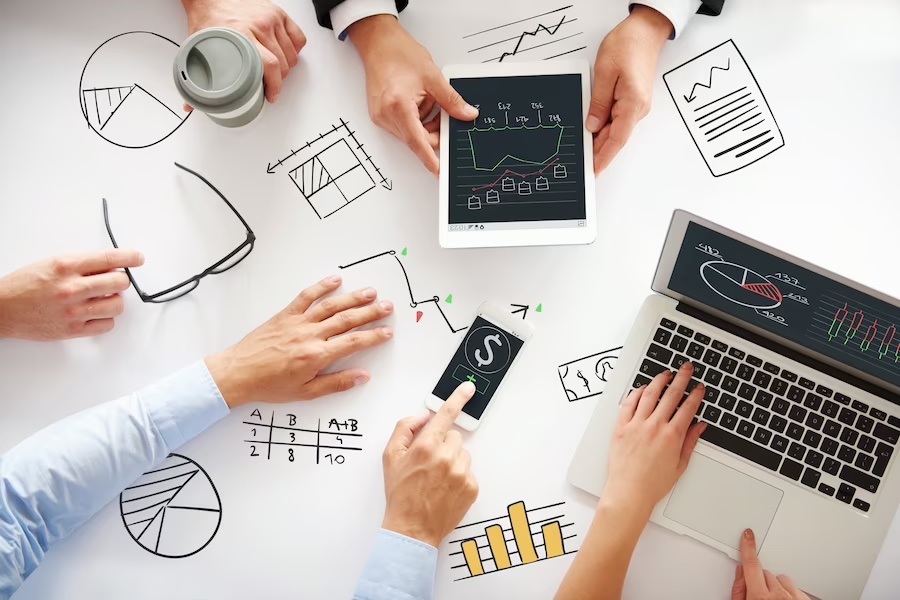 Looking for the best business to start with 100k? Get entrepreneurial ideas and helpful tips for exploring business ventures here.
Small businesses make the economy go around. The Small Business Association (SBA) estimates that there are more than 33 million small businesses in operation. 
This makes up the majority of the economy. It's also a sector filled with successful entrepreneurs who were able to start their enterprises with just a little bit of capital. If you have an additional $100,000 available that you can use to start a business, there are several great options to explore. 
Explore these options when you are considering the best business to start with 100K. 
Become a Re-Seller
We live in the e-commerce age, and people love shopping with sites like eBay and Amazon. One of the best things about these large e-commerce platforms is that they also allow budding entrepreneurs to participate by selling. 
When considering a business formation, becoming a re-seller is an excellent idea. All you need to start is an account with one of these sites and the willingness to source items to sell. Many people start with thrift stores because it offers the lowest acquisition costs and the greatest return on investment (ROI) potential. 
You'll find all sorts of potential items at thrift stores, including clothing, books, toys, and home decor. Re-sellers can also source items at retail stores. Finding items at a discount and then flipping them for full price online can get you huge profit margins. 
Other sellers explore liquidation centers, online arbitrage, drop shipping, and other options. Figure out what model works best for you and you can get a lot from your 100K. 
Start a Graphic Design Business
If you have a knack for graphic design, now is the time to explore it as a viable business option. Starting a business with your graphic design skills is easy since all you need to begin is a portfolio of your previously completed work. 
Sign up for sites that link freelancers with people and businesses needing their services. It's the digital marketing era, and graphic design is more important than ever. 
Set your rates, stick to deadlines, and make sure that your skills are constantly improving so that you can accommodate your clients. 
Become a Freelance Writer
Freelancing writing is another great idea when you're exploring business ventures. Blogs, articles, social media posts, e-books, and other types of media all rely on the written word. 
If you're a skilled writer and have quality samples to provide, you shouldn't have a problem getting clients. Companies in all industries today rely on writers for their marketing content. The overhead costs for writing are also incredibly low. 
You can use this money to invest in a new high-end laptop, storage, an ergonomic chair and desk, web design for your portfolio, and so much more. It can also help pay for things like accounting services and marketing for your business. 
Start a Food Truck
If you have culinary talents, starting a food truck could be a great idea. It provides the appeal of the restaurant industry with the low overhead cost of smaller businesses. Food trucks are also mobile, which means you can use some trial and error to figure out which locations get you the most business. 
There are always business professionals looking for lunch. This can make up a large segment of customers that you sell food to. With the 100K, you can invest in a high-quality, reliable vehicle and cooking equipment. You can also invest in social media marketing services that will make people want to follow and find out where you're setting up shop each day. 
Open an E-Commerce Store
In this day and age, you can never go wrong getting into e-commerce. This can encompass several different business ideas since there is no shortage of products you can sell. 
There are a wide variety of e-commerce platforms that you can turn to when you're looking to host and market your store. It also opens you up to the largest groups of customers available. This way, the potential earnings are limitless and you don't need necessarily need to store your own merchandise. 
Follow the Right Steps to Get Started
Now that you know some of the best ideas that are available to you, it's time to follow the right steps to get started. For one, get a workable understanding of business law to make sure you're starting on the right note. 
Find the help of a business formation attorney that can help you with your filing. Most people starting out will form Limited Liability Companies (LLCs) or operate as a sole proprietorship. 
Discuss your idea with other professionals who can offer you sound business advice. The first few years are the most difficult for business owners and many don't survive them. Consider using a portion of your 100K to invest in coaching services or other professional help that can guide you. 
Map out a business plan that you can follow and set some quality goals. Track these goals throughout the early stages to know that you're making progress with your company even when profits aren't initially coming in. 
What Is the Best Business to Start With 100K?
If you're looking for the best business to start with 100K, these tips can get you started. This is a good amount of capital that you can use to get an incredible ROI with your new business idea. Act wisely and it can pay off in life-changing ways. 
Use these tips and read our other posts to pique your interest in business and entrepreneurship. 
---
Interesting Related Article: "A Guide to Getting Your Business Attention in 2023"