When it comes to outdoor camping, of course, we cannot fail to mention camping lamps. However, in outdoor activities, as night falls, you must ensure that you have sufficient lighting facilities. Compared with flashlights that need to be held by hand and headlights that cannot achieve 360° lighting, the advantages of camp lights are very obvious. Because of their convenient use and stable light source , It is very suitable for lighting, cooking or leisure use in camps. In addition to the characteristics of light weight, easy portability, super energy saving and long life, excellent camping lights are now more and more attention to the warm atmosphere of camping. Sophisticated vintage OLantern Classic 2 Pro Camping Lantern is your best choice.
Olight OLantern Classic 2 Pro Specifications
1.   Unpacking
As with all Olight products, Olantern Classic 2 Pro comes in a high-quality, beautifully designed Carton box. Inside the box, you can find the following:
Olantern Classic 2 Pro (Batteries Built-in) x 1
USB-C Charging Cable x 1
User Manual x 1
That's not much, but it's enough.
2.   Dimensions and Size Comparison
Weight: 26.69 oz (756.6 g)
Height: 7.32 in (186 mm)
Cap Diameter: 4.88 in (124 mm)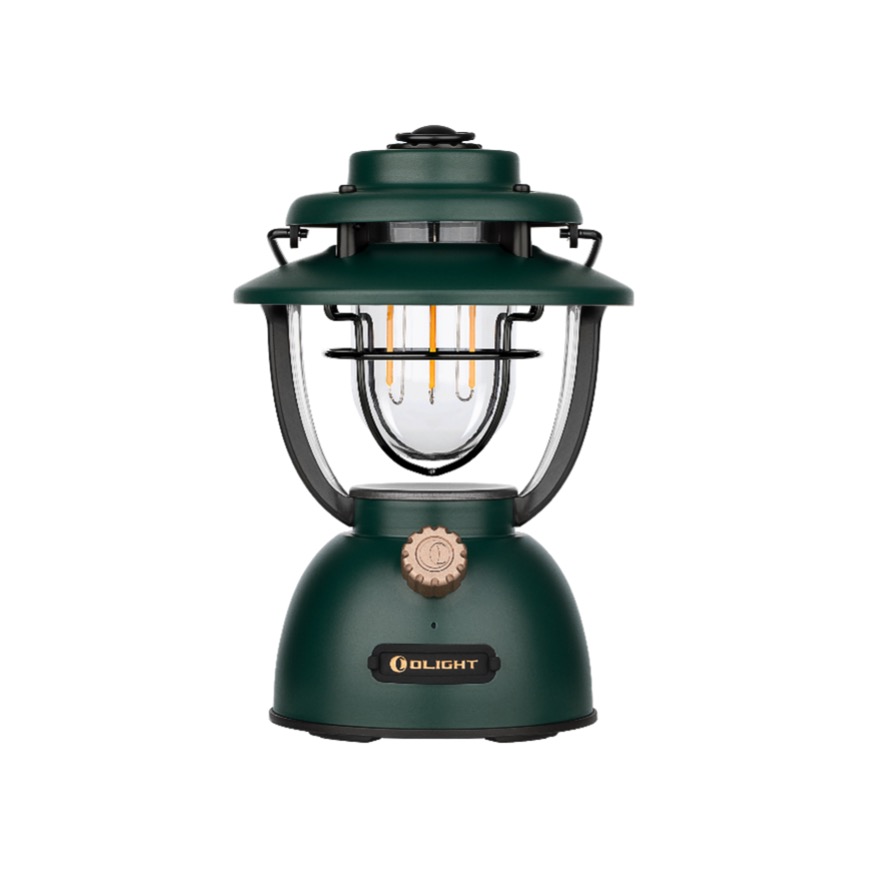 3. Operation Instructions
Switching on and off: turn the switch clockwise to turn on; turn the switch counterclockwise to turn off.
Dimming: Using stepless dimming, the light gradually changes from the lowest orange light to the brightest, until the orange light goes out at the same time the lowest white light turns on, and continues to rotate the knob until the white light is the brightest. Rotating the switch counterclockwise will reverse the light mode and brightness as above.
4. Build Quality & Functionality
Handle: The handle is made of metal and equipped with high-end non-slip silicone, which can provide a stable light source even when hung up
Hang Ring: Olight is also thoughtfully equipped with a hanging ring, which can be hung in the tent. In strong wind conditions, it is not enough to hang outside by the handle. At this time, we can use the Hang Ring to reduce the swaying caused by the wind, providing us with a stable light source
Orange LED Filament & Warm White LEDs: Olantern Classic 2 Pro adopts a dual light source design. The top 14 warm white LED lamp beads emit brighter warm white light; the middle 3 orange LED filaments emit soft and comfortable orange light, which is more atmospheric. The Olantern Classic 2 Pro has a very classic retro lantern look. It is so small and delicate that you can fit it in one of your palms. It's not just a lamp, it's an ornament that enhances the ambiance and improves our sense of well-being.
PC Plastic Cover: The lantern window is made of PC Plastic and its body is mainly made of metal, making it both strong and lightweight.
Rotary Knob Switch: The rotary switch with O-logo not only turns the light on and off easily, but also provides stepless dimming from 10-300 lumens to meet any of your lighting needs, just turn the stepless dimming knob for orange or warm white light, making it the perfect addition to your everyday life and special occasions.
Tips:
10 lumens: suitable as a bedside lamp, warm and not dazzling;
100 lumens: suitable for outdoor camping small tent lighting;
200 lumens: suitable for campsite, dining table and other small scenes;
300 lumens: suitable for parties, lighting outside the tent area.
Indicator: There is also a visual battery indicator on the power button for easy checking of power levels, as shown below:
Green light: 15% – 100%
Red light: 5% – 15%
Indicator flashes red: 0% – 5%
USB Dust Plug & MCC Charging
The Olantern Classic 2 Pro has a built-in 11200mAh Li-ion battery with two charging methods:
Note: Please charge the product before using it for the first time.
There is a standard USB port under the USB dust plug, and the light can be fully charged in just 4 hours via 18W USB-C fast charging.
You can also use the included MCC magnetic charging cable for fast charging. The magnets on the bottom of the lamp holder are easy to attract the charger, and it can be done with one hand.
5.Olanter Classic 2 Pro Notes:
Danger
Do not look directly at the light source or illuminate the eyes, it will cause temporary blindness in the eyes and damage to the retina in severe cases.
Warning
Do not store in the car or similar places where the temperature may exceed 60°C
When storing for a long time, please fully charge the product first
When the charging port is not in use, keep the dust cover normally closed to prevent dust or foreign objects from entering
Please do not place the product in a dusty environment, dust may enter the switch and cause functional failure.
Do not disassemble the product, otherwise it may cause damage to the product
Do not immerse in seawater or corrosive liquids, it will cause damage to the product
The anti-drop function of the product is limited, please prevent it from falling and handle it with care
NOTICE
It is recommended to use a USB adapter with a power of 18W or above to charge, the charging effect is better
Please keep the bottom MCC charging interface clean and dry
The product adopts the PWM modulation method and is placed far away from the radio, which may cause interference noise
When Type-C and MCC are charged at the same time, priority is given to Type-C charging
The color of the vintage copper is made of old craftsmanship. It is normal for the color to be uneven or to have slight flaws.
---
You may be interested in: How To Save Money On Camping Gear