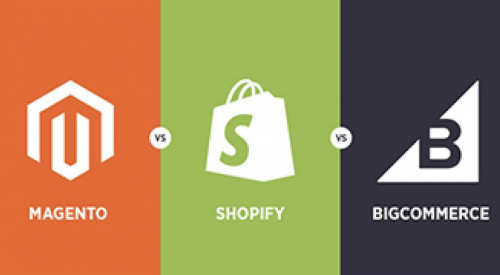 Choosing the e-commerce platform is your first challenge on the way of setting up your e-commerce business. If you want it to grow and prosper, creating conversions and making customers to return again and again, you need to find the most credible and secure platform for the variety of customizable features. Elogic Commerce can assist your scalability, redesign and migration business needs.
How to select the e-commerce platform
Nowadays the market is overflowed with e-commerce platform propositions. This brings more challenges before you when choosing the right platform. That is why knowing what should be taken into consideration will definitely bring you to success. 
Here we will compare the most popular eCommerce platforms to narrow down your research process.
Magento Commerce
Pros
Seofriendly. SEO advanced support enables products rank on all popular search engines such as Google, Yahoo and more. Magento creates title tags automatically as well as lets you to create them manually. It also prevents you from content duplication, by adding canonical tag, which links your duplicate content. To prioritize categories, products and pages, you can use a sitemap.
Hosting freedom. Unlike Shopify which has several restrictions regarding hosting solutions, with Magento you can use any type of hosting options for online stores.
You can choose between hosting provider, the model, the package, anything that fits your business needs. Moreover, if someday you decide to migrate to another hosting provider, you can easily move to a cozy corner you like. This option is not available for all eCommerce platforms on the market.
Third-party integration. Magento provides many third-party extensions for various needs such as payment gateway, comments plugin, analytics tool etc. This flexibility lets you easily upgrade services through the extensions.
Scalability, flexibility, speed. No one could deny, that speed is one of the main ranking factors as well as factor, that defines the quality of eCommerce platform.  Due to immense Fastly updates for Magento Commerce Cloud, page latency decreased impressively.  
The same with scalability and flexibility. Magento cares about any size stores from small to huge ones. If your store grows, Magento will take care of it as well.
Cons
Time-consuming. Complex architecture and layered software as well as customizations of the store make the development process time-consuming comparing to other platforms. 
Developers. With the growth of demand, professional qualities requirements has increased over the past years. That is why finding truly skilled and experienced Magento developers is not an easy task. 
Salesforce Commerce Cloud (Demandware)
Pros
Intelligence. Albert AI – a third-party tool that lets you collect and analyze data without hiring data specialists. It enables your data to always be fresh and relevant.
Nowadays dynamic personalization plays a significant role in the e-commerce retail business. It lets you to accustom your product's 'personally' for each customer, increasing conversion rate and customer loyalty. 
Einstein AI is embedded into Commerce Cloud. It allows providing a unique and relevant experience for each customer, making customer to return again and again.  
Enhanced marketing tools. Customizable dashboard allows you to check multiple reports, collecting data of the whole company's progress. Salesforce enables merchants to launch campaigns, make updates, run promotions and even launch performance tests to optimize conversions without additional technical support.
Demandware supports multiple currency checkout, multiple language, and localized payment methods.
Cons
Expensive. Clients who trust Demandware are ready to pay top dollar for not so unique services, which can be offered somewhere else for a lower price.
Lack of third-party integration. The growing need for automation and scalability driven by integration, aroused customer's concerns about weak Demandware's ability to third-party systems integration.
Shopify Plus
Pros
Flexibility. Shopify allows customizing your store, using a variety of different tools. You can choose only those which fit the best your business needs. Doing this you don't need to worry about any compatibility issues, because they're already integrated into Shopify.
Easiness. Shopify is the best choice for retailers with no development experience or developer in the disposal. It provides over 100 custom themes to choose from for free. What you need is simply to choose the liked theme, fill the sections with your own content and your store is launched!
Customer support. Access to Launch Manager and Merchant Success Manager enables to have 24/7 support as if you've hired full-time staff. 
Cons
Migration. Shopify doesn't let you to switch platforms smoothly. Therefore, if you decide to migrate, you might lose some of your store data. The only thing can help in this case is  a CSV (Comma Separated Value) export of your site.
Content limitations. To create a unique and unusual blog, you'll need to set it up on another blogging platform such as Squarespace or Tumblr and only then run it on your site. These limitations are evoked by the lack of various data types in Shopify Plus.
If you doubt between Magento and Shopify, check out our Magento or Shopify comparison. 
BigCommerce Enterprise
Pros
Multiplatform. With BigCommerce you can attract more traffic and enhance conversions integrating in marketplaces such as Amazon and eBay. It also allows promoting your products, integrating your business to Facebook.
SEO benefits. BigCommerce suggests vast SEO features, allowing you to to boost traffic and promote your product. You can create short URLs, optimize images, customize meta tags. All this will help Search Engines to rank your website better.
Cons
Free Themes Limitation. There are only seven themes offered by BigCommerce can be used for free. If you want to receive a customizable and unique theme, you'll have to purchase one, pricing from $145 to $235.
Scalability. Each time your e-commerce scales, you'll need to pay an extra fee. It limits your business demands, and aspiration to grow.
Conclusion
Quoting the Grail Knight from "Indiana Jones and the Last Crusade", 'You must choose, but choose wisely '. This means that there's no ideal CMS for your business, but most likely different CMS exist for different needs. For instance, if you have a small e-commerce store and you don't plan to grow, then Shopify is a good choice for you. If you want to implement AI for enhanced personalization, you should consider Demandware. 
Now you know what should be taken into consideration choosing how to build marketplace like ebay .
---
Interesting Related Article: " Best Ecommerce Product Editing Tips You Will Read This Year