Many websites offer free streaming of movies and TV shows, but not all sites can be trusted. Many sites offer pirated content, and they are often full of malware and viruses. You can watch your favorite TV shows and movies online while staying safe. Here are 16 safe and legal movie streaming sites.
The following websites do not require you to sign up. They are almost all free and don't require you to create an account.
1. Samsung TV Plus
Samsung TV Plus is a streaming service in the US and other countries with more than 220 "channels" of content to watch for free with your Samsung TV.
2. Crackle
Crackle was originally an online video site called Grouper. It was then acquired by Sony. It was rebranded as Crackle and is one of the most popular free streaming video sites.
Crackle offers a wide range of TV shows and free movies. You can find classic sitcoms like All in the Family or Who's the Boss if you love older sitcoms.
Crackle is one of few streaming sites that offers original scripted content. Many original TV shows have been produced by them, including Sequestered and Snatch . Crackle is also home to Comedians In Cars Getting Coffee with Jerry Seinfeld.
Although you don't need to have a Crackle membership, you can sign up for a free account to watch the same shows and movies as you did before and keep track. Crackle is a high-quality streaming site that's free.
3. ShareTV
ShareTV allows users to keep track their favorite shows online. This site has pages that include detailed episode guides, character guides and video clips as well as community discussion boards.
ShareTV has a distribution agreement with Hulu, other TV providers, which allows the site to host full length episodes of selected TV shows. Users can search for other sites that host full-length episodes if they aren't available on ShareTV.
4. Popcorn Time
Popcorn Time is available for free on many platforms, including Android and iOS. It uses BitTorrent protocol to allow users to stream TV and movies as torrents.
It features a simple interface that displays thumbnail images of the available movies and shows. Although the software is legal, you can access copyrighted content through it. You must ensure that it is only used on legally licensed TV shows. ISPs may penalize users who stream copyrighted material without VPN connections.
5. Tubi TV
Tubi TV gives you access to unlimited movies and TV shows on any device. The Tubi TV app can be downloaded to your smartphone, tablet, or streaming device. You can access thousands of programs after downloading the app.
Registering is free and will allow you to sync all your queues across all devices. This allows you to pick up your movie or show from the same place even if you switch to another device.
Tubi TV programs are not independent films or low-budget B movies. The majority of the movies on Tubi TV are action films made by major Hollywood studios. You can find quality titles in many other genres as well, such as comedy and drama.
6. Popcornflix
Popcornflix was launched in 2011 and features a variety of independent films. It is available in North America, and can be used on a range of platforms, including streaming devices and web browsers.
The majority of the original content on the site was created by the users. You can also find a variety of web series. They have started adding high-quality Hollywood films from many genres. These A-list movies are ad-supported. This means you will need to view advertisements in order to see the full-length movie.
Popcornflix streams some TV shows, including some old cartoons and a few British shows.
7. Vimeo
Vimeo was established in 2004. It was one year before YouTube. This website, similar to YouTube is a video-sharing site. You can upload your own content. Vimeo was the first website to offer HD video. It was quickly adopted by independent filmmakers who wanted to share their films with others.
Vimeo now has thousands of short films and movies. The majority of these videos are available in HD, and were made by amateur and professional filmmakers.
These categories cover everything, from experimental to comedy. You can find obscure foreign films, older films, and classic films.
8. FilmChest
Film Chest is an online media company that restores and archives older films. It is simple to navigate and has a simple interface.
Over 2,000 films are now available on the website. Many of these films can also be found elsewhere. These films can also be restored by the company. Film Chest offers better quality movies than other sites.
Most of these movies are classics from the 1930s and 40s. However, there are also many foreign films. These movies, like the older ones, are restored to ensure the highest quality picture possible. Unfortunately, some of the links are broken and it might take a while for a movie to become available.
9. Yidio
Yidio is a video streaming website that offers a wide range of TVs and movies for free. These videos are not hosted on the website. It's a content aggregator website that links to content from other websites.
Yidio can be used to browse the content of paid streaming sites such as Amazon, Netflix, Hulu and Hulu without having to visit each one.
Yidio also offers free content. You will often find the most recent episodes of TV shows and movies on Yidio's free streaming site.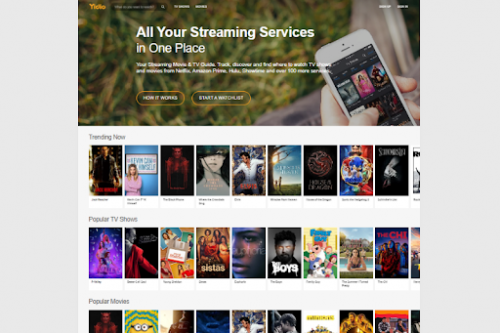 10. Veoh
Veoh is a streaming video site that allows users to upload their content. The site has been controversial, with some regions unable to access it, such as Africa and Asia, or most of Europe. It was also accused of using adware to their site.
Veoh still offers access to millions upon millions of videos, despite these problems. Although most of the content is uploaded by users, news articles from major media outlets have been submitted to the site. Although it isn't the most user-friendly site, you will find plenty of content.
11. TVPlayer
TVPlayer is a streaming platform based in the UK. You can access premium channels that aren't available on Freeview and Freesat. The site offers apps for all platforms, as well as a web-based interface.
Users can get access to free-to-air channels without commercial breaks by creating a free account. The free service does not include basic channels. Premium memberships include full access to more than 80 channels, on-demand streaming, and the ability to record TV live.
12. Hoopla
You don't need a card to use the public library, but you can borrow books. Hoopla, a library-connected platform, allows anyone with a public card to borrow books as well as movies, music and TV shows.
This platform bridges the gap between digital streaming and the library system. It's secure and it looks great. You can borrow anything you like and it will be added to your account.
You can stream music, movies, and TV shows to your computer and smartphone as well as your tablet devices. Hoopla even has an app that makes it easy. The shows are returned after your borrowing period expires, just like regular libraries.
13. Pluto TV
Pluto TV is another popular streaming video site that offers a lot of content. It operates differently from other video streaming websites. Instead of choosing a TV show or movie, you can browse through over 100 channels.
There are many programming options on the Pluto TV channels. There will be a mix of original content, broadcast networks television shows, documentaries and independent films. You'll also find news, videos, and other programming.
Exclusive content, such as original programming from CNET and IGN, can be viewed online.
14. Vudu
Vudu has both premium and free content. Free registration is possible to browse thousands of TV shows and movies. You can also rent or buy the most popular blockbuster movies.
You can watch a variety of classic films, modern Hollywood movies, and classic sitcoms as free content. You will need to view advertisements when viewing the free content. Most ads are brief and do not appear often.
It is easy to navigate the content, with TV shows and movies divided into categories. You can also access the most recent releases if you are bored of the free content.
15. Kanopy
You will be impressed by the website's design. It draws you in with its attractive movie visuals.
Kanopy, like Hoopla works with the public library lending system and allows anyone with a library card (or a university login) to access thousands upon thousands of movies. It is completely secure and offers no ads. You can borrow the same library books and then watch what's in their streaming catalog.
Both Hoopla and Kanopy can only be used if your library is participating in either of these programs.
---
Interesting Related Article: "Unforgettable casino scenes in movies"