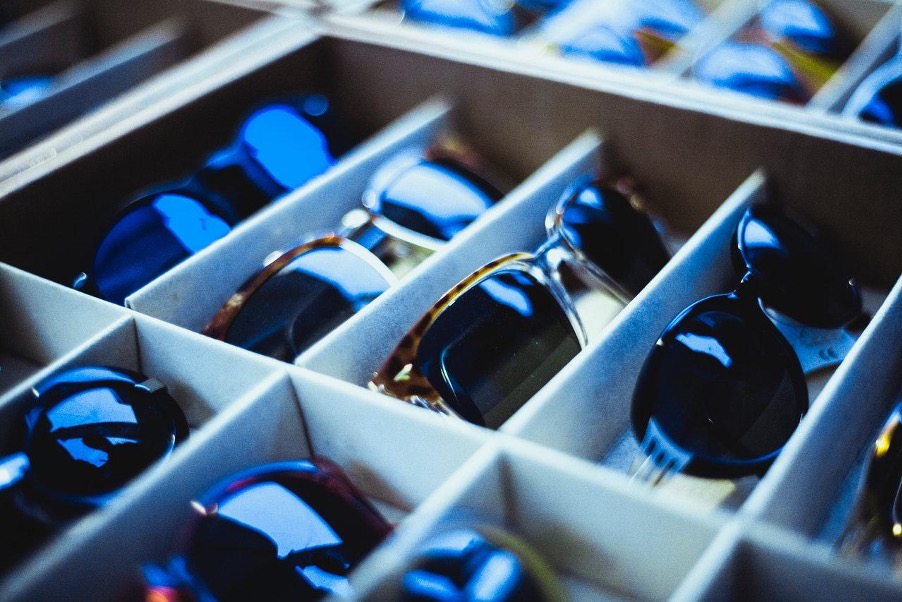 As we get older, even those of us who have never needed eyeglasses before find the need for corrective lenses creeping in. If you've found yourself needing to wear glasses for the first time – or suddenly discovered that your reading glasses have to be now worn on a more permanent basis – you may be wondering how to choose the best glasses to suit your face, your style preferences, and your lifestyle.
If budget options don't appeal, and you're in the market for a fabulous pair of designer eyeglasses that perfectly reflect your personality and unique aesthetic, then – happily –  there are plenty of options out there. 
Amelia – Elderflower Crystal
With its discreet cat eye angles, what makes these eyeglasses perfect for the discerning over fifty is their almost-transparent frames, which make for a discreet yet classy appearance that's extremely easy to wear. The slightest hint of soft blush color is flattering to the features and won't clash with any of the garments in your wardrobe.
We know that quality is what you're looking for, and the Amelia in Elderflower Crystal doesn't disappoint on this score, either: the frame is constructed from hand-polished cellulose acetate, incorporating lenses made from impact-resistant polycarbonate. The latter is also scratch resistant, anti-reflective, and blocks 100% of the sun's harmful UV rays.
These eyeglasses offer a wide variety of lens and prescription types, including progressives, single vision, anti-fatigue, and readers. You can also choose to have a light-responsive or blue light-filtering coating added to the lenses if required.
Prada – Pink Havana
These tortoiseshell-framed eyeglasses also feature a dash of pink, giving them a vibrant, fun edge that works well with their classic cat eye shape. This type of frame shape is really easy to wear and looks great on the majority of face shapes. The Prada brand is well-known for its superior design and ultra high-quality, and these eyeglasses scream discerning taste.
As you'd expect, the lenses are premium quality, incorporating an invisible scratch-resistant coating that improves resistance to both smudging and scratches and a blue-violet light filter that provides protection from this kind of light emitted by both the sun and digital devices – which could add up to a better night's sleep. Blue light from devices is known to disrupt sleep patterns, confusing the brain's sleepy signals and potentially making it more difficult for the user to get to sleep and enjoy an undisturbed night's slumber.
Lydell – Truffle Tortoise
For those who are over fifty and enjoy wearing bright, bold outfits, a pair of tortoiseshell-framed glasses could be perfect: they not only work well with all skin tones, but they create a fabulously contrasting look when worn with other colors and patterns. And when you're in the mood for a more conservative ensemble? They add timeless class to these outfits, too.
Rather than cheaper, budget options, you're looking for a high-quality pair of designer eyeglasses that is durable and looks a million dollars – so consider Lydell eyeglasses in Tuffle Tortoise. The frame is available in narrow, extra narrow, and medium, so you can choose the perfect option for your face shape and size. 
The subtle teardrop shape of the lens, the vintage-look arched browline, and graduated rivets combine to create a confident, classy look that'll never go out of fashion. These eyeglasses are manufactured to extremely high standards, with impact-resistant lenses that benefit from a scratch-resistant, anti-reflective coating – and they're available in a range of prescriptions and lens types, too.
Ray-Ban – RB6477 Optics
The brand Ray-Ban is synonymous with high quality and a timeless aesthetic – and the RB6477 Optics model doesn't break the mold on either score. The thin, silver metal frame makes these eyeglasses extremely versatile – pair them with your favorite casual wear or your most dazzling evening gown to an equally flattering effect.
Whatever type of prescription or lenses you require, Ray-Ban has you covered: lenses are specially cut and shaped to fit perfectly with the frames, and all lenses offer exceptional protection from UVA rays – on both sides of the lens.
Final Thoughts
When choosing a new pair of glasses, it's important to keep in mind the ease with which the prescription or lenses that you require can fit into your chosen frames. Look for high-quality brands that make this process a simple and seamless one. However, with so many options out there, it may be easier than you think to find the perfect pair of designer eyeglasses that reflect your personality, lifestyle, and style preferences.
---
You may be interested in: Details About the Manufacturing of Eyeglasses