As our now global society moves towards an increasingly technological future, one of the trends taking hold is the current widespread use of business expense trackers, or, more specifically mileage trackers.
This kind of software can help small business owners, independent contractors or generally self-employed people maximize their tax deductions on business mileage through the IRS – something which savvy business owners know is crucial to getting the most returns and reducing costs within their business.
In most cases, these apps can be downloaded for free from Google Play or App Store, as the vast majority of them are available for both Apple devices and Android users. Generally speaking, however, free apps come with disadvantages, meaning that in the end, most people who do work-related mileage have to sign up for a plan. Usually, these plans involve a monthly deduction from your bank account, or a larger credit card payment as part of an ongoing plan.
Since the market for this type of software is so vast, were going to focus on just three major providers today.
What Kind of Features are Needed?
Let's take a look at some of the most important features mileage logging apps can provide, delving into why exactly they are important according to expert opinion.
Automatic Tracking
Easily one of the most important features, auto-tracking is absolutely essential if you want to log your business mileage accurately in a timely manner. The alternative is manual trip recording, which, while certainly better than using a paper-based mileage log, is lackluster and time-consuming. Some providers have many different types of tracking available, while others stick to just one or two. More on this later when we examine three of the best providers in more detail.
Built-in IRS Auditor
Recording your mileage through an app is one thing – most apps allow you to do it with relative ease. The issue is making sure that those logs are IRS-Proof – something which can be very tedious if you have to go through all your logs individually and make sure all the numbers add up. However, one provider we're looking at today has an in-built IRS auditor – MileageWise. MileageWise's auditor examines 70 possible logical contradictions in your logs before allowing you to print them – making sure your logs are flawless.
Mileage Log Preparation Service
Speaking of making your logs flawless, MileageWise also offers a log preparation service – an especially crucial thing if you're being audited by the IRS and your time is scarce. It does cost a little extra, but it's worth highlighting as another feature no other providers offer.
Three of the Best Mileage Tracker Apps and Their Features
Having taken a look at some of the more niche features that one provider offers, let's get into a more general comparison with prices and general features. Today we're looking at three of the best mileage trackers on the market – MileageWise, Hurdlr and Driversnote.
Hurdlr
First up is Hurdlr, an app that focuses on general expenses and has a mileage tracker too. Features include a manual expense tracker, and semi-automatic mileage tracker for its free version. When it comes to tracking business expenses in a more general sense, the software offers a lot to consumers who are willing to pay a little extra, though most standard features seem to relate more to accounting and reports than mileage.
Pricing: Billed annually, personal business professionals who choose Hurdlr can get limited features for free, and a premium plan for $8.34 per month. At the top end, a pro plan is available for $16.67 per month, also billed annually. This pro plan includes features such as advanced accounting reports, which, while certainly useful – serve a slightly different market.
Driversnote
Next, we're going to take a look at Driversnote. This provider caters to a global market – reporting more than 1 million users worldwide – they seem to be a rising star in the industry. Features are relatively standard, with trip categorization and purpose being an important part of their software's sleek and intuitive systems. Auto tracking is available through iBeacon – an external Bluetooth device that customers must buy separately.
Alternatively, if you sign up for their annual plan they will give you the iBeacon for free – which doesn't seem like a bad deal. Still, without the beacon, only simple motion tracking is available, which has certainly proven lackluster in the past.
Pricing: A free "lite" version is available, but it only records a maximum of 20 trips per month, which in most cases is not even close to enough for most businesses. Up from this is their basic plan for $9.50 per month which offers unlimited trips and focuses on iBeacon tracking. Outside of this plan, they prefer to engage with customers directly through a survey and form which is available in the pricing section on their website.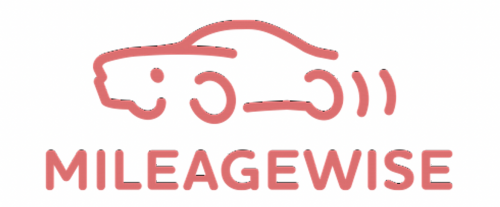 MileageWise
Finally, we come back to MileageWise. This promising newcomer has hit the market with a tonne of revolutionary features, on top of those mentioned previously. Among these is the software's AI-based AdWise feature – this technology allows the reconstruction of past mileage for those who may have gaps in their logs – you only need to provide your odometer readings, your home or headquarters, and the places that you generally frequent for business. The app does the rest – which can save you in a clinch where you might be staring down the barrel of an incoming IRS audit.
MileagWise also has three tracking methods – vehicle movement monitoring, Bluetooth auto-tracking, and Plug'N'Go auto-tracking. Each method works based on a sophisticated double trigger point system – one trigger for when you stop your vehicle, the next when you turn off or unplug whatever you were using in the first place. This way you never end up with broken or unsalvageable trips – the trigger point system guarantees the app always stops and starts recording only when it is appropriate.
Pricing: MileageWise offers the only real free trial on the market – with 14 days of their full version and all its add-ons for free. This means you can decide whether the app is for you before you commit and start to pay monthly or yearly. Price-wise, there are many plans to choose from, with their "small plan" starting users off with the majority of their features from just $4.99 a month. Up from this is the gold plan, where all features – including the past mileage reconstruction – are available for $9.99 a month, though the charges are billed annually. Plans escalate from here all the way up to the VIP level – where users can buy the app and use it for life.
What's best for Enterprise Companies?
Whether you're running a company or you're an employee of one, it is crucial that everyone gets the most out of their mileage reimbursement. A team dashboard is needed, where a CPA or tax professional can manage the employees' mileage logs and make sure that everything is accounted for properly.
All providers listed here today have some version of a team web dashboard, though once again MileageWise's software comes out on top with all of the extra features that help accountants, employees, and business owners. Driversnote and Hurdlr have great services too – but MileageWise just edges them out in this department.
Are There Any Disadvantages to a Mileage Tracker Platform?
Sadly, yes. Let's examine some common pitfalls consumers need to know about:
Limited trip recording can be an issue when you're dealing specifically with apps that allow free usage, but only for between 20 and 40 trips per month, per user. Unsurprisingly, if you want to create a comprehensive mileage log for the IRS you almost always need the full version – regardless of which provider and software you want to use.
Data and battery overuse can be an issue on some apps, especially those that rely heavily on using GPS as you are actually driving.
A lack of customer service and support – watch out for this one as many apps don't have much in the way of support. This can mean that when you encounter an issue while preparing your mileage logs, you might be unable to fix your problems.
The Lowdown
When all is said and done, MileageWise does seem to be the best mileage tracker app out there – at least from an objective perspective where basic popularity for simple mileage tracker apps is concerned. In business, being ahead of the curve is everything. Sure – Driversnote and Hurdlr are great pieces of technology too – they just don't quite serve the specialized mileage needs of modern business people quite as well.
The same can be said of some of the more well-known providers in this market, such as MileIQ and Everlance. They're great in their own right, but, as we all know – sometimes it is the underdog who gets the best job done long term. MileageWise is that feisty newcomer – time will tell how their tech impacts the industry.
---
Interesting Related Article: "Using Your Personal Vehicle for Work: Tax, Insurance, & Comfort Tips"