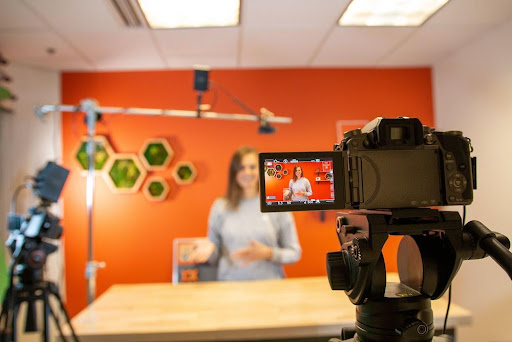 Video material is undeniably more fascinating and interesting than text-based information. 
Compared to articles, which can only be skimmed or completely skipped, video-based material is more likely to be shared and people are also more inclined to sit through the whole length of it. 
It has been repeatedly shown that using video in your articles or emails increases click-through rates and conversion rates. However, developing a solid video content marketing plan is by no means simple.
Everything worth having, as the adage goes, is worth working for. In this situation, making video content is worthwhile if you want to increase your chances of connecting with more ideal customers. 
To ensure that your video content marketing plan is both entertaining viewers and assisting in the conversion of those viewers into customers, you need to ensure that you are adhering to the best practices. 
Luckily for you, we've compiled a list of best practices for video marketing with the help of some experts. 
Set your goals
It may seem simple, but it should be your first priority since your video won't be designed to have the most impact if you don't have a clear sense of your destination, your goal, and your target audience. 
Zulfar Azimi, the head of marketing at CaniXda tells us: "Your aim must be in the forefront of your thoughts in whatever you do or you run the danger of producing a wishy-washy piece of material. 
How old, for instance, is your intended audience? You may use this to determine where and how they watch internet videos. 
Where does your intended audience work? An essential question, particularly for B2B businesses since it can help you focus on the tone and placement of your film. 
What problems does your clientele have? This helps you stay focused and on-task, which is crucial when you just have a short amount of time to speak. How do you resolve the issue for the intended audience? 
If you want to do an explainer-style Product Demo, Animation, Livestream, or Customer Story piece, for instance, the answers to these challenges will act as the structure for your video."
A hook and a sinker
Ritika Asrani, the owner of Century21 St Maarten shares: "Prior to a few years ago, the majority of professionals in video marketing would assert that a company had 10 seconds to capture a viewer's interest before they abandoned it. 
In the reality of today's digital and video proliferation, you only have three seconds to grab someone's attention. 
Similar to a news headline or email subject line, the images, title, and opening seconds of your film ought to captivate viewers right away. However, you do need to think strategically and creatively about how you're going to make sure your video sticks out. 
This doesn't imply one has to adopt a clickbait approach. The temptation for customers and consumers to keep scrolling is quite powerful when there is an unlimited library to pick from. 
Facebook claims that 65% of viewers who watch the first three seconds of your video will continue to watch for at least 10 more seconds, and an additional 45% will continue to watch for a total of 20 seconds. 
Although you have a lot of time to communicate, it's crucial to get the audience's attention right away."
Share A Story
A video conveys a million stories compared to a picture's thousand words.
With any media, storytelling is one of the most successful methods to convey a message, and the narrative style works especially well with video.
For your video, develop a narrative arc with a start, middle, and finish. This format, known as the dramatic arc, can be found in all interesting stories. 
It begins with something novel, builds tension as the characters face challenges, often as a result of some failure or catastrophe in the past, and culminates in a turning point when the plot is resolved.
Check that your videos are audible without sound
Aliza Naiman, marketing manager at Olgam Life states: "Facebook videos are often viewed without sound. Make sure that your films still deliver your message when they are muted if you want to share them on social media networks." 
Engage Your Audience 
There is a wide variety of content available to people. You will lose them if your images and title do not immediately captivate them. 
A video's opening seconds function just like the subject lines of text blog posts or emails. You use them to capture the audience's interest right away and pique their curiosity. 
To grab attention, thumbnails can be effective. Effective thumbnails often include a person, text, and a visible part of the video topic. They should be made aesthetically appealing and often combined with complementing hues. A treasure in the toolset that is often ignored. 
Skip the Overtly Sales-Oriented Videos
The majority of people want answers to their issues, but they do not want to sit through a sales pitch. If your audience thinks you are solely concerned with their money, they will just tune out your message. 
Selling a solution, on the other hand, implies that you are attempting to make their life simpler. They are more likely to find something to be worthwhile since it is far more intriguing.
Limitless Video Access
Tommy Mello, owner of A1garage shares: "Too many companies mistakenly believe that video is only occasionally useful. In particular, a lot of businesses utilize video for brand awareness campaigns when there are really plenty of fantastic chances to use video in your company. 
For instance, adding a video to a landing page can often increase conversion rates significantly. Why not let it do part of the work for you because it is often regarded as the most captivating kind of material on the internet"