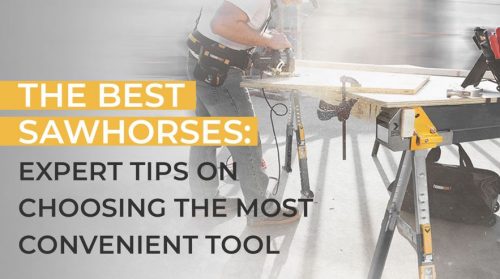 Do you know how to choose the best sawhorses? If you used to work with your hands on an ongoing basis, you need to choose the best tool which will make your work fast and easy. When you have the best sawhorse, you can be sure that your work will run smoothly. Besides, when the new project starts up unexpectedly, you are sure that you have the right instrument to complete it.
In this review, we'll discern about sawhorses, its main types and provide you with the detailed instruction on how to choose the best one.
The Main Reasons to Use Sawhorses
Well, what is a sawhorse? It's a beam that has four legs. Its main purpose is to support boards for sawing. Some craftsmen also call it a mule or a pony. To support a plank, two sawhorses are used. They are easy to use, as you can see in the Workzone manual, and you won't have any issues along the road. If you need to work with doors or plywood, you can turn this tool into a wide work table or a platform. In current times, masters engaged in woodwork use sawhorses on an ongoing basis. This is the number-one tool that can make the quality of their work better.
What Aspects to Consider while Choosing the Best Sawhorse?
As we have already mentioned, having a top-quality sawhorse is the key to success. Simply put, you won't face any difficulties with your projects. We hope that our buying guide will help you choose the best option. You'll figure out the main things which should be considered at this stage. The good news is that today, the best sawhorse reviews published in the web environment can help woodworking masters choose the best tools.
Firstly, you need to pay attention to the material of which a sawhorse is made. Commonly, these tools are made of:
It is evident that the most long-lasting tool is the one which is made of steel. However, it also depends on the material which you will count on them. Nevertheless, you shouldn't buy the cheapest option because it won't be durable.
Besides, you should also consider the number of pieces which are added in the set. A sawhorse can include either one or a few pieces. This aspect is of prime importance because it can influence the overall durability of this tool. To find the answer to this question, you can also explore the sawhorse reviews left by professional woodworking masters.
What is the size of your sawhorse? Which one is the most appropriate? Keep in mind that it depends on your projects. If you are going to deal with huge projects, you need to choose bigger tools.
Some sawhorses are foldable. It means that you can easily fold it down and transport it to absolutely any place. Foldable sawhorses are more manageable and take less space in your workroom.
What about the weight capacity? The weight of the tool depends on the material of which it is made. Steel sawhorses weigh more than plastic ones. You should choose the one which will help accomplish your projects.
The modern market is overwhelmed with high-quality tools at reasonable costs. You just need to pick the one which will comply with your demands.