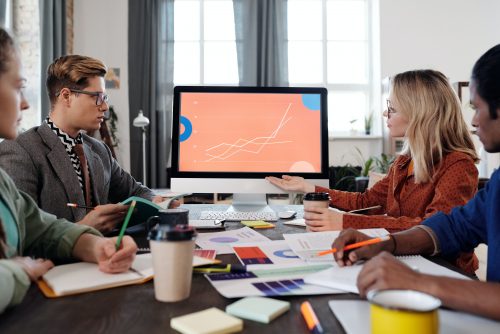 Despite the dominance of digital marketing, print marketing is having something of a resurgence as businesses seek ways to differentiate their brands from competitors. As a result, many businesses are turning to brochure printing to reach their target audience.
This guide will guide you through the do's and don'ts of designing an engaging brochure.
Do: Be Consistent
When it comes to branding, you need to be consistent. Brand consistency isn't a 'nice to have'; it's a must. Your business's branding should communicate brand your values and be recognisable, so people can recall the products or services you offer. In addition, consistent branding will make your company feel more dependable to customers by building trust. To ensure branding is consistent across all marketing materials, use the same fonts, colours, graphic styles and tone of voice.
Do: Choose Suitable Paper
One of the most important choices you'll make when it comes to designing your brochure is the paper type and thickness. Making the wrong choice may result in a brochure that is easily damaged. For example, choosing thin, uncoated paper will make it easier for pages to rip or succumb to damage from liquids. The best paper types for brochures are silk and gloss, as they both provide excellent ink-to-paper contrast and give the pages a satisfying shine that makes the brochure feel premium. In terms of paper thickness, the interior pages of your booklet should be between 130 and 170 GSM. The front cover of the brochure should be significantly thicker, ideally somewhere between 200 and 250 GSM.
Do: Choose The Right Binding
The type of brochure you are creating and the paper type and thickness you choose will determine the most suitable binding. Typically, the most economical binding method is stapled binding. However, it is not always suitable. For example, suppose you are planning to use thick paper and include several dozen pages. In that case, you may want to consider opting for wiro binding instead. If you do choose wiro binding, make sure to leave sufficient space for the binding as you don't want important information or imagery to be obscured.
Do: Use a Reputable Printing Service
It has never been easier to get a brochure printed—there are dozens of excellent online printing services available. The beauty of using an online printing service is that all the options are laid out in front of you: paper type, thickness, binding, size, colour, orientation and more. Plus, many online printing services will allow you to obtain a quote instantly; there's no need to contact them to find out how much a certain number of brochures will cost you. Finally, many online printing companies will over fast delivery, meaning you can get your brochures in front of your target audience quickly.
Don't: Include Too Much Text
With a brochure, it's important that you don't include too much text. Ideally, brochures should have roughly equal amounts of text and imagery. Don't just tell readers why they should buy your product or service; show them! Too much text will simply overwhelm readers, and they may abandon reading the brochure altogether. Alternatively, you should capture their attention by communicating your brand message in a concise, engaging way.
Don't: Forget to Include Bleed Areas
After you've defined the trim line, which dictates where the paper will be cut during the printing process, you must leave a 3mm bleed area that contains no vital text or imagery. The bleed area acts as a buffer zone, as the blades in the printing mechanism are not always 100 per cent accurate—paper can shift during the printing process. Without a 3mm bleed area, important content may be sliced off.
Don't: Use Low-Quality Imagery
If there's one thing that instantly ruins a brochure, it's poor-quality imagery. So if you're going to include product photos, make sure that they're taken by a professional using a high-quality camera. It is important that you prioritise high-quality imagery because readers will notice low-quality imagery immediately, and it will make your brand appear cheap and unreliable—that is not the message you're trying to convey!
Don't: Forget To Include A Call To Action
An engaging brochure will contain calls to action. For example, good calls to action include "get a free quote today", "order now while stocks last" or "claim your free item today". Remember that a good call to action is simple but implies urgency. Without a clear call to action, readers won't know what you want them to do, so make sure to include one!
In Summary
Creating a compelling brochure can work wonders for your business, but you need to make sure that you follow brochure best practices such as using consistent branding, choosing suitable paper and binding and using a reputable printing service. Finally, you should avoid common brochure mistakes, such as using low-quality imagery, including too much text and forgetting to include a clear call to action.
---
Interesting Related Article: "Best Digital Marketing Trends of 2022"