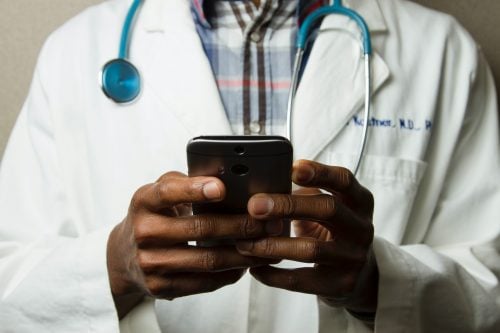 The COVID-19 outbreak had a dramatic impact on society and it changed our lives in many ways. Some would even dare to say that working remotely and social distancing has definitely become the norm. But not only that, people are relying on technology like never before, and the telehealth industry is undoubtedly thriving.
Recently, businesses have seen the need to implement these types of services to meet the needs of their employees through online apps, text, and video conferencing.
In this post, we'll delve into the inner workings of this booming industry, and we'll also explain the benefits that telehealth offers to businesses.
HealthCare + Technology
Telehealth is the remote delivery of health care services. It works through telecom technology and digital devices.
According to Mordor Intelligence, in 2020, the telehealth industry reached a jaw dropping USD 38,289 million and it is projected that, by 2026, it will have a revenue of USD 168,396 million.
The idea behind telehealth is to enable physicians to provide and access health-related services remotely. For example:
Medical students may access educational resources. This way, they can enhance their health expertise beyond hospitals, labs, and classrooms.

Doctors could access provider-to-provider video conferences. It's an immediate way to share knowledge across the country or the world.

Remote patient monitoring (RPM) apps could help physicians keep track of a patient's health status in real time. It is also a great tool to provide immediate support over long distances.
But this technology is not exclusive to health service professionals.  Users can access many telehealth features for their own benefits.
Patients living in rural or isolated areas can check up with physicians through video consultations.

People with limited mobility can use apps to set up home visits from a nurse, or to a clinic, if needed.

Users can access many apps and wearable devices for self-care monitoring. This is especially useful for people with chronic ailments.
It's clear that this form of telemedicine can offer great perks to the community. But is it a service that brands can introduce into their businesses? In short, yes.
Companies can use this service to provide patients with better care. Home office employees can receive medication, adjust their diet, and even receive scans and blood work remotely, and it has also proven to save brands and employees time and money.
But there are other potential benefits as well.
How Employers Can Benefit from Telehealth
As we mentioned before, telehealth is a form of primary health care. The goal is to encourage employees to use this service for minor concerns so they can follow up with their own physicians later for a more specialized treatment.
For this reason, telehealth services can improve an employees' experience with health services, especially when the company that they work for is providing it.
And with millions working from home, this convenient option will soon prove an essential lifeline for employee safety.
Let's review some strategies to merge telehealth benefits into your business:
Healthcare Plan Integration
Integrating telehealth into existing healthcare plans may provide consistent care at lower premium costs.
Mercer reports that health benefit costs topped $13,000 in 2019. This number is expected to rise in the years to come. Also, 9 out of 10 employers offer online health-related services to employees
As brands look for cost-effective strategies to protect employees, telehealth is slowly coming into the forefront.
Here are some of the services available:
Remote Patient Monitoring. Set up wearable devices to keep track of an employee's vitals. For example, a diabetic patient can monitor blood glucose readings. Then, the data is then transferred to a professional for a diagnosis.

Pharmacy. Access to apps which keep track of prescription medicine intake or authorize refills. The app can offer reminders and follow-ups, or educate patients about their treatment.

Rehab. Employees can set up devices, apps and consultations to track their rehab proves after an accident or recovering from a disease. They can also set up appointments, so they don't miss rehab sessions with physicians.

Online Consultation. Patients can contact professional nurses or physicians for psychological support. These can be done through video chat, or specialized texting apps.
To guarantee consistency, you can team up with certified medical practices. The benefit is that you'll integrate telemedicine into healthcare plans.
UnitedHealthcare is a good example. Users can set up accounts to access qualified doctors who offer telehealth services.
Cater to Employees' Needs
Your employees are unique individuals. Therefore, they have unique health necessities. There are several telehealth services out there, but not all may align with youth personnel's needs.
It's crucial you review any telehealth provider's services. Also test their delivery channels. Some employees may prefer video chats, and email may work best for others.
Both services and media will determine the brand's engagement with telehealth. Let's say your employees live in remote areas with limited broadband. It'd be best to focus on chat or call services, rather than video consultations.
If you want to offer these types of services, survey employees beforehand to find out what's the best channel and services for them.
The resulting data will help you make the best hiring decision. Plus, you'll show that their health matters to you.
Spread the Word
Telehealth is novel and voluntary. Employees won't use it if they don't know it's there for them. To generate engagement, consider setting up an incentive program. Mercer states that, as of 2019, only 9% of eligible personnel used their telehealth services.
Communicate the advantages of the program. For example, explain that online consultations can increase their access to health services.
Telehealth can reduce their average visits to the doctor. This translates into less waiting times, and reduced expenses.
Besides sharing the benefits, educate employees about the available tools. Set up a small tutorial so the personnel know how to enroll and access the services offered.
Do they need to set up an account? Can they download an app? What's the personal data they must submit to physicians?
Knowing the logistics of the program will ease the minds of employees and boost trust and increase engagement.
Amazon Care
The retail giant launched Amazon Care in 2019. The program grants 24-hour online health-related services to Amazon employees and their families.
As of 2021, only Amazon employees have access to this program. The app grants access to specialized medical experts, who track the medical history of each employee.
Amazon Care also features the following services:
Care Team. Employees are protected by Care Medical. This certified medical practice boasts a team of licensed doctors and registered nurses, ready to take care of users.

Care Chat. Text messaging with registered nurses for health advice.

Mobile Care. Physicians may recommend In-person visits to provide follow-up care.
Users can also set up appointments and medical exams, have prescriptions delivered, and keep track of annual vaccinations.
Amazon Care is available across all the United States, but it is expected that, in the future, this program will be available in more parts of the world. This proves that telehealth has the potential to boost employees' well-being.
Final Thoughts
Telehealth is revolutionizing health care practices and education, and in this digital era, businesses must strive to keep abreast of new trends to stay ahead of the competition.
As we mentioned before, solutions like Amazon Care offer great benefits for brands. So, why not innovate by creating your own resources?
However, we recommend that you consider the different options available to find out how you can meet the needs of your workers more effectively.
Once you have decided the type of telehealth provider that you will offer your employees, do not forget to educate them on the subject so that they are aware of all the benefits to which they will have access.
Remember, engagement is key. Keeping your employees informed will avoid that such investment has been in vain.
Make sure these services are clear to them and offer attractive benefits for their immediate family members. This will make them feel sheltered by your company and will create long-term loyalty and staff retention.
Author's Bio
Esteban Muñoz is an SEO copywriter at AMZ Advisers, with several years' experience in digital marketing and e-commerce. Esteban and the AMZ Advisers team have been able to achieve incredible growth on the Amazon platform for their clients by optimizing and managing their accounts and creating in-depth content marketing strategies.
---
Interesting Related Article: "Telehealth Gains Momentum amid COVID-19 Pandemic"