Betting has been common for centuries, and its accessibility nowadays makes more people engage themselves in such entertainment. Bright bookmakers' advertisements beckon users, and dedicated sports fans are especially enthusiastic about betting in the belief that they know exactly how the match will end. The riskiness of this activity does not stop bettors from betting huge amounts on the winning of their favorite team, and it is worth noting that some still manage to hit the jackpot. However, you cannot even imagine how much some people are ready to invest in getting a dose of adrenaline, aiming to receive incredible payouts.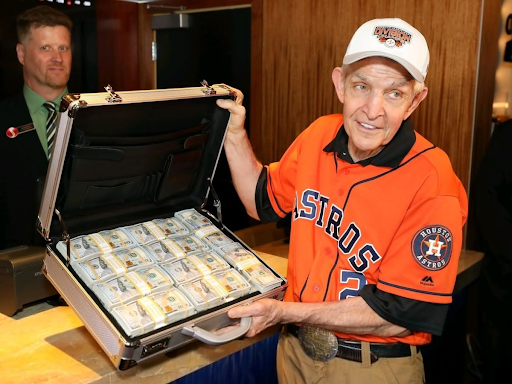 Jim McIngvale is a well-known American businessman, also known as "Mattress Mack." Even though the man has a lot of achievements, the public began talking about him a lot at the beginning of this year. The man shocked users by placing a bet of $4.5 million, being convinced that Cincinnati Bengals would win the Super Bowl Competition. Sounds like something insane, right? However, an even bigger shock to those around him was that he bet an additional $5 million on the same team a few days later. 
Apparently, it was difficult for him to resist increasing the deposit by 170x, but such actions had another non-obvious purpose. A furniture store owner took the opportunity to revamp his marketing campaign, promising customers to refund $3000 of their spending for the bought items if his bet became successful.
Of course, a flood of customers immediately ran into his store, hoping the team would win and all their expenses would be returned. McIngvale ended up selling almost $20 million worth of furniture. The whole world waited for the results of the match with bated breath, but the outcome disappointed everyone. The Rams team beat the Bengals, so the businessman was left without winning, and his buyers didn't get any compensation. 
However, this does not seem to bother Mattress Mack at all, as he mentioned that he would not be sad but would just sleep on his high-quality mattress and go back to work. We wish everyone would have such endurance and the ability to respond to failures! The high roller became a worthy example for all who love betting and gambling at a casino Canada. After all, the guy ran a great marketing campaign for his business and ended up making a lot more than he spent. In turn, Jim claims he was very upset that he could not pay the promised reward to his visitors. 
Another Huge Bet Made by Mattress Mack
However, such a strategy seemed successful for the businessman since he soon launched the same promotion with baseball betting. Jim bet $10 million on the Houston Astros during the World Series. And the customers rushed to his store again to purchase the desired goods and get the possibility to get the desired compensation. And this time, it worked in his favor! The most famous 2022 high roller got his $75 million after his chosen team won the title.
The businessman is now busy honestly paying the promised refunds to his customers. This person will definitely go down in history as a gambler with a huge win and a businessman with an incredible development strategy. After all, we can only guess how much he earned while his audience closely followed the events in the baseball world and continued buying goods in his stores. The public is looking forward to new championships, hoping that it was not the last promotion from the owner of Gallery Furniture.
---
You may be interested in: A Guide to Jewelry Design and the Manufacturing Process