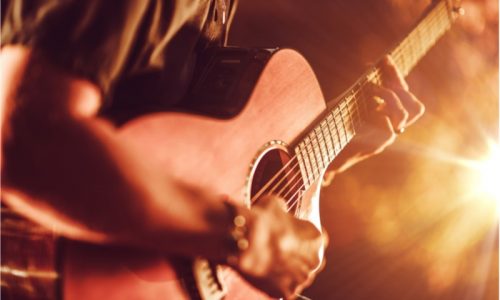 Throughout history, there have been music cities. These places provided musicians of all genres and sound a place where they can explore their art and collaborate with other like-minded artists. Over the years, these music cities develop their own unique music culture, creating bastions of creative expression across the world.
There are many such cities in the United States. Nashville Tennessee is the capital of country music and its state, while Memphis is the home of soul. Aside from the first word in their names, New York and New Orleans both have their unshakable love of jazz in common. The list goes on and on, but they all share one similar characteristic; they're inseparable from their music.
Of all these cultural and artistic hubs, there are few cities that can match the fiercely rebellious independence of music culture in Houston TX. This city has been a bastion of Texas blues, rock, outlaw country, none of which would be the same without it. From hard rocking legends like Stevie Ray Vaughn to colder-than-ice rappers like Chamillionaire and Travis Scott, we're going to be covering a lot of ground!
For this list, we'll be looking at each genre that musicians in Houston influenced and talking about some of the most important and influential names in the music business. You'll probably recognize most of them, but you might not have known how important Houston was in their musical journeys. Let's begin!
Blues
This city's history with music goes all the way back to the 1920s, starting off with blues legends that put their own unique spin on the archetypal blues sound. These musicians created their own sound, often referred to as "Texas Blues", which was characterized by stripped-down acoustic instrumentation and raw, soulful vocals.
Among these pioneering blues artists, the earliest to gain widespread notoriety was the exceptionally talented Blind Lemon Jefferson. Often referred to as "the father of Texas blues", Jefferson's music lacked the bombastic spectacle of popular music of the time, but it had something that contemporary music lacked: soul.
Another highly influential artist who hailed from Houston is the late, great Lightnin Hopkins. With a cigar hanging from his lip and an acoustic guitar held in his weathered hands, he'd sing about love, beauty and heartbreak like nobody else had before or since. He had a voice that was smooth as burnished silver, but it had gravel too when needed; in short, he was a blues legend, and one of the best at that!
Rock
Although blues musicians have always their own dedicated following, it's no secret that it lacks some of the mainstream appeal that other genres have. Blues is about speaking to the soul, and while some songs have a catchy lick or vocal hook, most aren't the kind of music you're likely to hear on the radio. Out of this need for something aimed at a broader audience sprung rock and roll, and the rest is history.
In Houston, some of the most popular rock bands were a fusion of sorts between blues and rock, usually referred to simply as "blues rock". Perhaps most notorious among these blues-rock bands is ZZ Top, the hard-living bearded trio from Houston. With a uniquely captivating appeal that straddles the line between cool and humorous, ZZ Top will go down in the annals of history as one of Houston's greatest bands.
Then there's the Sir Douglas Quartet, a Houston based band that capitalized on the fame of the Beatles, the Rolling Stones and other 1960s era rock n' roll sounds to create a unique fusion of classic rock and that signature Texas twang. With catchy lyrics and even catchier melodies, the Sir Douglas Quartet was one of the defining rock and roll bands of the 1960s.
Country
While it's undeniable that rock n' roll and blues have their appeal, there are few genres as down-to-earth and unpretentious as country music. While in recent years the waters have become a bit muddied by the authoritarian commercialism of big Nashville record labels, Houston has always been a refuge for those who refuse to conform. These artists refuse to follow the status quo, instead opting to keep making music for the working man.
Among these artists, none have been more successful than Kenny Rogers. With an unmistakable understated charm and beautiful singing voice, Kenny charmed his way into the hearts of country music lovers worldwide, changing the face of country music forever. In fact, The Gambler, his most successful album to date, has sold over 35 million copies!
In a more grassroots vein, Townes Van Zandt was one of the most beloved musicians to affect the city of Houston. With a sincere, genuine message devoid of any of the trappings of more commercial music, Van Zandt never gained nationwide fame or name recognition, instead opting to walk to the beat of his own drum, unconcerned with the cares and troubles of the harrowing music industry.
Rap
Another genre that has been irrevocably changed by the city of Houston is rap. In an industry largely obsessed with shallow pleasures and stale regurgitations of the same lyrical constructs, rap focuses on societal issues like systemic racism, wage inequality and other pressing societal dilemmas. So which rappers came up in Houston? Let's find out!
One of the most notorious rappers to come out of Houston is the legendary Chamillionaire. This Houston rapper is famous for his unequaled flows in which he strings together dozens of words in a single breath, with complex double entendre and excellent lyricisms. Although he isn't the chart-topping phenom he once was, he'll always be a legend, and none of it would have been possible if it weren't for the city of Houston.
A more contemporary example of a rapper who got his start in Houston is Travis Scott. There are many rappers working today, but among the rank and file mumble rappers of our age, Scott stands out with his witty and clever hooks and verses, putting his contemporaries to shame. While his style respects his predecessors, he has developed his own unique style that you won't hear anywhere else.
Houston's modern music scene
This brings us to the current day. While some of the lustre of the music scene in Houston has faded, there are still dozens of talented artists working here today, putting out music the way they want to. Without the domineering direction of an all powerful music label to tell them how to develop their art, musicians in Houston are free to develop their own fresh sounds and styles.
If you enjoy music, you'll love visiting the city of Houston. Whether you spend a weekend in Houston or a month, there are plenty of things to see and do that are bound to grab your attention. If you're into blues, jazz, country, rock or punk, you're sure to find live music somewhere that suits your tastes and preferences. Check out Houston today!
Conclusion
If this sounds like a place you'd want to live in, you've got something in common with dozens of famous musicians who've made this city their home. Taking the next step is simple; just give one of the real estate agents in Houston TX a call and see what's on the market. The median home price is surprisingly low too, so you've got a good chance of finding something that suits your needs and your budget!
---
Interesting Related Article: "Top 10 Best Music Streaming Apps in the Global Music Streaming Service Market 2019"