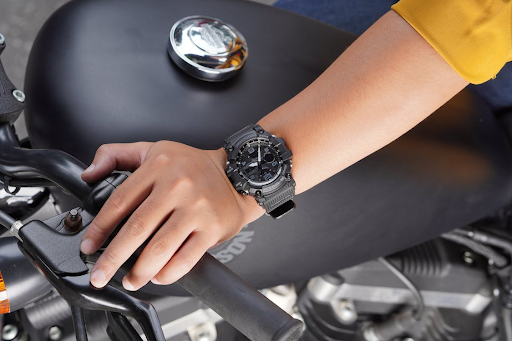 G-Shock watches have been around since 1983 and are a popular choice for those who want a reliable, stylish and durable watch. With their shock-resistant construction, water resistance of up to 200 meters, and quartz movement technology, these watches are designed to keep up with your active lifestyle. They come in a variety of styles and colours, so there is something for everyone's taste.
History of G-Shock Watches:
The story of G-Shock began in 1983 when Casio engineer Kikuo Ibe was inspired to create a watch that could withstand any shock or impact. He believed that if he could make a watch that was strong enough to survive even the harshest conditions, it would become an essential tool for anyone who needed reliable timekeeping under extreme circumstances. After two years of development and testing, Ibe presented his creation: The DW-5000C G-Shock for men. The first model featured a large resin case with an outer bezel made from stainless steel which protected its inner workings from shocks and impacts while also providing water resistance up to 200 meters deep. It also included an LCD with multiple functions such as alarm settings and stopwatch capabilities as well as an LED backlight so you could read it in low-light conditions.
Features of G-Shock Watches:
G-Shock for men watches are highly resistant to shock and vibration, which is why they have become so popular among people who work in tough conditions or enjoy extreme sports activities. The case and band are made from a strong resin material that absorbs shocks, while the inner mechanics are protected by an internal suspension system that prevents damage caused by heavy impacts or vibrations.
Another great feature of G-Shock watches is their water resistance rating of up to 200 meters (660 feet). This means you can wear them while swimming or diving without any worries about getting them wet.
Most G-Shocks come with multiple features such as a stopwatch timer, alarm clock, dual time zone settings, backlight illumination, and more – making them incredibly versatile for everyday use as well as for extreme conditions.

Benefits of Wearing a G-Shock Watch:
G-Shock watches are designed to withstand extreme conditions and harsh environments. They feature shock resistance technology, which means they won't break if you accidentally drop them or bump them against something hard. The case is also made from a tough plastic material so it won't scratch easily.
All G-Shocks have water resistance ratings up to 200 meters so you can take them with you when swimming, snorkelling or diving without worry. This is especially handy if you like spending time in the water but don't want to risk your expensive watch getting wet or damaged.
G-Shocks come in a wide variety of styles and colours so there is sure to be one that suits your taste perfectly. You can choose from classic black models to brightly coloured ones with fun patterns or designs.
Popular Models and Styles of G-Shock Watches:
The original G-Shock watch was released in 1983 with a simple black face and analogue display. Today's version of this classic model features an improved LCD with a backlight as well as a 200M water resistance rating. It also comes in several colours including blue, red, white, and camouflage prints.
The Master of G Line collection is designed specifically for outdoor adventurers who need watches that can withstand extreme conditions such as diving or mountaineering activities. Some notable models include the Gulfmaster GWN1000B (water-resistant up to 200 meters), Mudmaster GG1000 (designed for mud-resistant), and Rangeman.
Conclusion
In conclusion, G-Shock watches are an excellent choice for anyone who needs a reliable, durable, and stylish watch. They are designed to withstand harsh conditions and have many features that make them versatile for everyday use as well as for extreme sports or activities.
---
Interesting Related Article: "A Checklist For Buying Pre-Owned Watches"