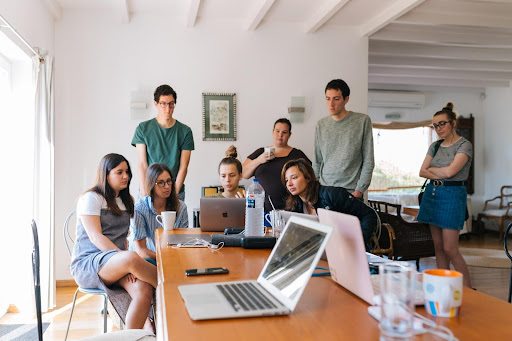 With competition increasing, more businesses are looking to improve their profit margins, reduce costs, and gain a competitive advantage. But how can businesses achieve this? One way is to make smarter, data-driven decisions. 
What Is Data-Driven Decision Making?
Modern businesses sit on pools of valuable data. Using AI-powered data analytics tools can help businesses process and utilize this data to make better decisions — by making decisions based on evidence rather than opinion, businesses can improve overall decision-making, enhance customer insights, increase profits, make faster decisions, and adapt to market changes more easily.
Using Microsoft Power BI
Microsoft Power BI is rising in popularity rapidly as organizations look for technology to help with data-driven decisions. The cloud-based business intelligence service allows users to visualize data and create insights and is backed by powerful reporting and analytical capabilities. In a nutshell, it lets companies convert insights into action. 
To unlock the full potential of the interactive data visualization software, organizations are signing up for Power BI services from renowned IT consulting companies like Softlanding. This industry-leading IT organization helps teams across Canada leverage the power of Microsoft technologies like Power BI to their benefit in multiple ways: 
Training:

Power BI is a sophisticated platform that's constantly developing. Keeping up with the latest features can be intimidating for the average user. But with the right consultant on your side, you can adopt Power BI and adapt to updates through training programs. You'll be creating compelling dashboards and reports in no time. 
Data Visualization & Reports:

Creating easy-to-use and interactive custom dashboards, internal or customer-facing, is much easier with professional assistance from a team that can customize any Power BI service to meet their client's needs. 
Power BI Development & Implementation:

The right IT partners will establish your goals, understand your data sources, design the data architecture, and build the data models to help your business implement this solution most effectively. 
Here are a number of ways Power BI helps organizations:
Connecting to Multiple Data Sources
Power BI allows companies to connect to many data sources. Whether your organization uses Excel, SQL Server, or Salesforce, this business intelligence tool can connect to many data streams to help your organization make smarter decisions. 
Digesting Large Datasets
You don't have to worry if your datasets are large because Power BI is designed to work with large amounts of data. With this software, you can crunch large data sets and create interactive reports and dashboards that can be used to visualize data and identify trends. In some cases it can also be easier to implement a business process outsourcing strategy to keep up with such large datasets.
Sharing Insights and Collaborating
Getting input from valuable players in your organization helps with making data-driven decisions. With Power BI, you can easily share insights with others. For example, you can use this AI-powered data analytics tool to share reports and dashboards with colleagues, clients, and partners. 
The ability to make sound decisions based on complex data can significantly impact the output of a business. With Microsoft Power BI, businesses can connect to multiple data sources, work with large datasets, create interactive reports and dashboards, and collaborate with the right people. If you are looking for a business intelligence tool, then Power BI is an excellent option.
---
Interesting Related Article: "Protect Your Data Against Breaches and Cyber Attacks With Simulation, Automation and Collaboration"