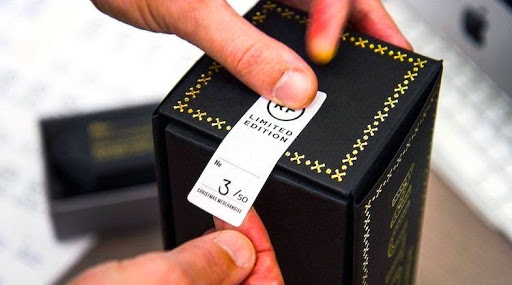 In today's hyper-competitive world, it's important for businesses to use every tool at their disposal to keep up with the competition. And sometimes, the simplest tools can be the most effective. Labeling, for example, can have a huge impact on your brand's appeal and identity. Below, we'll look at the importance of product labeling as part of an overall branding strategy.
What Is Labeling?
So, what exactly do we mean by "labeling"? Labeling is the display of labels on a good. Typically, labels feature the name of the product and brand but can include various other pieces of information, as well as imagery.
There are lots of different uses of labeling. The main purpose is to give the customer some information about the product in question, but labels can do much more than convey info. They're also very important for building up a brand's identity and attracting the attention of prospective customers.
Why Is Product Labeling Important for Branding?
Labels can be a critical part of any business' branding strategy, and it's vital to never underestimate or downplay the potential role that labels can have in terms of attracting people to your products, making sales, and establishing your brand in the world at large. Here are some ways in which labeling influence branding:
Provides Identification
One of the main functions of labels is to make it easy for people to easily and rapidly identify a product and a brand. If you visit a supermarket or retail store, for example, you'll be able to browse the aisles and quickly spot certain products purely because of their style of labeling.
Effective labeling not only makes it easy for people to identify your products and learn more about them but can also make your brand more identifiable, too. That way, people will start to associate your brand with a certain labeling style and quickly find your brand's products when they want them.
Makes Product Comparison Easier
These days, there's a lot of competition out there. No matter what kind of products you're trying to sell, from bottles of whiskey to the latest smartphones, there will always be other companies out there selling similar products and trying to target the same audience of customers.
Good quality labeling can make it much easier for customers to compare products visually. They can consult the different labels and find out about each brand and product in a matter of seconds. Plus, with a smart labeling strategy, you can make your products appear to be the best choice for every buyer.
Promotion and Marketing – Labels are a Key Part of Your Brand
When it comes to promoting and marketing your products, labels are an integral part of the package. Many of the best brands invest heavily in labeling and packaging in order to establish their identities, and this is something that your company should do if you want to get ahead and make a name for yourself, too.
Be Strategic To Stand Out
With so much competition, it can be tricky to make your products stand out these days. A lot of products look similar and all blend together in the eyes of consumers, This can make it hard for some brands and businesses to succeed, as their products might look too similar to all the others.
With a strategic labeling approach and good quality label printing companies by your side, you can invest in labels that help your brand stand out from the crowd. This can help you get much more positive attention, making your products appear to be more unique, more special, and more appealing than all the rest.
Strengthening Brand Identity
Labels can also be a crucial part of a brand's overall identity. For example, the Apple brand is famed for its sleek and minimalistic labeling strategy, which ties into the brand's over-arching philosophy and vibe. There are many other examples of popular brands and brand-new startups that use labels that aim to match their unique identities and characters.
Any business can follow these examples, using labels to not only establish themselves but also to strengthen their brand identities. Great labeling, when used in conjunction with other smart and consistent branding, can really cement your brand's vibe, values, image, and character in the minds of your prospective customers for the long term.
Protects Customers from Getting Cheated
Another significant advantage of labeling in the modern world is purely for the benefit of customers: it helps to prevent them from being cheated or feeling tricked in any way when they purchase products. This leads to higher satisfaction rates and could even result in better reviews for your business, too.
Good quality labels contain accurate and relevant information. They tell people exactly what they can expect to find inside the box, with details like ingredients, usage instructions, allergy warnings, and so on. All of this helps to paint a clear picture of the product and gives customers the information they need to make smart purchasing decisions.
Conclusion
As we can see, labeling is a hugely important part of marketing and branding. At first glance, it's easy to assume that labels are only for informative purposes, giving customers much-needed info about the products they might like to buy, but good labeling can do so much more.
It can be a significant branding tool, helping you establish your brand in a competitive marketplace, attract more positive attention to your products, make more sales, and ultimately, become more successful. That's why any business that wants to succeed should never underestimate the importance of labels.
---
Interesting Related Article: "5 Reasons Why You Should Focus on Business Branding & Marketing"