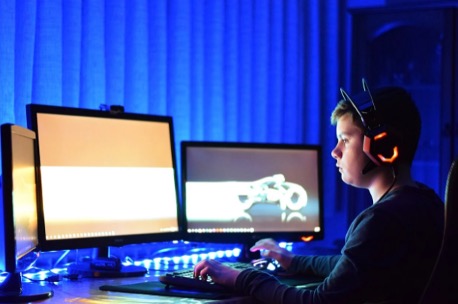 The year 2021 has now arrived in the middle and it's time to take a look at what trends are actually emerging in the gaming industry. Mobile gaming, cloud gaming, new consoles, virtual reality gaming and independent casino sites games have been the buzzwords in the industry for years. Will these trends continue in 2021?
The year 2020 was a successful year for the gaming industry. In times of house arrest for everyone, digital games were not only leisure activities, but also communication and interaction platforms for people in lockdown. As expected, the number of players increased, especially in online games, but also the sales of suppliers of software, hardware and gaming gadgets such as power banks, gaming keyboards, controllers for mobile phones or even Bluetooth controllers for VR glasses. It is also interesting to note that gaming is no longer the preserve of young people, but more and more people of the middle generation are passing the time with games on consoles, PCs, tablets and cell phones.
Cloud gaming
While games for mobile devices such as tablets and smartphones conquered the hearts of gamers a few years ago, a new trend is now emerging – cloud gaming. Instead of buying extensive games for a lot of money as boxed games or downloading huge amounts of data onto PCs, more and more gamers are playing their games via the cloud. They play on an external server, don't have to install and save anything locally, or hardly anything at all, but still have the pure gaming pleasure. Of course, this requires a fast and stable Internet connection. But even though Germany is still lagging behind in this respect, the expansion is progressing quite quickly and the streaming of gaming content is increasing. Google Play Instant, GeForce Now from Invidia, PlayStation from Sony and the xCloud from Microsoft are likely to be the main drivers of this development.
Mobile gaming
The trend toward mobile gaming continues unabated. Being able to play anywhere and at any time has become a matter of course. The range of games on offer in the Play stores is growing steadily, and the number of mobile games is almost impossible to keep track of. This trend is further driven by ever more powerful smartphones, larger displays and more and more gadgets for mobile devices such as attachable console controllers in mini format. Mobile gaming cuts across all demographics and age groups. As with cloud gaming, one shortcoming of mobile games is that sophisticated games are still mostly rare here. Casual games and simple reels. And strategy games have the upper hand here, and that will probably remain the case for a few more years.
Virtual Reality
VR gaming is not really new anymore, but still the trend has not yet arrived in the gaming world, as it was thought when the technology first emerged. The hardware, i.e. the VR glasses, can do a lot, but the implementation of real gaming titles is still in its infancy. The clearest progress is being made in the area of eSports. Sports games in VR are definitely a trend that will continue well beyond 2021.
Gaming
Also on the upward trajectory for years is online gambling. Through the 2020 gambling treaty, the legal conditions for providers of win diggers casino no deposit bonus uk such as players at the virtual gambling machines have also changed there for the better. It is now possible to gamble really legally online in the casino and this will certainly give the development in this area another small boost. Cloud gaming will also catch on faster here because graphically and technologically, the demands of streaming a casino game are also much less demanding than a fully loaded MMO, MMORPG or first-person shooter.
New consoles and games
Ultimately, this year, or at the latest in the second half of the year, will also bring the console sector forward once again. Although the first pandemic year saw the release of the new Playstation 5 and Xbox Series X/S consoles, there were two problems that plagued the newcomers to the console market. First, not enough copies were available, which caused frustration among gamers. And second, there was simply a lack of great new games that would make people want to buy the new consoles. While game delays are not uncommon in the industry, the Corona pandemic furthered this. With the current waning of infection numbers and the increase in vaccinated individuals, normalcy should now soon return to game development. Hopefully, this will mean that players will soon be able to look forward to great new releases of sophisticated games with a lot of content.
Conclusion
It is safe to say that the games industry is one of the biggest winners of the COVID-19 pandemic. Spending free time at home has been about finding entertainment, and the long-awaited release of Cyberpunk has caused a stir in the market. While game production in some countries has disappointed the expectations of not only gamers, but investors as well, this should not be the end of a good streak in the games market.
Analysts agree that the next 12 months will be marked by further growth in the industry as a whole and its individual segments. The growth trend has been ongoing for several years. The pandemic has made segmental and regional results in 2019 better than predicted, but regardless of how the global health situation unfolds, we should see growth this year and next.
---
Interesting Related Article: "How To Choose A Good Gaming Monitor?"