Welcome to our blog post about the extraordinary ceiling lamp in modern spike design! This exclusive lamp will give your living room or bedroom an upgrade in a class of its own.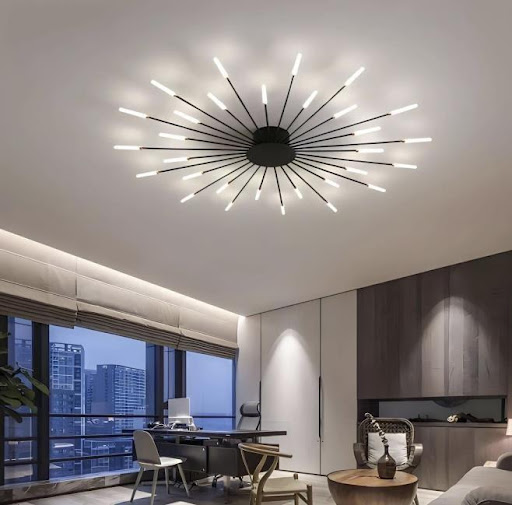 This lamp is commonly knowns as Moderne Deckenlampe im Stacheldesign which is german and stands for Modern ceiling lamp in spike design. As the name suggests, this modern ceiling lamp is characterized by its unique and distinctive spiked look. With its modern and unusual appearance, it adds a touch of intrigue and sophistication to your home. This lamp is a true statement piece that is guaranteed to leave a lasting sharp impression on you and your guests.
The design of the lamp is truly remarkable. Each spike is meticulously crafted, creating a stunning visual effect that draws the eye and sparks conversation. The spikes emanate from the central body of the lamp, extending outward in a symmetrical pattern that exudes a sense of dynamism and energy. This captivating design element sets this lamp apart from traditional lighting fixtures, making it a standout feature in any room.
Available in black and gold, as well as four different sizes, this modern lamp offers a variety of options to perfectly suit your room design. Let's take a closer look at the available sizes:
– 12 LEDs: With a diameter of 80cm and a height of 7cm, this size is ideal for smaller rooms or areas where you want to create a focused lighting effect.
– 20 LEDs: With a diameter of 105cm and a height of 7cm, this size strikes a balance between making a statement and maintaining a sleek appearance. It is suitable for medium-sized rooms and spaces where you want to create an impactful visual impact.
– 30 LEDs: Measuring 128cm in diameter and 7cm in height, this size is perfect for larger rooms or areas that require a broader and more expansive lighting coverage.
– 42 LEDs: With a diameter of 128cm and a height of 9cm, this size offers the utmost grandeur and presence. It is well-suited for spacious rooms or areas where you want to make a bold design statement.
No matter which size you choose, this ceiling lamp is sure to become the highlight of your room. The spiked look gives it a modern and edgy aesthetic that adds depth and character to your space.
In addition to its eye-catching design, the spiked design ceiling lamp also provides excellent lighting for your space. The integrated LEDs offer a pleasant and even illumination that brightens up your room while creating a warm and inviting atmosphere. Whether you use it as the main source of light or as a decorative accent, this lamp will enhance the ambiance of your living room or bedroom.
This modern ceiling lamp is not only an eye-catcher, but also a symbol of quality and durability. The use of high-quality materials and meticulous workmanship ensure that you will enjoy this lamp for a long time. It is designed to withstand the test of time, maintaining its elegance and functionality throughout the years.
Give your home the touch of luxury and individuality it deserves with the modern ceiling lamp in spiked design. It will make your room shine and reflect your personal style. Elevate your living space to new heights of sophistication and create an atmosphere that truly represents your unique taste and personality. The Modern ceiling lamp in spike design is the perfect choice for those who appreciate contemporary aesthetics and exceptional lighting solutions.
Add this extraordinary lamp to your home and let it become the centerpiece of your interior design. Enjoy the exquisite blend of modern design, impeccable craftsmanship, and outstanding illumination that the Modern ceiling lamp in spike design brings to your living space. Experience the transformative power of this remarkable lighting fixture and create an environment that inspires and delights.
In Germany we would say: "Woow, was für eine moderne Lampe!"
Cheers!