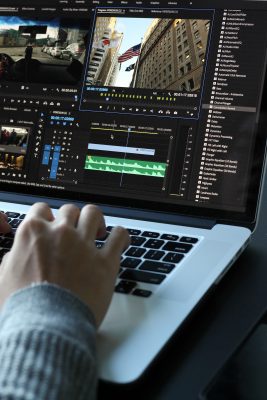 When you're tasked with giving a presentation, you're expected to create something that is both visually interesting enough to retain people's attention, while still providing them with the information they need. However, with research showing that attention spans have shrunk by nearly 25% in just a few short years, finding the means to do this is getting harder and harder. Now, you need to deliver more information in a shorter time frame without overwhelming your audience or losing their interest.
While it used to be a given that if you were going to build a presentation you would probably be doing it on Powerpoint, the software's limitations in a rapidly changing information environment are starting to render it obsolete. Now, to keep your audience focused, you need to implement some interactive elements. This is why video presentations are the way of the future.
Why are video presentations better?
On the whole, video presentations are just more persuasive. Videos are better at conveying emotion and they cater to both the brain's visual and auditory systems. Video presentations allow your audience to pick up on body language and facial expressions. Layered with music and imagery, this combination can create an emotional bond between your audience and the video, which will further influence your audience's choices or actions.
Research has shown that the average person only remembers about 20% of what they read and 10% of what they hear. However, they will remember 80% of what they see and do. This directly contributes to the effectiveness of videos. Today, there are 400 hours of videos uploaded to YouTube every minute, with almost 5 billion views every day. Couple that with Instagram videos, TikTok and Facebook Live and you'll start to see why video presentations are so powerful.
Not only will videos help your audience retain information, but they will also help make complex concepts easier to understand. Videos also help engage your audience in discussion and break up the monotony of presentations.
What to consider with video presentations
While video presentations are head and shoulders above traditional presentations, there are still rules on how to implement them. Your video presentations should be short and simple. They should clearly demonstrate to your audience the point you're looking to make. Keep your video presentations authentic and have the reflect genuine experiences or emotions and make sure the video stays relevant to the topic at hand. Your video presentations should also use narratives that will draw an emotional response from your audience.
If you're considering adding videos to your presentations (and you should be) you could take the time to learn how to create and edit video presentations yourself, but you'll be in much better hands if you entrust it to the pros. Creating engaging, visually arresting video presentations is an art, and like most art, you're better off putting it in the hands of the artists that have become experts. Video production Melbourne can help your company create dynamic content that can engage your audience and tell your story, and it won't leave you scrambling to learn a new skill.
---
Interesting Related Article: "6 Tips for Professional Online Presentations"