LED screens for churches and other places of worship are becoming more and more common. They improve the worship experience by letting people connect with prayer and the Bible. This is a way to make places of worship more interactive and draw people of all ages and backgrounds.
It's a great chance for pastors to share their message with a lot more power and joy. Due to their high quality and good viewing angles, they can also play multimedia content to get people excited.
LED panels in churches add to the ceremonies, and because the music and images reach every corner, everyone can take part in the message.

LED screens allow people who can't hear to take part and read the captions.

To back up their sermons, pastors often use texts with

Bible verses

.

This is the best way to

show high-quality pictures

along with the message.

Churches often use these screens to

make announcements

so that everyone can read and hear them clearly, even if they are far away.

It is also very

appealing to young people

because the colors are bright and clear and the picture and sound are very good.
How to keep congregations captivated
When the number of people who go to the church goes up, it's important to find other ways to reach them in a direct and interactive way. Most of the time, projection systems are used for this, with LED panels being the best choice.
Houses of Worship are places where people gather because they are all interested in the same thing. However, it can be hard to enjoy religious service when there are a lot of people there. LED technology, on the other hand, is a great way to get around these problems.
LED wall panels for sanctuaries let people hear and feel the message as if they were right in front of the pastor, even if the room is full. Also, this makes it easier for people to stay involved and interested during the ceremony.
An LED screen can be used as a backdrop for the main stage and to

show messages to the congregation.

It can also be put on the sides so that people on both sides can see the main stage.

So that everyone can follow along, videos or song lyrics can be shown on a screen.

In churches, events like concerts are often held, and an LED screen can be used to fill out the stage.

LED display bring a

lot of light into small rooms

.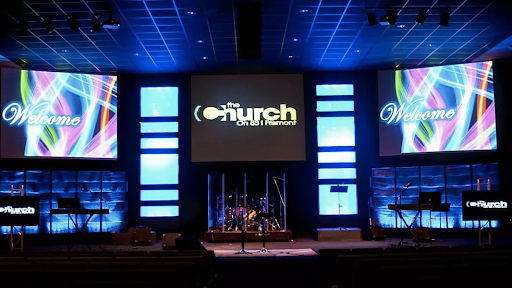 How to Choose the Right Church LED wall
Before you buy or rent an LED display, there are a few things to think about. Each church has different needs, so it's important to meet each client's requirements. LED Market and other companies that sell, install, maintain, and give advice about this kind of technology know that it's a long-term investment, so they also offer:
Ground support

. This is a great choice for LED panels that need to be able to move around. It has a frame made of bars and ladders that gives the display stability while giving it more height and width.

Flown method

. This is a floating installation that is held up by something above. This makes the installation much less obvious and more pleasing to the eye.

Putting on a wall

. If you want your display to be fixed to the wall, you can install it directly on the wall for a better look and easier maintenance.

LED screens come in

different shapes and sizes

, so they can be used in any space.

Large LED screens for churches can also be set up outside to bring in new people.
Find out more about LED screens for Sanctuaries
LEDs are a great way to light up places of worship. Their benefits go beyond what meets the eye, and you can find the right model for a wide range of uses.
They

save money

because replacing light bulbs, fans, and other systems is much cheaper than with other equipment.

They use between

40% and 50% less electricity

than other projectors.

Gets a better picture even in places where there is a lot of light.

The supports can be put in different places so that the church's interior can be fixed up.

This technology makes it much easier to update and

improve the look of a church

because it lets you play different kinds of content on a single screen.

When compared to other devices, video wall panels have much better image quality because of their

brightness, grayscale, and pixel pitch.

Because they last about

100,000 hours

, LED displays last two to three years longer.

When this technology is used, people can join the congregation by dancing, singing, or reading sermon texts along with worship. This gives the service a more modern feel.
---
You may be interested in: Choosing the Best Software for Church Management