The digital transformation of business today isn't a trend but a necessity. Companies must implement new information technologies to stay ahead of the competition and maintain a high level of customer service. Hence, a majority of organizations are using AI to drive digital transformation.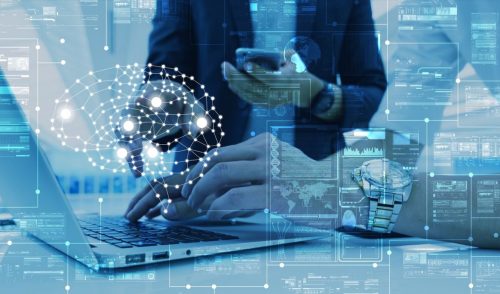 So, let's check the impact of artificial intelligence on the digital transformation of business. If you want to benefit from AI in your organization, learn more about AI consulting services.
AI and digital transformation
The digital transformation term refers to the use of various technological tools to convert traditional processes into digital ones. The digitization of business processes enables faster and easier changes and facilitates decision-making. As a result, the main purpose of digital transformation is to increase the efficiency, effectiveness, and competitiveness of businesses.
A major part of digital transformation relies on AI, particularly on ML and NLP technologies, as well as predictive analytics and deep learning. Using artificial intelligence, digital transformation enables companies to utilize the data at their fingertips. What's more, it allows companies to predict results, solve problems and gain a competitive advantage in the market.
Surveys predict that by 2025, the global expenditure on digital transformation will reach $2.6 trillion[1].
What is the impact of AI on digital transformation?
Changing businesses to digital is a huge undertaking, but it's definitely beneficial. 50% of the respondents say that they have implemented AI in at least one business process in their organization[2].  
CUSTOMER EXPERIENCE (CX)
Chatbots, personalized recommendations, and case classification are methods of improving customer service with AI. This results mainly in a more supreme customer experience. Let's take a deeper look at each of them.
AI personalized recommendation engines gather customer data to match content to every single shopper's needs and preferences. Thus, buyers' engagement and conversions increase.
Chatbots or AI bots such as Google Assistant and Alexa are other tools that play a key role in the digital transformation of business. AI-based bots answer routine questions to customers, thereby reducing employment and operating costs. Intelligent case classification applications are helpful in tracking, solving, and automating processes related to customer problems.
SECURITY
While AI can greatly benefit companies, it can also be exploited for negative purposes, including hacking and theft. That's why smart security developed as another strong foundation of artificial intelligence digital transformation. Thanks to engines based on AI and ML, it is possible to detect and deter even the most sophisticated cyber threats. Moreover, AI protects not only bank accounts and systems but also personal ones by enabling two-factor authentication, face recognition, and complex password generation.
HUMAN RESOURCES
An interesting application of AI in digital transformation is its use in all aspects of employee lifecycle management, i.e., in:
Recruitment

Onboarding

Acquiring talent

Development automation

Increasing employee satisfaction
It is crucial for most businesses to choose the right employee. When thousands of CVs arrive at the company, recruiters have their hands full. AI, which has enormous data processing capabilities, comes to the rescue. Within seconds, AI algorithms can view thousands of CVs.
For instance, IBM Watson Candidate Assistant is one of the most popular solutions for talent management. By matching candidates to the right job, it helps employers find qualified employees.
BUSINESS OPERATIONS
In addition to infusing AI into the daily operations of businesses, AI is also changing the way businesses run. Here, artificial intelligence allows for:
Data collection and management

Automating processes and loads

Detecting anomalies

Business outcomes prediction
PREDICTIVE ANALYSIS
It is forecasting that drives business intelligence (BI). AI can help you achieve analytics competency as a part of your transformation process. With AI software designed for machine learning, such as SAS Advanced Analytics, you can automate behaviors and predict what should be avoided for more profitable results. Those business data analysis solutions help you figure out which marketing strategies will attract a customer and where your business can improve.
SALES
Lack of knowledge about customers leads to low sales conversion and extended sales cycles. Therefore, using AI-guided sales processes, the sales rep can identify which leads have a higher probability of conversion based on account and customer history. Automating lead-to-cash processes, launching products faster, predicting potential prospects, fixing prices, or personalizing advertising are some examples of how artificial intelligence is used in sales.
Conclusion: AI in digital transformation
As you can see from the above article area of application of AI is vast. From improved UX and better security to predictive analysis and increased sales. Therefore, with the help of artificial intelligence, digital transformation moves to a higher level. Companies can understand the purchasing behavior of consumers and then meet their high expectations. So, the natural consequences of the digital transformation are better information flow in the company, improved sales processes, improved efficiency, and, consequently, an increase in revenues.
[1] https://www.statista.com/statistics/870924/worldwide-digital-transformation-market-size/
[2] https://www.mckinsey.com/business-functions/quantumblack/our-insights/global-survey-the-state-of-ai-in-2020
---
Interesting Related Article: "How AI Can Benefit Many Industries"