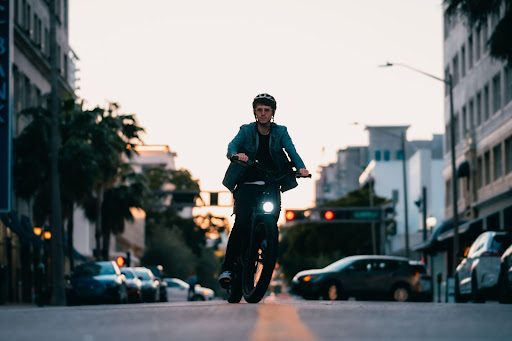 Introduction
Imagine yourself cruising through the busy city streets, the wind in your hair, effortlessly gliding past traffic with a smile on your face. This isn't just a scene from a superhero movie; it's the wonderful experience of riding a city electric bike. In this article, we'll introduce you to the world of electric bikes designed specifically for urban commuting and short rides. Get ready to discover the key features of these bikes, from their exceptional handling to their lightweight design and efficient power systems. By the end of this article, you'll be well-equipped to choose your ideal companion for city life. So hop on as we explore the best city electric bikes, including the popular fat tire bikes and electric bikes, or as we like to call them, e-bikes!
Why Should You Buy City Electric Bikes
Living in a bustling city means dealing with traffic congestion, limited parking spaces, and the constant hustle and bustle. That's where city electric bikes, or e-bikes, come to the rescue! These bikes provide a greener, more efficient way to navigate the urban jungle. Whether you're commuting to work, running errands, or simply exploring the city, e-bikes with their powerful motors and long-lasting batteries make it a breeze to get around and enjoy the ride.
Outstanding Handling for Urban Agility
When it comes to riding in the city, maneuverability and agility are essential. City electric bikes, like the popular fat tire bikes, are designed with this in mind, offering excellent handling capabilities. Take the Himiway electric bikes, for example. With their ergonomic design, responsive braking systems, and adjustable suspension, these bikes provide a smooth and comfortable riding experience. Say goodbye to feeling cramped or unstable on narrow city streets!
Lightweight Design for Easy Navigation
Carrying your bike up the stairs or maneuvering it through crowded sidewalks should be effortless. That's why city electric bikes emphasize lightweight design. Himiway fat tire electric bikes, for instance, are made from lightweight materials that don't compromise on durability. Whether you're hopping off the bike for a quick shopping trip or navigating through tight spaces, the lightweight design ensures maximum convenience. These bikes, including the fat tire models, are your perfect companions for easy urban navigation.
Efficient Power Systems for a Smooth Ride
City electric bikes, especially the fat tire and e-bikes, are equipped with powerful motors and efficient power systems to conquer the challenges of urban terrains. Himiway electric bikes, in particular, boast cutting-edge technology that provides a seamless and reliable riding experience. The robust motors ensure swift acceleration and assist riders in conquering uphill climbs with ease. Plus, the long-lasting batteries offer extended range, so you never have to worry about running out of juice while exploring the city. Experience the joy of effortless riding and reach your destination in style.
Choosing Your Ideal City Electric Bike – The Himiway Advantage
Now that you're familiar with the key features of city electric bikes, it's time to choose your ideal companion. Himiway electric bikes stand out from the crowd with their exceptional quality and performance. Whether you opt for the Himiway Cruiser or the Himiway Escape, you'll discover a range of features tailored to meet your city riding needs. From comfortable seating to customizable accessories, these bikes ensure an enjoyable and personalized riding experience. Choose the Himiway Advantage and let your urban adventures begin!
Introducing the Himiway Rambler – The Perfect Choice for City Adventurers
If you're an adventurous soul looking for the ultimate city electric bike, look no further than the Himiway Rambler electric city commuter bike. With its rugged versatility and top-notch performance, the Rambler is designed to conquer any urban terrain and provide an exhilarating riding experience. Let's take a closer look at the features and specifications that make the Himiway Rambler commuter ebike a standout choice for city adventurers.
The Himiway Rambler electric commuter bike is powered by a robust 500W brushless motor, allowing for quick and powerful acceleration. Whether you're zipping through traffic or climbing steep hills, the Rambler delivers a responsive and thrilling ride. The bike is equipped with a long-lasting 48V 15Ah Samsung lithium-ion battery, providing an impressive range of up to 55 miles on a single charge. Say goodbye to range anxiety and explore the city to your heart's content.
One of the standout features of the Himiway Rambler electric commuter bike is its New Tire Design. The Rambler boasts 27.5″x2.4″ all-terrain Kenda fat tires that offer incredible grip and stability on all types of terrain. Whether you're navigating through potholes, curbs, or sandy paths, the Rambler's tires provide a smooth and comfortable ride. No more worrying about getting stuck in the cracks or feeling every bump on your urban adventures.
The Himiway Rambler electric city bike also comes equipped with advanced features for an enhanced riding experience. It features a Shimano 7-speed transmission system, allowing you to easily switch gears and tackle different terrains with ease. The bike's front suspension fork and adjustable seat post provide additional comfort and customization options, ensuring a personalized fit for riders of all sizes.
The Himiway Rambler electric city bike is perfect for a wide range of riders, from city commuters to weekend adventurers. Whether you're using it for your daily commute or embarking on an off-road urban adventure, the Rambler's durability and performance make it a reliable and versatile choice. With a weight capacity of 350 pounds, the Rambler can accommodate riders of various sizes and support your everyday needs.
Conclusion
In conclusion, if you're seeking an electric bike that combines ruggedness, power, and versatility, the Himiway Rambler is the perfect choice for city adventurers. Its powerful motor, long-lasting battery, fat tire design, and customizable features make it an exceptional companion for conquering the urban jungle. Enjoy the thrill of riding the Himiway Rambler e-bike and experience the freedom and excitement of city exploration like never before. Choose the electric city commuter bike Himiway Rambler and let your urban adventures unfold! You can find more information about the city ebike Himiway Rambler on the official Himiway website.
---
You may be interested in: How Can We Make Public Spaces Safer?