Men's watches have been a fashion staple for years, with an array of designs that vary from classic to modern. A watch serves a dual purpose: it tells time and also showcases your style and personality. With the many options available in the market, choosing a watch that complements your style can be challenging. That is where we come in to help you navigate the world of watch for men and find the perfect timepiece that matches your taste and needs. Whether you are a fashion enthusiast or a watch collector, you can stay updated with the latest trends, reviews, and buying guides to make an informed decision. Keep reading to find your perfect watch for men today!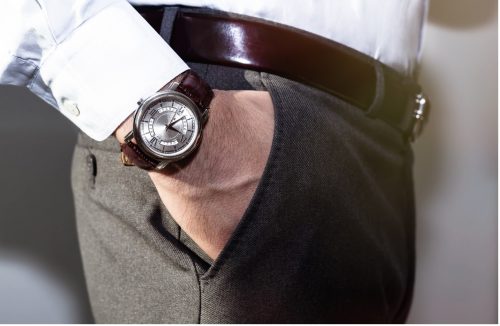 To explore the various types of watch for men, it is crucial to research the features, functions and more. Additionally, understanding the available styles and designs is important. It is essential to choose the right watch that fits your wrist size, matches the occasion and reflects your personal taste, and to know how to care for and maintain your watch. It is also important to know how to pair your watch with different outfits and occasions to always look fashionable. Let us explore the world of different watch for men and discover the perfect timepiece for you!
Unleash Style with Ceramic Watch 
The Edge Ceramic Blue Dial Analog Watch for Men perfectly combines style and functionality. This sophisticated watch features a sleek and durable ceramic case and steel strap that lends an unmatched elegance to your look. The watch's blue dial is a showstopper with its minimalistic design and subtle accents, making it the perfect accessory to elevate any outfit. The watch is powered by a quartz movement, ensuring precise timekeeping. The sapphire crystal glass used in the watch is scratch-resistant, ensuring that your watch remains as good as new for a long time. With a water resistance of up to 30m, this watch is perfect for everyday wear. It is the perfect accessory for any man who wants to make a style statement.
Timeless Elegance Awaits You
The Maritime Watch with Anthracite Dial Analog is a true masterpiece in watchmaking. The watch features a beautifully crafted stainless steel case with a bold anthracite dial that exudes elegance and sophistication. The date and day function adds an extra level of convenience to the watch, making it perfect for daily use. The watch is powered by a quartz movement, ensuring precision timekeeping. The sapphire crystal glass used in the watch is scratch-resistant, ensuring durability and longevity. With a water resistance of up to 50m, this watch is perfect for swimming and water sports. The Maritime Watch is a perfect blend of style, durability, and functionality that every man should own.
A Mechanical Masterpiece
The Mechanical Blue Dial Stainless Steel Strap is a perfect blend of style and precision engineering. This watch for men that features a beautiful blue dial that is powered by mechanical movement, making it a must-have for watch enthusiasts. The stainless steel strap and case lend the watch durability and longevity. The watch is scratch-resistant, ensuring that it remains in pristine condition for a long time. This stunning watch is a perfect addition to the collection of a men who like finer things in life.
Unleash Your Style with The Grandmaster
Hey there, watch collectors! Are you on the hunt for a timepiece that's both functional and stylish? Look no further than the men's analog watch from the Grandmaster Collection by Titan. This watch is the perfect addition to your collection.
Powered by quartz movement and protected by durable mineral glass, this watch boasts a sleek brown round dial that's housed in a 43 mm case. The stick hour markings and crown for time adjustment make it easy to keep track of time in style.
Just like picking the right players for a sports team, choosing the right brand for your watch is crucial for a successful outcome. Opting for a reliable and renowned brand such as Titan, Sonata, and Fastrack is a smart decision, as these brands have established themselves as pioneers in the design and technology of watches. They have a proven reputation for introducing stunning watches that deliver exceptional performance. Don't hesitate to get your hands on watch for men from these trusted brands to make a statement with your style and be on time, every time.
---
Interesting Related Article: "How to Sell Luxury Watches to High-End Buyers"