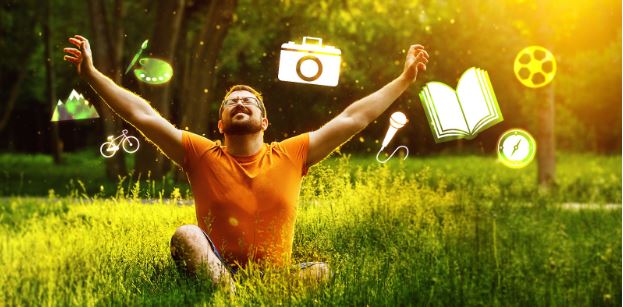 The Internet is an inexhaustible source of fun and entertainment. Here you can work, create, play, sell and buy everything, make friends, and even find love. Today we will tell you about the best things you can do on the Internet if you are bored and need to kill time.
Watch videos, TV programs, and movies
The Internet is a great platform for short videos and experimental movies. Here you can find millions of clips, funny videos, and breath-catching short films. The most popular source is surely YouTube, where people upload millions of videos every day.
On this platform, you can study, learn how to do things yourself, and find literally any information you need. Another useful resource is TED Talks, which contains short lectures on a variety of subjects including education, technology, and relationships.
If you love TV, try Hulu, which brought television to the Internet. With its help, anyone can watch the newest episodes of favourite shows without any ads and pauses. Blip.tv is similar to Hulu but hosts shows and series from independent producers.
Play games of chance
To enjoy casino games players no longer need to go to a land-based venue. Now, pokies, blackjack, roulette, and tens of other game types are available on computers and smartphones. Get familiar with gambling websites that got the highest score from Casino HEX experts, pick the one you like, and start playing.
Many games are available in a free mode, so you won't have to spend a dollar. In addition, there are always general promotions and bonuses, so the game will definitely be fun and rewarding.
Listen to radio programs
Many radio stations keep records of their past programs and eagerly post them online. For example, on National Public Radio or Public Radio International, you may find classical programs, listen to charts, and use a convenient search option to find the stories you are interested in.
The most popular shows, like This American Life or Car Talk, even have devoted websites.
If you want to use a radio player, you can go to www.amateur-radio-wiki.net/best-internet-radio for more info.
Sell the things you don't need
You probably know that it is possible to sell everything no matter how weird or useless this object seems. When having some free time, head to eBay or a similar website to find out what your things are worth.
Just create a free eBay account (if you still don't have one), choose the Advanced Search, and insert keywords about the item you are willing to sell. When pressing the Search bar, you'll see similar items and their price. Then create an ad with photos and descriptions of your good. And voila, you will both declutter and earn some money.
Attend museums across the globe
It may be boring to visit art museums but not if you are attending them on your computer. Some of the most popular museums including the Louvre in Paris and Boston's Museum of Fine Arts have an online version with access to most of the exhibits.
Learn any course and languages
There is a great number of reliable websites, where you can learn different courses, gain new skills, and even get a degree. Pick one of the hundreds of categories, subscribe for a free or paid mode, and join thousands of other students in a virtual classroom.
The best examples are Coursera for learning everything you can only imagine and Duolingo, where people can learn any language without leaving their homes.
Explore the Earth
Google Earth is a downloadable program, which allows flying around our beautiful planet and zooming interesting places. When getting close to the ground, you'll see pictures made by regular users and Wikipedia links.
Play the freshest Snake version
Remember the Snake game, which we all played on Nokia phones? The game is extremely simple: your snake grows bigger by eating dots. However, with Slither.io everything becomes more entertaining because you join an online arena with other players!
The time spent with use
Sometimes we are so tired from work and studies that we don't feel like doing anything. The best decision is to let your mind relax and to go online visiting useless websites or playing simple games.
However, the Internet is not only about killing time and it may be rather useful: learn something new, read books, watch programs, sell things, and even make a tour to space. It's only up to you to decide what your Internet journey will look like today.
---
Interesting related article: "What does Online mean?"