In almost every country around the globe, new vehicle prices and petrol prices are not a small amount, forcing people to find alternatives. In the short term, public transport seems like an attractive option, but it is definitely not as reliable as taking your own vehicle. 
During the pandemic, different regions noticed a surge in electric bike use as daily transport options and electric bike sales skyrocketed. No question that electric bikes and trikes are the healthiest and most efficient forms of transportation in today's market. While some people argue that conventional bicycles are better to rely on, riding without motor assistance can also be physically exhausting at times. Is it possible for these electric bicycles to replace cars? Let's find out.
This fat tire electric tricycle could replace your car for short trips: Addmotor Grantan e-Trike
We can all agree that not all people are ready to give up their cars right away. But electric tricycles and bicycles have benefits that can't be ignored. It is therefore possible that sooner or later, people will convert from frequent drivers to frequent cyclists both for the good of the planet and their own comfort.
Addmotor is one of the top electric bike brands in USA. It has introduced many models of electric bikes and trikes to cater to different needs and preferences. We are going to see how you can substitute your car for short trips with it and discuss the Grandtan fat tire electric trike series by Addmotor.
How Electric tricycles are a better option than cars?
Figuring out which option will be more suitable for you depends a lot on your lifestyle and the climate in which you live. The electric trike would probably be a better replacement for a car in good weather and if you live a casual lifestyle. You can use the e-trike to commute, for running errands, roam around the city, or do whatever you need to.
Presumably, almost half of the drivers intend to use their cars less in the near future. So, let's find out why people are shifting towards electric bikes or electric trikes instead of cars:
#1 Cost-effectiveness
First, let's discuss the cost. The fact is, not everyone can afford a vehicle as prices are high. And as a result of continuously rising fuel costs, you might have a hard time taking your car out as often as you would like to. Electric bikes, such as the Addmotor Grandtan e-trikes, are significantly cheaper than cars to purchase. Moreover, the cost of maintenance, repairs, and fuel is considerably lower.
Over time, you'll save significant amounts on gas, oil changes, and car insurance since you don't need to pay for them in the case of electric bikes and trikes. As an added benefit, the Grandtan Series comes with a removable battery that can be charged at home or at the office, which further reduces costs for you.
#2 Convenient option
It is obvious that electric bikes or trikes are much easier for short trips than cars. With the increasing population urban areas are getting denser and road traffic is getting out of hand. If you drive a car, traffic congestion can be a major source of frustration and time loss, but if you ride an electric trike, you can easily navigate the traffic and don't have to worry about being delayed.
Similarly, finding a parking spot for a car can be quite a hassle. Let's say you have to stop at a Mart for an item or two and for that you'll have to look around to find a good parking stop to avoid parking tickets. For instance, if you need to run errands in a busy area, an electric bicycle or e-trike can be more agile and maneuverable than a car. As a result, you can save time and stress by weaving in and out of traffic, as well as parking near your destination.
#3 Eco-friendly
This is probably the major factor that will promote electric bikes or trikes for short distances. Electric bikes have almost no environmental impact because they produce zero emissions and do not contribute to noise or air pollution. Consequently, riding an electric bike like the Grandtan Series can help improve the environment by reducing carbon dioxide emissions. Aside from that, the Addmotor e-trikes can do 20 miles per hour at its top speed, which is faster than most cars can do in urban areas, without harming the environment.
#4 Health benefits
Lastly, sticking to an electric bike or trike will also enhance your physical health and keep you fit and sharp. Riding a cycle is an excellent form of cardiovascular exercise. With electric bikes and trikes, you've added assistance that will enable you to ride for a long period of time. In the case of a steep hill or fatigued muscles, the motor can make the ride more comfortable. On the other hand, if you feel like pedaling more, you can reduce the motor assist and customize your exercise routine while keeping fit. The Grandtan M-340 has both throttle and 7 varying levels of pedal assist modes to make your ride better.
Addmotor Grandtan E-Trike Series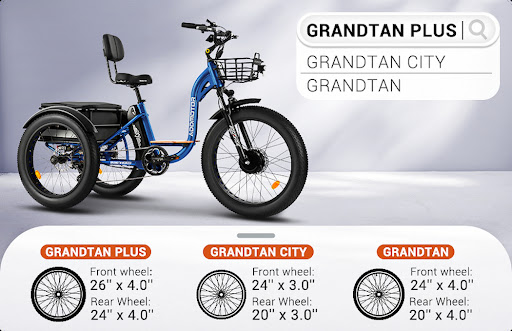 Innovative features and designs are a hallmark of Addmotor e-bikes. A few of its most popular fat tire electric tricycle models are the Grandtan, Grandtan City, and Grandtan Plus. All three models feature the same 750 Watt front hub motor and UL-recognized 48V*20Ah battery pack to power the electric trike. The Grandtan and Grandtan Plus have a range of up to 85 miles per charge. While the Grandtan City which is designed for city commuting and errands can provide up to 90 miles of range.
The Grandtan series is available in a variety of colors including Starry blue, Neptune Blue, Army green, Rose Gold, Cyan Green, and Pearl white. All these models are class 2 electric trikes that offer throttle on demand if you get tired. While keeping up with Grandtan's comfort standard all three-wheeler models come with step-through frames with wooden footrests and well-padded saddles with backrests. There's a slight difference in wheel size among these models. The Grandtan features 24" x 4" front and 20" x 4" rear wheels, while the Plus version offers bigger front (26" x 4") and rear (24" x 4") wheels, and the City variant with smaller wheels (24" x 3" front and 20" x 3" rear wheels) as it is designed for city commuting only.
The charge time for these three models is approximately 8-10 hours which is quite understandable considering the long-range they can offer. So, with all these features and plus points the Grandtan series fat tire electric tricycles could be the perfect alternative to replacing a car.
Conclusion
In conclusion, the Addmotor Grandtan series can be an excellent replacement for a car on short trips. It provides cost savings, convenience, environmental benefits, and health benefits. So, you can get your trike from Addmotor if you're considering reducing your reliance on your car and moving to this more compelling alternative.
---
Interesting Related Article: "How to Avoid Bicycle Accidents?"