British astronaut Tim Peake is to control a rover called Bridget in the UK from orbit aboard the International Space Station (ISS), as part of the European Space Agency's (ESA's) METERON umbrella project that is making preparations for future human-robotic missions to the Moon, Mars, and other parts of our Solar System.
The trial is part of a series of tests investigating how humans interact with vehicles and robotic systems.
Bridget, which weighs 154 kg, will be driven by Major Peakes over simulated Mars terrain in Stevenage, Hertfordshire, UK, as though he were searching for certain scientific targets such as rocks.
According to Airbus: "When Tim Peake drives Bridget there will be a delay before his instructions are carried out, a result of signals being relayed from the ISS to the Mars test area. It is also expected there will be breaks in transmission as is often the case from the ISS as it orbits." (Image: esa.int)
Bridget Rover in Mars Yard
The Mars Yard, which measures 30 x 13 metres, is split into dark and lit areas to simulate, for example, the rover inside a cave or a shadowed crater.
The Bridget rover was developed by aerospace company Airbus Defence & Space, which is working with the European Space Agency and the UK Space Agency to investigate controlling robots on simulated planets.
---
---
Jessica Grenouilleau, who works at ESA's Robotics and Future Projects Office, said:
"Tim will drive it for about 90 minutes. Interestingly, he will only be provided with basic training on how to react to situations that the rover encounters, as the experiment aims in part to study how humans interact extemporaneously with robotic systems."
'Internet of Space' also being tested
On board the ISS, Major Peake will connect via video and data links to the rover down on Earth using a sophisticated 'delay-tolerant' network, a kind of 'Internet in Space', which is itself part of the research.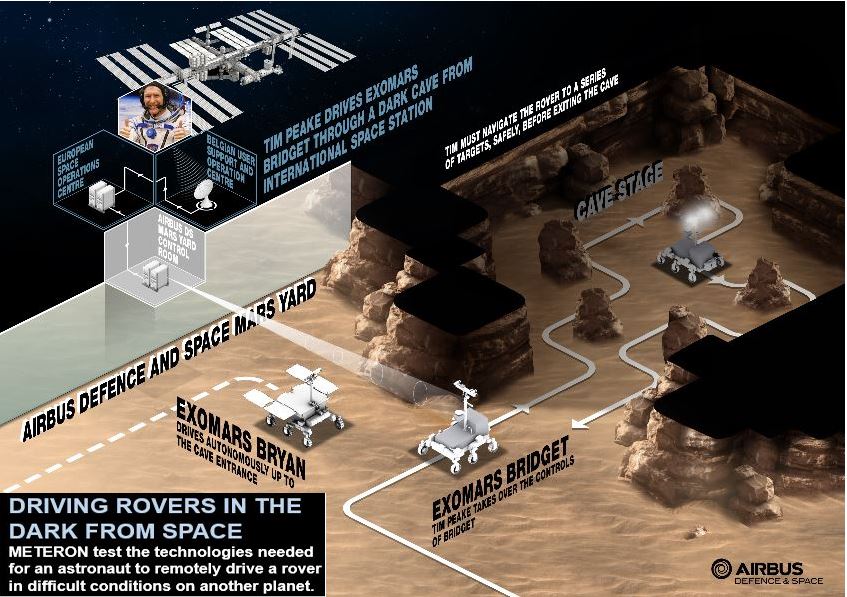 The Mars Yard (above) is split in two using a partition to simulate the entrance to a cave – the cave's end has very low light conditions. Major Peake will control Bridget in the Mars Yard from space. (Image: airbusdefenceandspace.com)
This network allows experiment controllers to simulate delays in responding to commands, losses in connections, and other disruptions that could occur in future when an astronaut in orbit operates a rover on the Martian surface or an asteroid, for example.
The network also allows for comparing different modes of rover operations and handover of control between the astronaut and ground.
---
---
Philippe Schoonejans, Head of Robotics and Future Projects and coordinator for ESA's Meteron project, said:
"Future missions into the Solar System will include humans working hand-in-hand with robots as our scouts and proxies, gathering scientific and physical information that will make human exploration feasible."
Several teams are involved in this experiment, including scientists at ESA's ESOC operations centre, Darmstadt, Germany, who will serve as ground control for the experiment, the Mars Yard in Stevenage, and Belgium's Station User Support and Operation Centre in Brussels, which will serve as the interface to the ISS.
Major Peake will control the rover Bridget from space, aboard the International Space Station orbiting Earth. (Image: esa.int)
Airbus will hand over the rover to controllers at ESOC at 12:35 GMT, who will drive it to the edge of a simulated crater or cave – the dark area at the Mars Yard.
Major Tim will then assume control at 14:20 GMT. He will command the rover to drive 'into the dark', avoiding rocks and other obstacles and identifying potential science targets, which will be marked with a clearly-visible fluorescent marker.
As soon as the targets have been identified and mapped, Major Peake will drive the rover out of the dark area and hand back control to ESOC to drive it back to its starting point.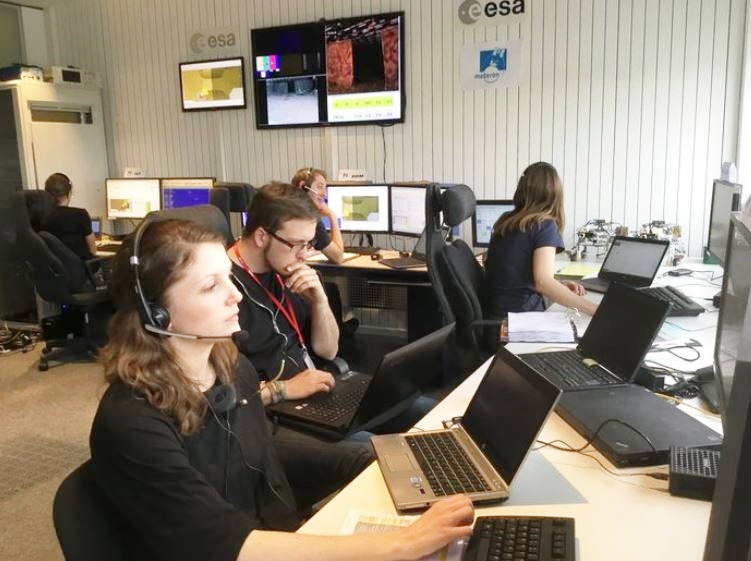 Rover experiment control team at ESOC, the European Space Agency's operations centre, Darmstadt, Germany, in a rehearsal on 27th April. (Image: esa.int)
What is METERON?
METERON (Multipurpose End-to-End Robotics Operations Network) is a European project aimed at preparing for human-robotic missions to outer space, including the Moon, Mars and other celestial bodies.
The project is led by ESA, in partnership with the Russian space agency Roscosmos, NASA and the German Aerospace Centre DLR. It is organised around a series of experiments, testing technologies and adapting current ways of working.
Looking forward to giving rover Bridget in Stevenage, UK, a test-drive from space tomorrow https://t.co/hWI1hD9XZl pic.twitter.com/cbwAv4VdkD

— Tim Peake (@astro_timpeake) April 28, 2016
METERON is implementing an infrastructure to carry out trials and test communications and robotic control strategies. Operational considerations such as which tasks should be done by humans or robots, and what data are required to support the monitoring and control of assets, will be used for the planning of future exploration initiatives and design of mission systems.
The European Space Agency wrote on its website regarding METERON:
"Meteron is testing ways of interacting with robots from afar that allows an astronaut to send commands, observe reactions by controlling accompanying 'video-rovers' and interrupt when necessary."
"Improving interaction further will require feedback of what a robot experiences, extending from visual displays to sensory feedback – a remote sense of touch. This is extremely important in determining the amount of force needed for the most complex tasks, such as picking up rock samples or installing equipment: most people can tie their shoes without looking, but not on a cold winter night with numb fingers."
You can follow the experiment live on Friday via Twitter.
Video – Train to control Bridget the rover
This ESA video shows you how to control the rover – the one that astronaut Tim Peake is controlling today from space.