There are a lot of different hobbies out there, and many of them can help you make money as well. One of the most common ways to do this is by taking up trading. Now, trading isn't exactly a new phenomenon. It's been around for a very long time; just think of the 'Wolf of Wall Street' film, which was mainly set in the 80s and 90s.
However, trading has certainly evolved over time and is no longer a closed-off thing. Practically anyone can join in the fun, and judging by the fact you're reading this article, it would seem you want to.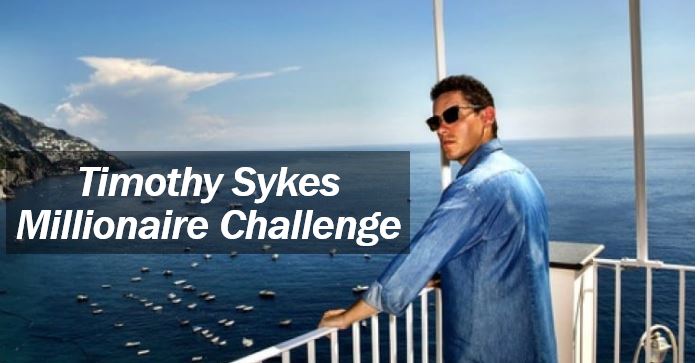 Novice traders
If you are going to start trading on any kind of market, however, you need to know who to trade with and who to learn from. There are a lot of people out there who claim they'll offer to help rookies with their first steps, and it's a simple fact that some of them are considerably better at it than others. You need to learn who to trust and who not to, and one of the most controversial teachers is certainly Timothy Sykes.
He has been around for a fair while now, however, so he must be doing something right. Who actually is he, though? And how does he make money? Read on to find out in my guide to Timothy Sykes Millionaire Challenge. 
Timothy Sykes
So, who actually is Timothy Sykes? Well, to put it simply, he's the epitomisation of someone that started out with nothing and traded his way to the very top. He started trading when he was in college, and within a few years was a well established millionaire. His story has given many others inspiration that they too can make some money in the trading world.
Big name in the trading world
He currently lives a lavish lifestyle and it's been well earned, too. He makes money through a variety of different avenues. Anyone who's been associated with or involved with trading for a while tends to know his name. He's definitely one of the biggest out there.
People want what he has
Sykes' tactics have often been questioned, but there can be no debate over their effectiveness. He tends to attract new traders and clients by showing off all of his rewards gained throughout his career; he frequently posts all about his life, his fanciest cars, and all the luxurious holidays he goes on.
This is done to try and get people longing; viewers see his posts and wish it was them. They realise that if it's possible for him it's possible for them and they then proceed to join up to his programs. This works well for his business; he gets a lot of students joining him and he proceeds to make a lot of money from this.
A controversial figure
These kinds of tactics haven't come without criticism, however. A lot of people are convinced he only posts these kinds of photos to try and trick unsuspecting people into signing up to his classes; it'll make him more money and he doesn't care about the outcome of his students.
He has always denied this, in fairness, but the critics don't stop. He's always had them, however, and has always stuck to his methods rigorously. In my personal opinion, I believe his methods offer a welcome contrast to a trading world which is often presented as boring and inaccessible.
Comprehensive research is crucial
He also uses a lot of analysis in order to make trading decisions, as well. Rather than just focusing on guesswork and other such methods, he spends a lot of time on the maths and goes over lots and lots of charts. By learning all the patterns and numbers of different stocks and shares, he's able to predict the outcome of these on a regular basis. This means that if you follow him and take his advice, there could be a good chance you'll make a lot of money. 
So what kinds of classes does he offer? He actually offers a few. There are a variety of different packages available whenever you visit his websites and it's up to you to decide which ones suit you best.
Training to become a better trader
Some of the packages allow email updates, iPhone and Android apps, chatroom access and daily stock updates. Other packages which cost a little bit more even offer live stock updates so that you're always on your toes about potential investment opportunities. These packages tend to have ranging prices and they may seem a little expensive if they're the first ones you look at. However, I'm led to believe that they are actually among the cheaper ones out there on the internet.
This could be because he knows he has a large following and can therefore offer lower prices, but all the same it's a good offer for what you're getting and the results you could get.
Millionaire Challenge
So what about his Millionaire Challenge? I think you'll either love or hate this idea; more or less, this is where Timothy Sykes will try and train you up to be a millionaire (it does what it says on the tin). From what I've read three of his students have become millionaires so far so it's not exactly a common occurrence, but it could be worth a go if you want to take the plunge.
This challenge also comes as a sort of package; you'll get access to absolutely all of Timothy's materials, get all of his tips and be able to watch videos of him trading frequently. 
You do, however, need to apply and be accepted to this program so you need to bear that in mind. It shouldn't be too stressful an ordeal, hopefully, as he'll want as many students enrolled as possible.
However, it does cost around $5000 to sign up for the challenge. This is a particularly big sum, particularly if you're new to trading, and it's an awful lot of money to be gambling at this stage. If you feel like it, fire away. It could be worth starting out on a smaller scale and seeing how you fare, however.
Video – What is a Trader?
_________________________________________________
Interesting related article: "What is a Trader?"