Buying a home is the largest investment most of us ever make. For first-time buyers, purchasing a property comes with many rational and irrational fears.
Before the 2007/8 Global Financial Crisis and the Great Recession that followed, 100% mortgages were much more common than they are now, especially for first-time buyers. In most cases today, however, banks will only lend a certain percentage of the value of the property. This is especially the case for first-time buyers. In other words, when purchasing a property, you will need to use some of your own money.
We call the money that the borrower puts down a 'down payment' or 'lump sum' (UK/Ireland: deposit). The larger your down payment is, the less you have to borrow.
In Canada, for example, lenders will expect a first-time buyer to have a down payment of at least 5% for houses worth up to $500,000. For more expensive houses, down payments represent more than five percent. For a purchase price of over $1 million, for example, the lender will require at least 20%.
First-time buyers – make a pro/con list
Regarding making a pro/con list, Canadian firm HomeAds says:
"A time-tested way to know if you're making the right decision is with a pro/con list. For every pro there's usually a corresponding con, and laying them all out in front of you, you'll be able to see which pros you'd love and which cons you'd love to contend with."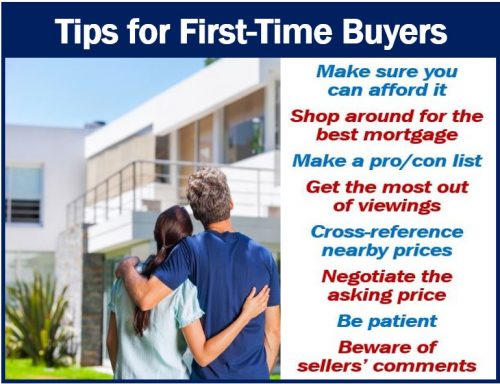 Pros
Renting a property is more expensive than owning it over the long run.
All the money that you spend in your own property is on your own property.
You are free to make changes to your property. With rented accommodation, you need to get the landlord's permission.
Cons
Owning your own home is riskier than renting.
If something goes wrong and has to be repaired, you have to spend your own money. In a rented apartment or house, on the other hand, the landlord usually has to pay.
Renovations generally take longer and cost more than you expect.
Financial advisors say that overall, being a first-time buyer is better for your financial future than being a tenant.
Owning a property builds your equity rather than your landlord's. When you pay rent, you are helping another person build assets. When the property is yours, you are building your own assets.
Budget for other costs
You must budget for other costs, apart from your monthly mortgage repayments. When you purchase a home, you will have to pay:
A lawyer's fee.
An appraisal fee – a payment made to somebody who evaluates how much the property is worth (UK/Ireland: survey costs).
Removal costs.
Property insurance.
Initial decorating and furnishing costs.
Mortgage arrangement and valuation fees.
Property taxes. Countries may refer to it as a property purchase tax, land transfer tax, real estate tax, or stamp duty.