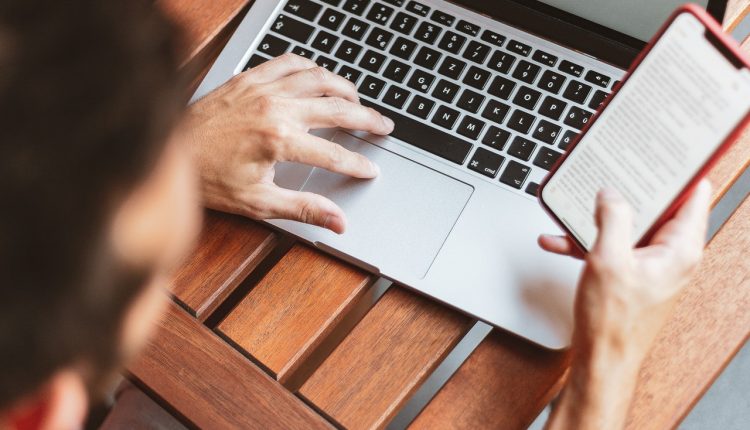 Email and SMS marketing are two of the most effective ways to reach your customers, but before you can start tapping into the benefits of these platforms, you have to have a solid subscriber base.
For many companies, increasing the number of subscribers can be a challenge — but it doesn't have to be! 
In this article, we'll provide you with a few tips on how to increase sign-up for both email and SMS marketing. And the best part is, if your marketing efforts utilize email and SMS messaging in a cross channel strategy, you can leverage the tips for both channels. 
In addition to sharing tips to help grow your subscriber lists, we'll also provide you with a few platforms to help make developing your subscriber base, managing contacts, and executing campaigns simple. 
Tips to Increase Your Email Sign Ups
Email marketing is a great way to engage with your audiences, but you need to encourage them to join your subscriber list before you can do that. Of course, there are tons of different ways you can reach new audiences, but in this section, we'll provide you with three easy tips that are sure to boost your email sign-ups. 
But don't forget — it doesn't stop at increasing the number of people you have signing up. You need to continue engaging and nurturing your subscribers throughout their entire customer journey, but that's a topic for another day.  
1. Provide Subscribers With Exclusive Content
One of the most effective ways to increase your email marketing list is to provide your subscribers with exclusive incentives. 
In fact, 22.6% of people list this as one of their top reasons for subscribing to a company's email newsletter. 
The types of exclusive content you provide can vary, but here are few everyday things people are interested in receiving from the brands they follow: 
Special discounts and coupon codes

Tutorials and DIYs

Company updates

Early access to sales and promotions

Prive contests and giveaways 
However you choose to serve up your exclusive content, you need to ensure it provides your audiences with something they value. If you're sending irrelevant, unexciting exclusive content, you can't expect to see high engagement. 
Keep in mind that you need to continue to provide your subscribers with exclusive content, even after they've become active customers. If someone starts to feel like they are not receiving enough value from your emails, it won't take long for them to hit that unsubscribe button and never look back.
That's why it's essential to continuously develop new, exciting content that will keep all of your audiences engaged — from the brand new subscriber to your most loyal customers. 
2. Make it Easy for People to Join
Don't make your audiences jump through hoops. If it's too hard for your customers to subscribe to your email marketing list, they'll just choose not to. 
That's why you have to make it as simple as possible for them to opt-in to your email list. Whether it's a one-field form or an opt-in process after completing a purchase, you need to keep the process quick and easy. 
Here are a few examples of simple ways you can encourage new subscribers to join your email list: 
Add pop-ups across your website to encourage users to subscribe

Use exit-intent to drive requests for email subscriptions

Include a simple subscribe now form in your site footer

Make sure your "Sign Up" button stands out 
The more accessible and more prevalent you make your subscription forms, the better. Your customers won't have to go on a wild search for it, and they'll be much more inclined to provide you with their email addresses.  
In the end, you'll find that you'll be the one to benefit from making it easier for your audiences to subscribe to your email campaigns. Your subscriber list will continue to grow, and you can continue to learn more about who your customers are and what they're interested in. 
3. Create Fun and Engaging Contests and Campaigns
Email marketing doesn't have to be boring. You can quickly put together fun and engaging contests and campaigns that build excitement and encourage new subscribers to join your list. 
There are so many different things you can do when it comes to developing email contests that attract new users, here are just a few examples: 
Create contests and campaigns around upcoming holidays

Use polls to get people engaging with your messages

Provide subscribers with the chance to win a special giveaway

Integrate quizzes and trivia into your messages
Promoting contests on your website and across your other marketing channels is a great way to grow your email marketing list. 
People love free things, so if your offer is enticing enough, you could see exponential growth. But don't forget to keep the prize or award you're offering related to your brand. 
If you're giving a free two-night trip, but your company sells t-shirts, you're likely going to get a massive influx of subscribers — but how many of those are quality leads? All of these new subscribers may quickly unsubscribe once they've learned they weren't the lucky winners of your giveaway, and you'll be back to square one. 
Email Management Tools
Once you start to bring in more subscribers, you're going to need a way to manage all of them and the data they're producing. Doing this on your own can seem like an overwhelming task, but it doesn't have to be. 
There are tons of platforms and tools available today to help you manage your subscriber list and enhance your email marketing efforts. To help get you started on your journey towards improving your subscribers' work, here are three email marketing tools to check out. 
EmailOctopus was founded in 2014 with the goal of helping businesses grow. It's a dedicated email marketing automation platform that can help you do everything from increasing your subscriber list to creating targeted campaigns with each of your subscribers in mind. 
Highlighted Email Capabilities:
Grow your subscriber base with customized sign-up forms and by plugging this tool into your other apps, including landing pages and CRMS

Use actual customer data to create relevant messages that are sent to the right people at the right time 

Create automatic welcome campaigns that engage new users and introduce them to your brand

Easily create emails with their drag and drop editor or customize pre-designed templates 
Pricing: There is a free plan available for companies with up to 2,500 subscribers and 10,000 emails per month. The Pro plan is the second plan option, and pricing is based on the number of subscribers you have and the number of emails you plan to send. It starts at $20 per month for 5,000 subscribers and 50,000 emails and increases from there.
GetResponse is an email marketing platform that will provide you with everything you need to take your email strategy to the next level. With the highest delivery rate in the industry, you'll know your efforts are worthwhile, and your subscribers are receiving your messages. 
Highlighted Email Capabilities:
Implement autoresponders that interact with subscribers based on their actions, whether that be a new subscribe or a recent purchase 

Send newsletters to keep your audiences up to date and in the know of everything going on with your brand 

TIme the sending of your messages perfectly with the Perfect Timing and Time Travel delivery tools

Tap into customers data to create customized segments and use dynamic content to create more personalized experiences
Pricing: There are four plan options available, and pricing increases based on your subscriber list's size. The plans include the Basic plan starting at $15 per month for 1,000 contacts, the Plus plan starting at $49 per month for 1,000 contacts, the Professional starting at $99 per month for 1,000 subscribers, and custom pricing is available for businesses with additional needs. 
Constant Contact is an excellent option for small businesses looking to grow and expand their email marketing capabilities. This platform will help increase the number of subscribers on your list and allow you to drive increased customer engagement and revenue growth.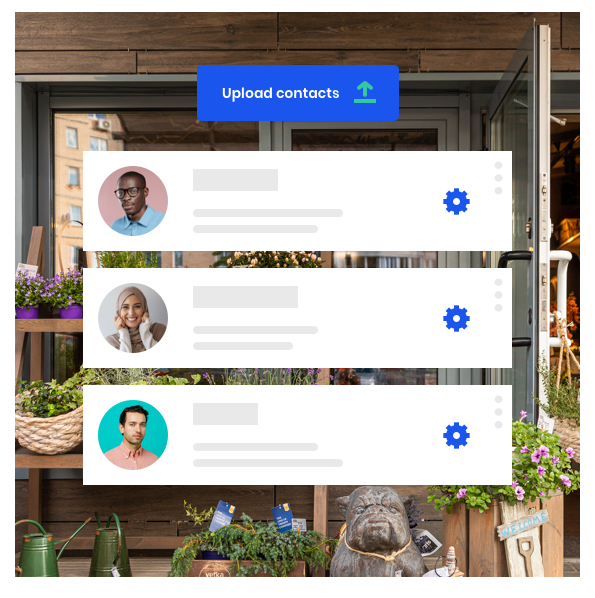 Highlighted Email Capabilities:
Manage your contacts in one central location and add new contacts from your website, social media channels, and more 

Easily create emails with a drag and drop editor that produces eye-catching messages every time

Automate emails from welcome campaigns to triggered messages and resends to non-openers

Utilize email marketing for eCommerce tools to increase sales and continue to grow your business
Pricing: There are three plan options available, including the Email plan starting at $20 per month, the Email Plus plan starting at $45 per month, and the Ecommerce Pro plan starting at $195 per month.
Tips to Increase Your SMS Sign Ups
Similar to email, SMS marketing requires you to build and maintain a subscriber base. While many of the tips that were just shared for email marketing can span over into the world of SMS, there are a few unique opportunities that present themselves with SMS marketing. 
1. Use In-store to Reach Audiences Who are Already Engaged With Your Company
One of the unique things about SMS marketing is that users have to provide explicit permission for you to communicate with them. 
To do this, most companies require a user to text a specified number with a unique keyword called a shortcode. Once someone texts the designated keyword, they'll receive a message confirming they'd like to subscribe to the marketing messages. 
This provides you with an opportunity to reach new audiences in a variety of ways. 
You can share your keyword across digital channels such as social media, email, and on your website — but you can also leverage in-store engagement. 
By placing signage promoting your SMS marketing list in your store, customers can text the keyword right there to join. Providing them with an extra incentive, like a percentage off or a special discount, will encourage more people to join. 
Here are a few examples of how you can use in-store signage to promote your SMS marketing efforts: 
Posters throughout your store promoting your SMS messages and providing customer incentives 

Signage at your registers and in the checkout area that reminds people about the opportunity to subscribe before they checkout 

Takeaway flyers that customers can take with them once they leave the store that encourage them to sign-up for exclusive deals and discounts
In-store promotions are a unique way to reach audiences interested in the products your company has to offer and provides you with a reliable way to continue increasing your subscriber list. 
2. Send Reminder Texts to Decrease No Shows
Another way to encourage people to subscribe to your SMS marketing channels is to provide them with reminders via text. This is a great way to encourage people to subscribe to your SMS messaging because it will benefit them. 
Sending a quick text about an upcoming appointment or event will serve as a reminder for your audiences and will help to decrease no-shows. It benefits your customer because they can then plan around their appointment, stop wasting time rescheduling appointments, and avoid any potential no-show fees. 
Luckily, with the right tool in place, this is another SMS tactic that you can automate. Simply input the data and let the program do the work to share reminders and updates with the right customers. 
Not sure if using SMS reminders is for you? Here are a few of the benefits you can expect from using this technique: 
One less item on your checklist with the help of automation

You can spend less time calling customers to confirm appointments or leave reminder messages

Avoid disruptions in your daily process 

Decrease no shows and plan accordingly 

Know ahead of time if a customer has to cancel their appointment, rather than waiting for their no show
If your business provides a service or if you're frequently planning events, text reminders are a huge opportunity to increase your revenue and decrease wasted time. 
3. Add Subscription Pop-ups to Your Website 
This one might sound a little familiar, and that's because it was touched on in the tips for emails, but it's also a great way to increase the number of subscribers you have on your SMS marketing list. 
The website pop-up is a powerful tool for increasing sign-up lists across the board.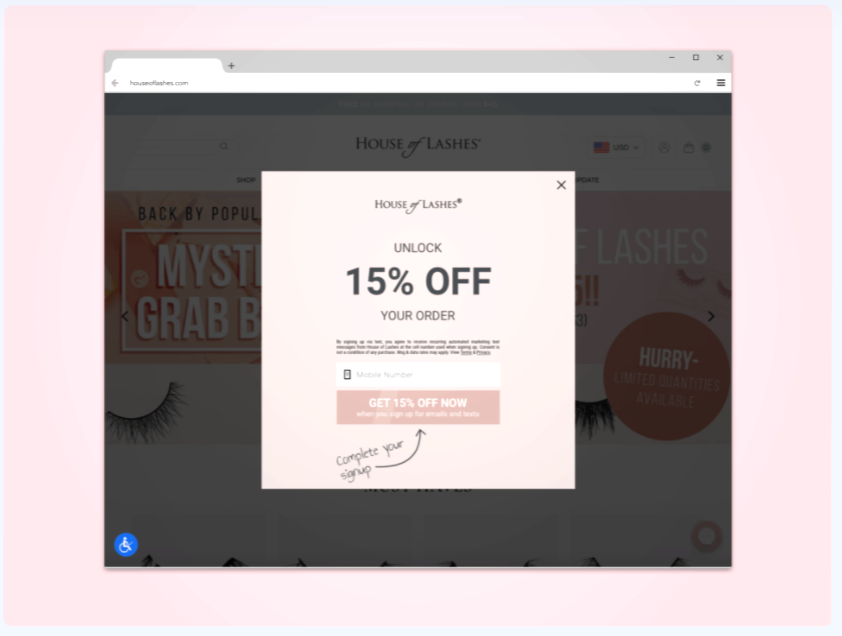 It's the idea that as a user browses your website, they receive pop-up notifications in strategically placed areas to promote your SMS marketing efforts. These audiences are already interested in what you have to offer since they're on your website, so these are the perfect users to target.
Also, by adding a little extra incentive in there, say 20% off a purchase, you'll pique the people's interest browsing your site even more. 
If you're just getting started with website pop-ups, there are a few things you'll want to know to design successful messages: 
Make sure to get the timing right the best practices include: triggers at 60% of the page, 15-20 seconds have passed, and before someone leaves, the site will perform best

Don't show pop-ups too many times in one customer visit 

Show on the pages that make the most sense based on your user behavior and disable URLs that just don't make sense
Using website pop-ups as part of your contact growth plan will provide you with an increase in subscribers who are interested in your content and more likely to continue to engage with future campaigns. 
SMS Management Tools
Managing your SMS subscriber list and communications can be a task on its own. But, similarly to email, there are plenty of tools available to help make the most out of your SMS efforts. 
Whether you're looking for something to create SMS messages easily, manage sending, or simply just continue growing and understanding your subscriber base — there's a platform out there that can fulfill your needs. 
SimpleTexting is an SMS automation platform that provides businesses with an affordable way to reach their customers via texting and interact with them on a one-to-one basis. This tool is a great option when looking for a platform that will allow you to build engaging campaigns designed to grow your subscriber list. 
Highlighted SMS Capabilities:
Import already existing subscriber listings and easily manage all of your customer data from old to new subscribers 

Easily create campaigns that engage users, including text to win, text to vote surveys, polling, and more

Create SMS keywords to encourage new users to sign up for your SMS messaging list quickly 

Schedule texts to send automatically and engage with 2-way messaging with your subscribers to improve customer satisfaction
Pricing: There are two pricing tracks for this platform, low volume, and high volume. Pricing for the low volume track ranges from $25-95 per month, and the high volume track ranges from $145-625 per month, with custom plan options available. 
SlickText is a comprehensive software that offers powerful tools to help you grow your list, create personalized automations, and seamlessly stay connected between desktop and mobile. The SlickText platform comes with personalized customer service and support to help you get the most out of your SMS strategy.
SlickText makes it easy to stay compliant with SMS marketing regulations, so you never have to worry about customers thinking you're 'spammy.' With web form, pop up, and QR code generators, you'll be able to create branded tools to easily grow your list. Image courtesy of SlickText. 
Highlighted SMS Capabilities:
Grow your list with a vast array of tools that help you expand your subscriber base quickly and consistently

Engage with subscribers through mass messaging, one-on-one texting, and picture messaging, with personalization options to customize individual messages

Create campaigns like text-to-win contests, text surveys, loyalty programs, unique promo codes, and mobile coupons

Build automated workflows for abandoned cart recovery, drip campaigns, and more with their easy-to-use platform
Pricing: There are 9+ pricing plans to choose from, so you won't be paying for texts you won't use—and even if you don't use all the texts your plan allows, they'll rollover. The plans start at $29 per month, but you'll be able to sign up for a 14-day trial, risk-free. 
EZTexting is an SMS marketing automation platform that can help your business easily reach customers on their smartphones with the content they want to see. This platform will provide you with flexible pricing and a wide variety of services to fulfill your text marketing needs.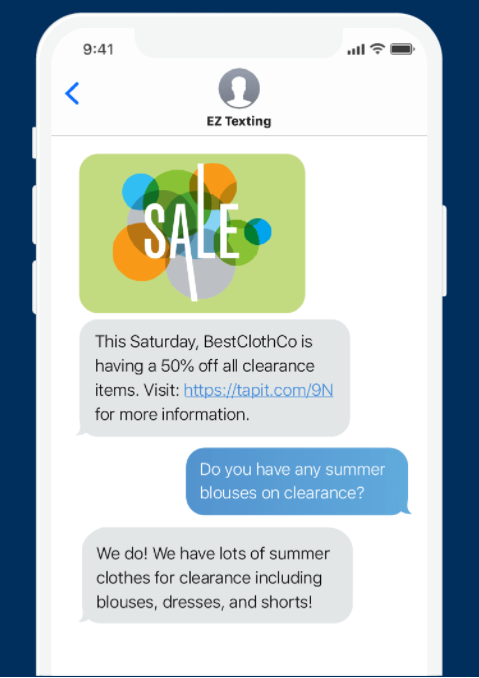 Highlighted SMS Capabilities:
Grow your subscriber list with multi-channel campaigns and text opt-in campaigns 

Create contests and sweepstakes to keep subscribers engaged and increase sales

Provide customers with coupons and discounts that encourage them to complete a purchase

Send automated event notifications and appointment reminders to keep subscribers up-to-date and on time
Pricing: This platform has four plan options, including the Value plan starting at $19 per month, the Essentials plan starting at $29 per month, the Premium plan starting at $49 per month, and Custom plans starting at $299 per month. 
With the Textedly platform, you can send mobile messages for various needs, including marketing alerts, events, coupons and discounts, notifications, and more. Textedly provides you with all the services you need with tons of pricing and plan options to fit your budget. 
Highlighted SMS Capabilities:
Continue to grow your subscriber list for as long as you'd like because this platform allows you to have an unlimited number of subscribers

Send mass group text messages and more targeted messages based on specific triggers and customer behaviors

Use customized auto-reply texts to react to new subscribers quickly 

Single send messages allow you to send appointment reminder messages to customers on an individual basis 
Pricing: This platform provides a wide range of plan options, including the Bronze plan for $24 per month, the Plus plan for $39 per month, the Enterprise plan for $50 per month, the Elite plan for $70 per month, the Business plan for $140 per month, the Silver plan for $210 per month, the Premium plan for $350 per month, the Pro plan for $500 per month, the Gold plan for $700 per month, the Platinum plan for $1,400 per month, the Diamond plan for $2,100 per month, and the Champion plan for $2,800 per month. 
Bring It All Together for an Even Bigger Impact With Multi-Channel Management Tools
The great thing about email and SMS marketing is that you can use most of these tips interchangeably between the two platforms. This means you could be using many of the same tactics to grow both your email and SMS subscriber lists. 
If this sounds like something that your company would be interested in doing, you need a tool to handle all of your marketing needs. Each of the platforms we looked at previously only provides you with one area of expertise, but the following options can span both of these channels and more. 
Listrak is an integrated digital marketing automation platform created with retail businesses in mind. This platform will help you elevate your email, SMS, and other marketing channels with the right customer insights and the predictive technology you need to stay ahead of their needs. 
Highlighted Email and SMS Capabilities:
List building capabilities for both email and SMS through cross-channel marketing and their Growth Xcelerator Platform

Message automation and personalization capabilities to ensure you're sending the right messages to the right people on the right channel

Easy to use templates that make it simple to create eye-catching emails and SMS messages 

Customer insights that help drive campaign creation and interactions based on customer intent and behaviors
Pricing: The pricing for this platform is customized based on business needs. You'll need to contact a Listrak representative to learn more. 
Sendinblue is another full-scale marketing automation platform. This tool can help you grow your subscriber base, manage contact data, and create engaging email and SMS messages. With various plan options available, you'll be able to find an option within your budget.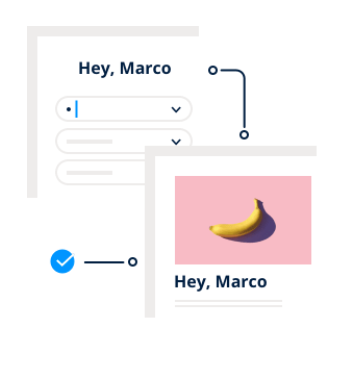 Highlighted Email and SMS Capabilities:
Grow your subscriber list with landing pages, sign up forms, and Facebook advertisements 

Easily integrate personalization into both email and SMS marketing with segmentation and dynamic content

Make email and SMS message creation simple with templates and message building tools

Track campaign performances across platforms to understand how each campaign type is performing
Pricing: This platform has four plan options, including the Free plan, the Lite plan starting at $25 per month, the Premium plan starting at $65 per month, and the Enterprise plan with customized pricing. 
Omnisend is a marketing automation platform created with eCommerce businesses in mind. It brings together all of the marketing channels and eCommerce tools you need to create successful campaigns that drive revenue growth.
Highlighted Email and SMS Capabilities:
Capture and convert new subscribers with pop-ups, landing pages, wheel of fortune games, and more

Easily create email and SMS messages with the help of pre-built templates and simple content editor tools

Develop automated eCommerce workflows that move your subscribers from new user to purchasing customer

Use customer data to drive personalized messages and ensure you're sending the most relevant content to each user
Pricing: This platform bases plan pricing on the number of contacts you have and provides four different plan options available, including the Free plan, the Standard plan starting at $16 per month, the Pro plan starting at $99 per month, and the Enterprise plan with custom pricing.  
Start Growing Your Subscriber List and Making the Most Out of Every Touchpoint Today
Now that you have some tips to get you started and a handful of platforms to investigate, it's time to start growing your subscriber list. 
If you're not ready to take the plunge and add all of these tactics into your current strategy, pick one or two to get started. Once you get your feet on the ground, you can always continue to expand your efforts and begin to reach more audiences. 
---
You may be interested in: How You Can Improve Your SMS Marketing Campaign