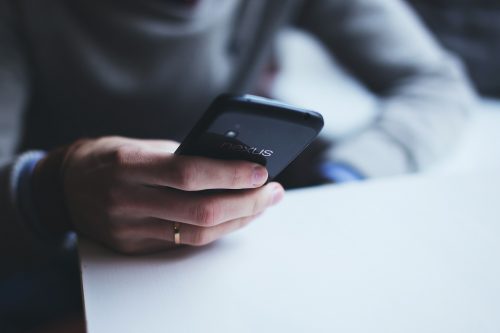 Phones are advancing at an increasingly rapid rate, more than we've ever seen before. Oftentimes, we need to adapt just as quickly, especially if our daily lives or work depend on it.
But if you've ever switched phones before, you'd know that this is often not a smooth process. While it's not exactly difficult, it can be quite troublesome and perhaps even annoying.
If you're like most of the population who want this process to be as quick and efficient as possible, then this checklist is perfect for you.
5 Tips For Switching To A New Phone 
Switching to a new phone is often a hassle, so we've compiled the five best practices to remember before making the switch. These practices will allow you to enjoy your new device as soon as possible without having to worry about forgetting anything.
Manually Back Up Essential Data 
Getting a new phone means you need to transfer all the essentials from your old phone to the new one. This includes data such as contacts, text messages, important media files, and even documents.
Manually backing everything up gives you the most control over this process. Sometimes, it's also the most accessible method, since it doesn't require additional installations. All you need to do is plug your phone into a desktop computer, copy all the files you need from your old phone, and paste them into your new one.
That said, keep in mind that manually backing up your data can be risky, in addition to time-consuming. After all, you might mix up files or overlook important documents that you can never get back.
Make Use of Automatic Backups
If there's too much data to copy and paste, using automatic backup features will surely be beneficial. This is especially important if your new phone has a different operating system from your old one.
Remember, when transferring data from iPhone to Android devices, it's important to know how to transfer iCloud data to Android first if you really want the process to go smoothly.
If you're transferring data between two iPhones or two Android devices, though, you probably don't need to do much. 
For example, if you're logged into an Apple or Google Account on your old phone and you log into the same account on your new phone, then the data from connected Apple or Android apps will automatically get added to the new device. This is for most apps managed by those accounts, such as contacts, calendars, or emails.
For other kinds of data, Android and iOS will often have a built-in backup feature on the phone, which you can find in your phone's Settings.
If you really want the most efficient option, you can always use a third-party app to transfer data in one click seamlessly. The only downside is that you usually have to pay for such apps, but they can get the job done quickly and reliably.
Optimize Your Security Settings
If you're technologically savvy, chances are that your old phone stores important privacy and security data in one form or another. This could mean bank accounts, passwords, and even two-factor authentication settings linked to the phone.
If you don't divert all of these into your new phone, you're going to have trouble getting into your accounts. Worse, you might even be deemed suspicious and get locked out or suspended.
Thus, it's important to optimize the security settings in your new phone before doing anything else with your old phone. This is especially important if you are using your phone for business-related calls. You can find a business mobile phone contract here. Change the verification number of your accounts, import all your saved profiles and passwords, and divert any two-factor authentication to your new phone. Make sure you can access everything from your new device.
Once the new device is good to go, you should also ensure that no important data remains on your soon-to-be neglected old phone.
Be Very Careful About Resetting Your Old Phone
Most people immediately factory reset their old phones when they feel like they're done setting up their new ones. While this is good practice if you're giving away or selling your phone, it's not recommended in any other situation.
This is because you can't be 100 percent sure that you're never going to use the information on your old phone again.
For example, there are banking and financial apps that only allow access for one device and require you to manually unpair the old phone from the account. When it comes to important information like this, it's always safer to err on the side of caution.
Setup Your New Phone
Now comes the fun part. After you've transferred all the important information and established iron-clad security on your new phone, you're free to customize and decorate to your heart's content.
Download your favorite apps, wallpapers, and cat videos then add outlook calendar to iPhone. Optimize icons and designate shortcuts most suited to your lifestyle. Make sure you're as familiar with the new phone as you were with your old companion. And even if you aren't, the discovery is part of the journey.
Switching To A New Phone
Switching to a new phone can be as inconvenient and irritating and as it is fun and exciting, especially if you neglect to set things right from the get-go.
To make sure you aren't inconvenienced down the line, make sure you do all the steps in the list above. If you succeed in doing so, the transition should be not only smooth but safe, as well.
Did you like this article? Have you ever switched phones before? Let us know in the comments below!
---
Interesting Related Article: "Buying tips for Your New Cell Phone"