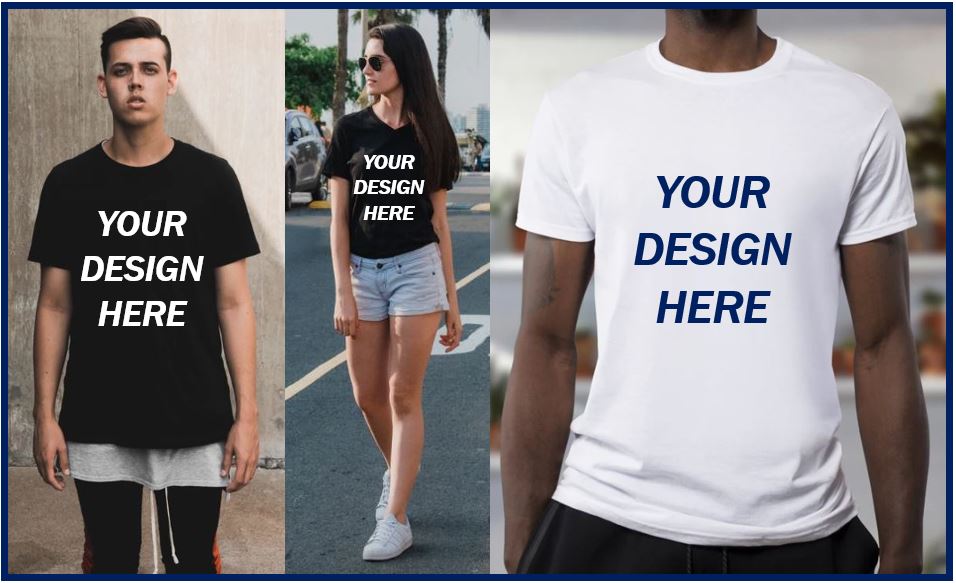 In case you've ever struggled to create a design for a t-shirt, know that it doesn't have to be so complicated. Anyone can create top-quality t-shirts with the right tools and little practice.
You can accomplish this in many ways, including the development of user-friendly design tools and the careful curation of our website around current fashion. And if you're not too familiar with what makes t-shirt design special, it's crucial to have access to in-depth materials when you need them.
Here is a design lesson that focuses on t-shirts and explains how the most important design concepts are applied to make the greatest possible custom made t-shirts for any occasion.
If you've never designed anything before or are just starting in the world of t-shirts, these pointers can help you create something that not only looks great but also is easy to produce and inexpensive.
You can either choose one of the premade t-shirt designs as a starting point for your unique creations or dive straight in and start tinkering about. But, if you put in the effort to learn these rules, you'll have more faith in your ability to personalize and make it your own.
How will you plan to get things rolling?
The toughest thing is frequently just getting started. We understand that staring at a blank page can be daunting, which is why we've made a concerted effort to provide a wide variety of premade layout options for you to choose from. But before you start trying to bring together diverse aspects, you should think about the purpose of your t-shirts and the final appearance you're going for.
Think about what your t-shirts are for and how they will be used
When comparing a work trip to a family vacation, for instance, it's clear that the two sets of objectives and priorities would be very different. Whether your T-shirts are for an event, as merchandise, as a uniform, or for any other reason, knowing this will help you decide how they should look and how much you should spend on them.
Find some ideas and decide what look you want to go for
You should know what kind of look you want to go for, such as bold and bright, old and worn, intricate and elegant, or modern and graphic. You can use our design templates as a starting point, but in the end, anything will do. Having a few other examples you like to use will help you a lot.
Once you know where you want design placement on shirts, you can start experimenting with different parts and colors. People who know a lot about design might like to use tools like Photoshop and Illustrator, but the Design Studio is made for quick and easy design. You can add and change images from a library of clip art, add text in a lot of different fonts, and upload your images, all in one place.
We'll talk about how to use typography, make a color palette, understand composition, place your design, and think about the garment you're designing so you can see how to put all these different parts together.
Recommendations on where to put your design
To avoid having your creation lost in the shuffle, avoid putting it too low
The vertical middle of a t-shirt is about where the sternum is, which is roughly the chest. Don't make the mistake of putting it right between the collar and the bottom hem, as it will look too low.
Align the visual focus of your design
If your design has parts that go off to one side, it's probably best to center it based on where it looks best instead of where it's actually in space.
Be mindful of the available space on the clothing you're working with
You may want to stay within the size limits of the style of clothing. One good example is pocket t-shirts, which only have so much room to print on the pocket. The hoodie fabric type, which has a small amount of space above the pouch pocket, is another example.
Size does not necessarily indicate the quality
Sometimes you want to fill the printable area, but sometimes bigger looks weird, especially when you're wearing it. Some logos and pictures just need more room to breathe.
Designing for two print locations? Switch up the size and level of detail
There's a reason why a small print on the left chest goes well with a complex print on the back. The difference between where the print is on the two pieces is a good way to give your look some asymmetrical balance. A front and back with big, complicated designs can look too busy at times. And please don't just copy and paste the same thing on the front and back.
---
Interesting Related Article: "Launching Your T-Shirt Brand – Tips and Tricks"