Once you have chosen to go from working for others to working for yourself, there may be a few unfamiliar hoops you need to jump through. If you have picked out the type of work you will offer, as well as a name for your new business, you can now look at more administrative and advertising work that will need to be completed for you to commence trading.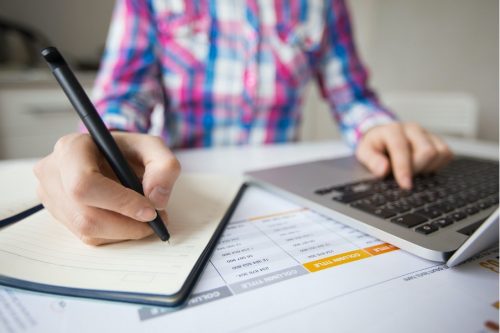 Depending on which state you live in, the legalities surrounding business requirements may vary. So that you do not gain any fines, or other issues relating to your industry, you must do some research to ensure that you have ticked all the boxes and are legally compliant. This will also reflect well on your company as a whole, showing that you are both accountable and responsible for your actions and trading regime.
Website
Many business owners use a website as a means of informing potential clients about their services, listing contact details, and displaying the reviews of their previous customers. The website you create may depend entirely on your type of business. For example, painting contractors need a mobile-first website design to reach their local target market who may be using search engines on their phone, to then ring up who they find in the online results to discuss their options.
The way in which any information is set out can also be crucial to increasing business. If there is an overly large amount of text, a confusing font, or even an unclear color scheme, you may end up losing more customers than you gain. By keeping your prose clear and crisp, your future clients will be able to see what they need and can get in touch.
Invoicing
Whenever you complete work for someone, you need to be able to invoice them. Not only will this invoice show them how much they owe you, but a copy can also be kept for your records, so you know what you have been paid that year. This can help you in your tax returns, and with your company and personal budgeting.
You can create your own invoices to send to your clients, so long as it shows your name, their name, the work undertook, the invoice amount, and the latest date payment should be made by. If time is short, you can also opt to automate the system, using invoicing software, so that you get paid without more manual work on your part.
Insurance
Depending on the type of business you plan to run, you may need business insurance to cover yourself, your clients, and your employees. This insurance could also cover any legal costs that are created due to your business. Failure to have some type of insurance can leave you liable for payments yourself or, in some cases, deemed as not trading legally.
Setting up your own business is not as simple as choosing what you want to do and going to do it. You need to make sure that you can trade legally for the state you are in, and that you can gain payment and new clients alike.
---
Interesting Related Article: " 5 Essential Marketing Strategies for Small Businesses"