With the staggering growth of internet penetration worldwide, it's counterintuitive to refuse to have an online presence and conduct business on the web. It is estimated that there will be 2.14 billion online shoppers by 2021. More than 25% of people worldwide are expected to use the internet to buy things a few years from now.
To take advantage of these optimistic figures, businesses need to do more to enhance their online presence and optimize business operations. Many tools can help achieve these. Featured below are some of the most interesting options to consider.
AccessiBe – Web Accessibility Compliance
AccessiBe is an artificial intelligence-powered solution that automates the process of optimizing the web accessibility of websites or online stores. It simplifies the process of evaluating and modifying sites to make them conform to web accessibility guidelines and legal requirements.
Not many may be aware of the fact that some markets require websites to follow standards that allow everyone, especially those with handicaps, to access websites. The Americans with Disabilities Act (ADA), Accessibility for Ontarians with Disabilities Act (AODA), IS 5568, EN 301549, and Section 508 of the United States Access Board dictate guidelines on making websites adequately accessible. Failing to comply with these guidelines can lead to legal repercussions. There's also the Web Content Accessibility Guidelines (WCAG), which set standards for web accessibility.
AccessiBe makes it possible to follow the guidelines inferred above without the hassles. It makes it unnecessary to familiarize with all the rules and requirements as everything is automated. Programming skills are not necessary. You just have to install the JS code in your website for AccessiBe's AI bot to start analyzing pages and proposing the required adjustments.
This web accessibility solution does not only improve online presence. It also makes ecommerce sites or online stores easier to use for the millions of people who suffer from hearing, vision, and motion disabilities worldwide. AccessiBe allows businesses to more easily offer their products and services to people who are unable to browse web pages in the typical manner.
XpoLog – Monitor and Protect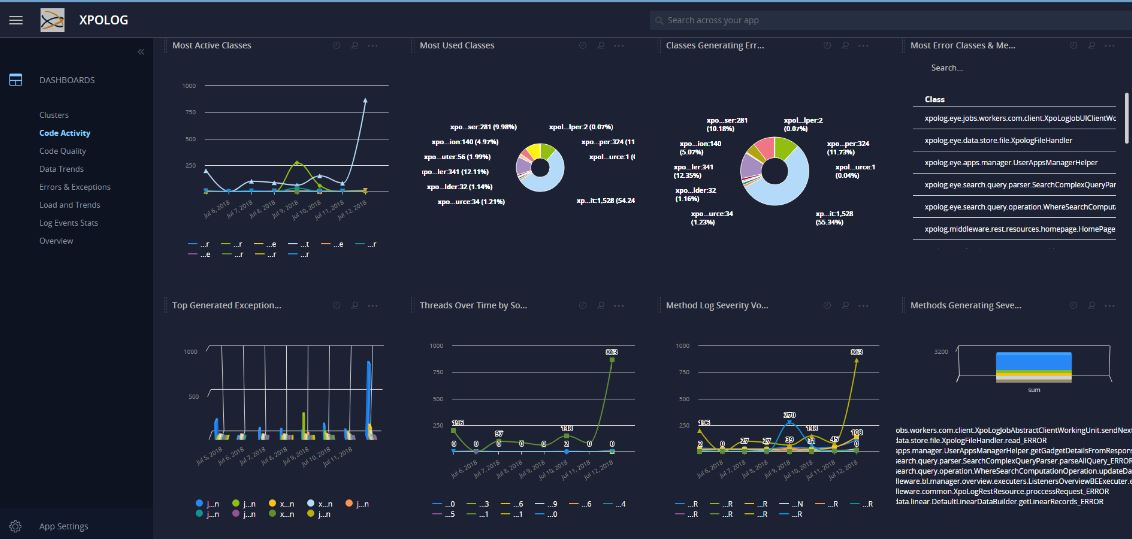 Another useful business tool worth considering is XpoLog. It is a log management solution that automates the gathering, sorting, analysis, and monitoring of various logs generated by computers or software used in business. This log monitoring and analyzer tool detects errors, risks, bugs, and anomalies continuously. It also comes with the ability to undertake rapid problem discovery with the help of augmented intelligence.
XpoLog features multiple analytic applications along with predefined dashboards and reports, real-time log monitoring, and a robust log viewer and search facility. It also provides convenient log parsing and visualization tools. It is designed to be easy to deploy with its built-in connectors, allowing users to set it up with a few clicks.
XpoLog is an open-source solution built to be secure and easy to integrate with other applications or services. It provides real-time alerts after detecting errors or problems while embedded in other security systems. The centralized log management tool that comes with the system works with cloud hybrids.
This business tool may not be for everyone, but organizations that tend to produce multitudes of logs can benefit from it greatly.
Hootsuite – Social Management and Scheduling
An excellent social media management platform, Hootsuite enables the handling of multiple profiles or social networks in one place. It provides a unified dashboard for managing different social media or online accounts, including Facebook, Twitter, Instagram, Google+, YouTube, and LinkedIn. It also supports Marketo, Storify, Reddit, and Tumblr integration.
Hootsuite is available in free and premium versions. The free option has enough features to conveniently maintain an online presence with up to three social media accounts, the ability to schedule up to 30 posts (for automated future posting), lead generation using social contests, and integration with around 150 free and paid applications. It also comes with basic analytics functions for monitoring followers and content statistics.
If you want access to more advanced features and the lifting of limitations, going for the premium version is the way to go. However, most startups will likely find the free plan good enough. They can just upgrade to the premium service if the need arises.
Online presence is often equated to social media. After all, anyone can get social media accounts quickly and for free. It's also easier to attract visitors and interact with potential customers on social media. Using Hootsuite is a logical decision for businesses that seek to establish and cultivate a solid presence on the web through social media. Hootsuite has earned numerous accolades for excelling at the things it promises to do. It's unlikely going to be a bad decision to give it a try.
KanbanFlow – Streamline and Grow
A simplified lean project management system, KanbanFlow is an effective tool for organizing tasks or assignments. It provides a visual representation of the operates of a business with regards to tasks. With its simple but customizable interface, it clear shows tasks in four columns (To-Do, Do Today, In Progress, and Done) to provide an excellent overview of business activity.
To help avoid bottlenecks, KanbanFlow can be set to limit the number of tasks that can put under the In Progress column. This will compel managers and employees to complete tasks first before assigning new ones. KanbanFlow also allows the addition of sub-tasks under tasks and the setting of task relations. Additionally, it provides a task viewing filter as well as different options for viewing tasks, which can be according to teams, areas of business, or products.
In Summary
Having a strong online presence is no longer just an option for businesses, it's a necessity. Regulations like the ADA or section 508 makes it essential (and also the right thing to do) to adapt your website to people with disabilities. A strong project management solution will keep you organized and streamlined, and lastly a platform that monitors your logs and business interactions will keep you safe and vigilant.
We're in the midst of an increasingly competitive and risky space for online businesses. Fortunately, these aforementioned tools can make it easy to build, maintain, grow, and protect an online presence.
_________________________________________________
Interesting related article: "What is Project Management?"