Computer-Aided-Design software packages (CAD) have come a long way from the humble beginnings of SketchPad in 1963, which despite pioneering the creation of interactive 2D graphics on computers was tedious to operate and maintain.
Today, modern CAD software packages are feature-packed with the latest innovations in 3D and 2D design visualization formats, programming modules, and many other features.
All this enables engineers, architects, and construction personnel to take full advantage of this set-up to help them speed-up and improve upon the quality of their designs.
As competition stiffens between CAD software development companies, they are all reacting by pushing innovative boundaries to create software platforms that have a better and more responsive user interface, better collaborative features across board to foster working on the go, and many more.
In this post, we take a few minutes to explore some of the best CAD software packages in the market today, with specific emphasis on some of their stand-out features.
AutoCAD
AutoCAD is a veteran in the CAD software category and the brainchild of American software manufacturer Autodesk.
It is used to create responsive 3D and 2D designs of products, equipment, building, etc. The software consists of extensive functionalities with an extensive library of surreal elements and plugins that facilitate its use for various purposes.
AutoCAD supports robust visualization of designs through the provision of high render quality and realistic capture to produce excellent 3D model designs.
The latest version (2021) of AutoCAD boasts of additional features like Drawing History that enables users to compare the various versions (previous and present) of designs. It also has an Xref compare feature which helps users view real-time changes made to drawings.
AutoCAD is available on the windows and Mac operating systems and comes with a one-month free trial, after which it would cost $210 per month or $1690 for the annual subscription plan.
https://www.autodesk.com/products/autocad/
SketchUp 
SketchUp is an easy-to-use CAD software used to create 2D and 3D designs and models of all kinds of objects, whether simple or complex.
With SketchUp, users can draw lines and objects in just a few clicks, plus they can also perform real-time manipulation of surfaces. Its extensive visualization platform ensures that one can obtain information of design choices on the go.
The easy-to-use nature and responsiveness of SketchUp make it a popular choice amongst beginners and enthusiasts alike. Other features that make it extremely desirable are the vast tools that make it possible to create precise designs, its easily customizable workspace, etc.
SketchUp is available on both desktops and the web, and it has a couple of plans which depend on the version you choose. SketchUp Shop, SketchUp Pro, and SketchUp Studio, which are the professional versions available costs $119, $299, and $1199 per annum respectively. The free version is available for web only.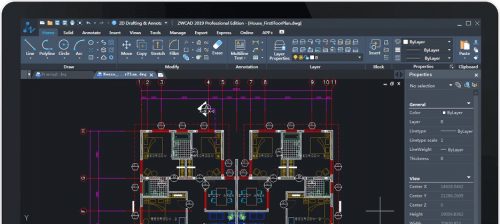 ZWCAD
ZWCAD is a CAD software package produced by software maker ZWSOFT. While ZWSOFT has been around the block for some time now (1997), ZWCAD software has begun to see a real push in user adoption in recent times with about 900,000 active users. It has many similarities with the AutoCAD software, with lots of tools used to create iterative 2D and 3D design models.
At first glance, you are most likely to notice the fluid user interface and responsiveness of the software, especially when working with large drawings. ZWCAD software is feature-packed on multiple levels with features like Smart gesture, Smart select, and Smart Plot that enhance the entire user experience.
This CAD software has other fringe features like the File Compare to boost users' design process. It also has lots of tools to select from when designing 3D models, ZWCAD's numerous styling and view options enables better visualization when carrying out rendering of designs.
ZWCAD 2021's support for Building Information Modelling (BIM) makes it a top choice amongst engineers, architects, and building managers alike, plus its relatively low cost starting from $1,099 per year, makes it desirable from most of its competition.
https://www.zwsoft.com/product/zwcad
OpenSCAD
When there is any mention of a CAD design software that is particular amongst enthusiasts, OpenSCAD comes to mind. OpenSCAD is an open-source script-based 3D design software package used in creating model drawings. Its script-based nature means that it lacks the interactive interface found on other CAD software platforms, but it is worthy to note that it still has a Graphical user interface that enables users to visualize their designs. Also, the fact that it is script-based means that this software definitely is not for everyone and is better suited for those with programming experience. Since it is open-sourced, OpenSCAD is totally free to use and the vibrant community makes it possible to gain access to an extensive array of libraries.
Blender
Blender is an open-source CAD software package used for creating 3D animations, models, and simulations. It is a popular option in the design community because of the extensive manner of its adoption across professions. Blender's wide appeal stems from the fact that it is free to use, and it is extremely versatile in its end-use, from creating high-quality renders to detailed animations and high-quality video effects.
Blender tools allow you the freedom to create all forms of shapes and to be able to create patterns and textures on your designs, all at a few clicks of your mouse. Another standout point of blender is the ability to integrate many CAD file formats into it. Let us point out that there is a learning curve for beginners when trying to use this software, but once you get the hang of it, you are definitely golden.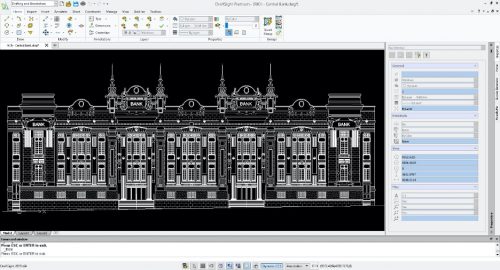 DraftSight
DraftSight is a 2D drafting and 3D CAD software used for carrying out the drawings of all forms of objects, building layouts, and a lot more. It is well known for its ability to seamlessly integrate Solidwork files for edits, modification, and visualizations. DraftSight's extensive toolset and features make it very simple to create complex and simple design models.
Features like the G-Code generator helps convert drawings into code to enable the control of CNC machines.
The latest updates to DraftSight are geared towards enabling better integration to the design environment to streamline workflow with the 3D ContentCentral tab now moved to the task panel.
DraftSight is available on both Windows and Mac operating systems. It comes with a free 30-day trial after which a subscription fee starting from $99/year is required.
https://www.3ds.com/products-services/draftsight-cad-software
Onshape
Onshape is the new kid in the block (created 2012) but has found a niche for itself in the design industry. Onshape is a web-based CAD software that utilizes cloud computing to carrying its functions. Onshape is used to sketch and create 2D designs, it can also convert 2D shapes and models into 3D.
Onshape has a number of tools in its chest that makes it suitable for lots of design purposes. The combination of its excellent simulation capabilities alongside its rendering prowess makes it a top choice for engineers who want to get an estimation of specimen design performance in real-life situations.
Collaborative methods are enhanced in Onshape since it is a web-based app, multiple users find it easier to work on the same projects, share designs, and documents, etc., which serves the workflow in general.
Onshape payment for its software starts from $1500 to $2100 per year, depending on the plan of choice.
Microstation
Microstation is a CAD software package built for professionals. Its core function is delivering accurate and responsive 3D designs of objects, and one of the unique selling points of Microstation is the support of BIM technology which makes it useful for building and engineering professionals. BIM support solves the clutter associated with the use of many CAD software packages as it eliminates the need for other 3rd party apps and streamlines workflow.
Microstation has a host of design tools geared toward precision to help users capture their original design intent. It has also followed the trend with most modern CAD software programs to boost collaborative efforts by adopting cloud sharing features.
https://www.bentley.com/en/products/brands/microstation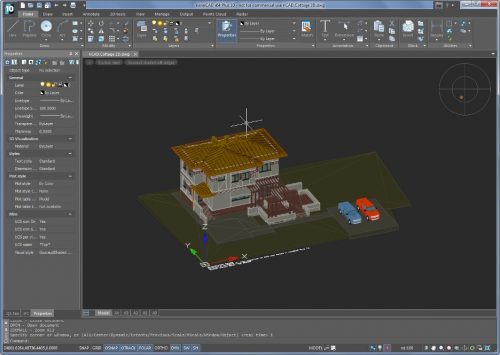 NanoCAD 
NanoCAD is a useful tool created by software maker Nanosoft for creating 2D drafts and designs of objects. It combines its intuitive graphical interface with a command-line input option for those who tend to gravitate towards it. NanoCAD follows the trend of having a library of relevant engineering and construction tools that helps make the general design process a lot easier. Along the same line of making work a lot easier, NanoCAD is capable of reading BIM models as a result of its IFC compatibility. NanoCAD is available in various options which differ in feature depending on your desired end-use with a starting price of $180.
There is a free trial option available for those who intend to have a test of the software's capabilities.
Solidworks
Solidworks is one of the most popular CAD software packages out there today, widely used in workplaces and educational institutions. Solidworks allows users to turn basic solid 2D sketches into 3D models using a parametric based system. It has an immersive interface that places the tools required to create model designs all in one place for easy access. The software is popular within the engineering community for many reasons but, one notable reason being the presence of its toolbox feature, which contains a vast array of useful components. The latest update to Solidworks (2021) provides performance and simulation upgrades to the software. Solidworks is also towing the popular route by now integrating cloud features to promote effective collaboration on its platform.
As an engineering or construction professional, buying a CAD software for your organization can be a daunting task considering the number of alternatives out there. While some may have specific features not found in another, it becomes necessary to consider a CAD software that has all the required features and more for all your design needs. This is where lots of rising stars, such as ZWCAD, come into the fray. In addition to all the features of ZWCAD mentioned in this write-up, ZWCAD software is compatible with a host of CAD file formats. Their portfolio and software solutions stretch across 90 countries and over 900,000 clients.
In the end, hope this article will help you to understand CAD software and how to select the best CAD software well.
---
Interesting Related Article: "What Skills Do You Need for A Successful Career in Civil Construction?"