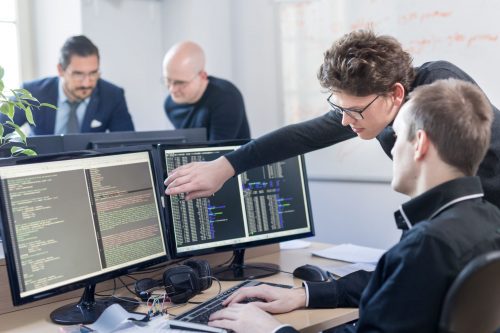 The IT industry is one of Australia's fast-growing job sectors and the largest contributor to the country's economy. According to a survey by Deloitte Access Economies, Australia's technology field has over 400,000 workers as we speak. With many players in the industry, finding the leading custom software development partner in Australia can be a daunting task. Here we look at the top 10 largest software development companies in Australia to help find a partner that provides cost-effective, timely, and top-notch solutions to clients.
ODS Group has offered mobile app and web development solutions to many businesses globally with a 100% success rate. The award-winning company applies the client-centric approach, which means that the client is always at the center of any business that they do. Moreover, the company boasts of a family of experts that help midsize or large businesses, enterprises, and global brands with innovative solutions. 
With over 20 years of experience, the tech giant has an excellent set of frameworks that allow it to deliver superior quality solutions. Besides, the ODS Group team collaborates with their clients throughout the process to ensure accuracy, transparency, and effectiveness. 
Services
Mobile app development

Web app development

Server Administration

Database Developers

 
Cubix is one of the largest software development companies in Australia. The games, enterprise, and mobile app Development Company specialize in developing complex enterprise-level solutions, their customization, and integration into business systems. Moreover, it also focuses on delivering business intelligence analytics, mobile and advanced web solutions. 
The software development company has over 8 years of experience, which means that they have worked on many projects for startups, individuals, and organizations. With a team of dedicated experts that are constantly improving and learning more on industry progression, the company has the right internal frameworks to deliver high-quality solutions. 
Services
Mobile app development

Blockchain

Game development

Augmented reality

Machine learning and artificial intelligence
Vrinsoft has been offering website and app development for more than 10 years having been established in Australia since 2008. They have extensive experience in various technologies with over 500 successfully executed projects for more than 200 clients worldwide. This is an award-winning company with several certifications as well.
They have a team of over 150+ highly trained professionals involved in various projects like mobile app development, website development, software development, Blockchain Development as well as digital marketing. They keep abreast with the latest technologies and help transform your ideas into reality using the best possible technical solution. They help all types of firms like start-ups as well as businesses by developing full-fledged software as well as MVPs.
Services
Mobile Application Development
Web Application Development
Software Application Development
Emerging Technology

Blockchain technology
IoT Application Technology
Wearable App Development
Smart TV Application Development

Digital Marketing
Iflexion is another top custom software development company that delivers software solutions that help businesses in various industries optimize their processes. With a dedicated team of over 850 IT professionals, the software development company offers custom solutions to customers around the world. The company has a global customer base in different operation domains, organizational specifics, and geographical locations.
In addition, Iflexion focuses on delivering the IT needs of businesses of all sizes, including large enterprises and startups. The full-cycle software development company has shaped its tech knowledge through years of hands-on experience managing, carrying out, and planning complex custom software projects.
Services
Web app development

Mobile app development

Testing and quality assurance

Integration application

Dedicated development teams
Fringent is another award-winning software engineering company that specializes in delivering custom software solutions to clients across the globe. The company has offices in the US and other branches in Australia, India, and the UAE. With over 16 years of experience, Fringent has delivered more than 700 projects for businesses across four continents. The software development company has worked with a number of popular brands like Johnson & Johnson, Sony, PwC, TalentQuest, SSNW, Premium Retail, Asteco, CBN, Smart Dubai, HoneyBadger. Trade Alliance Group, Mohawk, and many others.
 Services
Software development

Infrastructure

Advanced Tech

Advisory

Security and compliance

Maintenance and support
If you are looking for a Software Company with a multi-disciplinary team of experts, Chaos Theory offers a great option. The award-winning IT firm has delivered several custom software solutions in augmented reality and virtual reality. Besides, Chaos Theory has also developed mobile apps for some popular brands like eBay, Samsung, and the University of Sydney. The company's approach is outcome-oriented as it focuses on market research, iterative design, and rapid prototyping.
Services
Mobile app development

Backend web development

Frontend web development

Virtual reality

Augmented reality
With a team of dedicated and experienced developers, Custom D specializes in building sophisticated custom mobile and web applications that help transform business operations. The company follows a collaborative approach that involves knowing the client's industrial processes and visions to ensure that they deliver impactful solutions to their businesses.
Services
Web development

Web design

Fintech startup

E-Commerce

Backend and Frontend development

Custom software development
Appello Software is a full-stack software engineering company that specializes in providing competitive web and mobile software development for start and enterprise clients in Australia. With years of experience creating award-winning web-apps, mobile apps, and other software products, the company is one of Australia's largest software development companies. The IT Company has a team of experts in various fields, including fronted engineers, full-stack engineers, and UX/UI designers who have the right skillset to take on your project successfully.
 Services
Bespoke solutions

Web design

Web app development

Mobile app development
Dev Centre House offers software solutions that help enterprise clients to transform their business operations digitally. Founded in 2012, the team has delivered several software products to millions of clients in different industries. The company also boasts of dedicated and motivated experts passionate about delivering software solutions and products to their clients.
Services
Mobile app development

Cloud and DevOps

Web development

Product design
Folio3 is a US-based software engineering company that specializes in providing solutions to businesses seeking to undergo digital transformation. With more than 15 years of experience in the industry, the company has made its name as one of the largest software companies in the US and Australia. Moreover, the Tech giant has built innovative solutions for prestigious brands across the world.
Services
DevOps services

Digital marketing

Quality assurance services

Artificial intelligence solutions

Enterprise development services

eCommerce services
aTeamIndia focuses on creating digital products for clients to help streamline their business's operations. Founded in 2013, the company has great internal frameworks and experts with the right skillset to offer custom software solutions to various businesses.
Services
Web engineering

Mobile development

AWB services

Strategic consulting
Conclusion 
In conclusion, the software development industry is among the fastest-growing sectors in most economies around the world, and Australia is no exception. Australia has several software companies and hosts many offshore software companies affiliated to award winning software development partners. With the high number of software companies, most businesses and individuals might find it hard to find the right software development partner. However, we believe that our list of the top 10 largest software development companies in Australia will make this easier for you.
---
Interesting Related Article: "5 Tips to Beginning with Software Development"