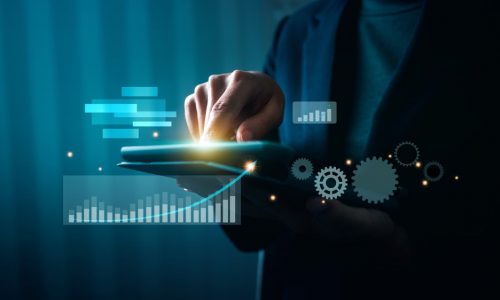 Once you go public, it's crucial your IR website positions your organization as a company worth investing in. Are you ready?
Going public takes a lot of work. Your average initial public offering definition describes it as opening shares of your private organization to the public. But before you can do that, you'll invest countless hours making sure you meet the financial and legal requirements to raise capital from public investors.
Sure enough, you'll build an IR website sometime between filing your intention to float and your initial public offering. Here, you'll upload information as your status changes, slowly sharing more information until you're officially listed on the stock exchange.
Once you reach this milestone, the contents of your IR website should reflect your achievements so far and your plans for the future. Here are three top features of an effective investor website.
1. A Homepage That Grabs Attention and Answers Questions
Most Internet browsers spend less than 20 seconds on a page unless the site has a clear value proposition. To make sure people hang around long enough to learn about your brand, you need to make a beautiful and functional homepage.
Your homepage will be the first part of your site that any prospective investor sees. Make sure it's clean, aesthetically pleasing, and concise. Your design should make it easy for visitors to explore your brand and understand your value proposition.
Support your story with intuitive web design to remove barriers that could potentially prevent investors from getting what they want. You'll want to invest in a site with a good flow that naturally directs future shareholders to important tasks with clear call-to-actions and dynamic visuals.
Anticipate their needs by highlighting these important components front and center:
Brand's history
Financials
Why someone should invest in your company
2. An Interactive Financials Section
The latest IR intelligence suggests formatting plays a crucial role in both piquing and retaining investor interest.
Ordinarily, a financials section can run the risk of being dry, making it a taxing part of an investor's experience. Making this section interactive with curated graphics (where relevant) can make their research more palatable.
Here are some interactive elements that can boost your IR site performance:
Searchable calendars to allow readers to look for specific meetings and event types
Stock charts that show your price development across various exchanges
Calculators to show your performance over time
Maturity metrics if you deal in bonds
Exportable financial analyzer that details revenue and earnings before interest and taxes
3. Showcasing Your ESG Initiatives
ESG — short for Environmental, Social, and Governance — is quickly becoming a determiner in an IPO's success. Investors want to know the company they're going to buy into is committed to sustainability, human rights, and corporate accountability.
The latest IR intelligence recommends having an ESG landing page that you can link to from your homepage. Here you can give an overview of you how you're investing in the environment and people, but you'll want to break down each part of the acronym, making a separate page for your environment, social, and governance initiatives.
The Takeaway
Your website is one of your greatest tools for reaching new investors and retaining old shareholders. Make sure yours positions your brand positively with a well-designed homepage, interactive financials, and an informative ESG disclosure.
---
Interesting Related Article: "Information on investing"