When you have accidentally deleted a file or folder, it is quite possible to restore it. There are various programs that are designed to do this, fortunately, some tools are highly effective. We've reviewed the top four tools to get back deleted files in under a minute and listed the pros and cons of each. Follow this article to select your best method to get avoid with the undetectable data loss disaster.  
iTop Data Recovery: Make Data Recovery Fast and Easy
iTop Data Recovery uses a sophisticated algorithm to recover your files. It scans your drive in under 1 click and can also recover personal folders. The software's user-friendly interface makes it easy to find and preview files. Moreover, it supports many file formats. Therefore, it is a great choice for recovering deleted files.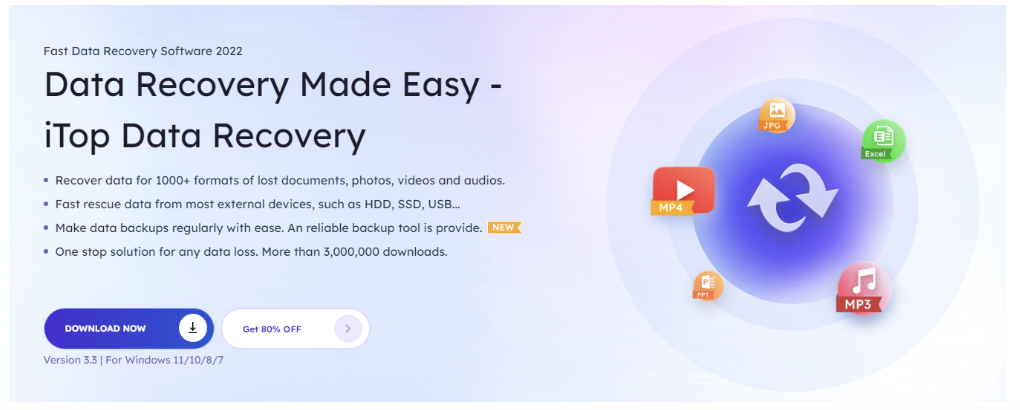 Main Features 
Blazing-Fast Scanning
First of all, this tool has fast scanning capabilities. It can recover deleted files within a minute with file formats over 1000. Moreover, the software is also available in various scan modes. Users can select a file type or a location to search for lost files. This feature allows you to get back all lost files in the fastest time possible. It also lets you preview the files before restoring them.
Recover from Any Situation
This software is also capable of recovering permanently deleted files from the Recycle Bin. A good data recovery tool should have the capability to retrieve deleted files from all types of Windows systems. So, iTop data recovery software is a smart option if you need to retrieve your files in a hurry.
High Success Rate
In case of accidental deletion of files, you need to use data recovery software that has a high success rate. The program is designed to recover files in a variety of states including those affected by viruses and malwares. Whether you have deleted them accidentally or through a virus, you'll be able to get back your files in no time with the help of iTop data recovery software.
Easy-to-use Interface
It has an easy-to-use and straightforward interface. It asks for the hard drive that you want to recover. Or, it will scan your entire system to identify deleted files. It can even detect deleted files that have been accidentally overwritten. It also allows you to select a destination folder where to save your recovered files. It's important to save the recovered files in a different location than where you installed it. 
How to recover deleted videos in minutes with iTop Data Recovery?
Videos are widely needed and used in recent days for daily life recording and sharing with friends or on social media platforms. Thus, it's necessary to find a powerful and easy-to-use data recovery tool to avoid any undetectable video loss issues.  Luckily, iTop Data Recovery will be your best choice to get back deleted video files in minutes. Follow the steps below to recover your videos now:
Step 1: Free download and install this data recovery software from the official site to make sure that you find the correct version with no virus.
Step 2: Tick the File Types(Video) and the Locations the deleted videos files were. Then click the Scan button to start the fast scanning process.
Step 3: Preview the possible video files that were found. And select the one you need to recover. And choose a destination path to store the recorded files before clicking the Recover button. After the recovery process is completed, now you can enjoy the videos freely like before.
MiniTool Power Data Recovery
If you're looking for a tool that can retrieve deleted files, MiniTool Power Data Recovery may be an option for you. This program offers comparable features to its competitors, and competitive rates. However, it lacks some important features that make it a superior choice for those who want to recover deleted files in minutes. 
To download the free trial edition of MiniTool Power Data Recovery, visit its official site and follow the instructions to install the software. Once installed, the program will open a window where you can choose the drive from which to recover deleted files. Select the drive you want to recover and let the program scan it. Once you have selected a drive, you'll be able to view all the files it can recover.
Testdisk can get back deleted files in a short time. It is simple to use and comes in a lightweight package. It has no complications with installation, and the program can be installed in the task manager tray or at startup. Once installed, it will start recovering lost files instantly. This program is available for both Mac and Windows computers, and works on virtually any storage device. Disk Drill supports over 400 file formats and is compatible with most file systems. This freeware application can restore lost files and folders. 
Launch TestDisk from its website and follow the steps outlined. First, open the terminal program. Hit the "Create" option and press "Enter". The program will then scan your PC and find any attached storage devices. Click on the drive you'd like to scan and press Enter.
You can choose to scan the entire drive or select a partition based on its type. Next, choose the advanced utility options. After that, you can choose whether to recover your deleted files in one or multiple locations. Select which files and folders you want to recover. Depending on your computer's storage capacity, this process could take several hours.
Another great option for recovering deleted files is Disk Drill. This program is available for both Mac and Windows computers, and works on virtually any storage device. Disk Drill supports over 400 file formats and is compatible with most file systems. This freeware application can restore lost files and folders. In addition, it can even recover photos from digital cameras. Hopefully, this article will help you find a solution to your problem!
The Bottom Line
Here are top 4 data recovery tools to help you get back deleted files in minutes with ease. No matter you want to recover any video, image, chart, kinds of files from any situations any devices, you can find the best method or the best tool suits you most. Now, you can select one data recovery tool from above and have a try!
---
You may be interested in: How to Recover Deleted Files from a Windows PC