Development of enterprise software implies a lot of benefits to all stakeholders. For users, it is an optimized task solution and automation. For the owner, it's a huge profit. And According to Statista IT Market Model, the enterprise software solution market, which includes ERP and CRM, is expected to grow steadily over the next few years, reaching market revenues of approximately $95.4 billion worldwide by 2021.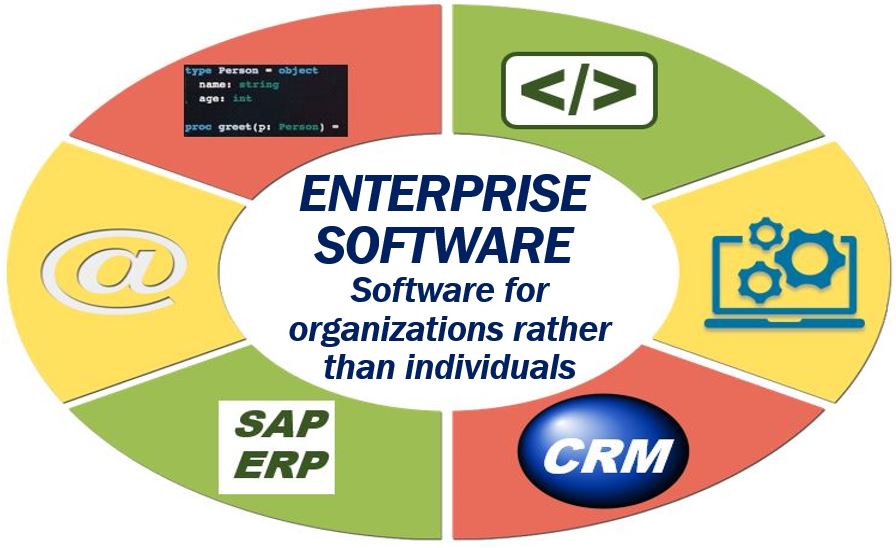 Almost everyone would like to be a part of these statistics, but there are many factors to consider. Almost the main one is the professional team that will develop a solution. However, before you start looking for such a team, you should get familiar with the types of enterprise software solutions and this article will help you with that.
What is an enterprise software solution?
Enterprise software is a generic term for any software used in large organizations (whether business or government). It is considered an important part of a computer information system and provides business-oriented tools such as online payment processing and automated billing systems.
Among the advantages of such software:
necessary information may be obtained in an easy and convenient way;
full control and synchronization of work processes: they can be built according to the company's hierarchy;
reporting forms aren't a problem anymore as they are standardized;
simplification of daily routine operations of all departments, it is possible to free up a lot of resources and expand management functions;
centralisation and qualitative protection of the information;
acceleration of work cycles, improvement of interaction between departments, increase of work transparency, possibility to organize a corporate system of staff training, and so on.
Types of enterprise software solutions
1. Mass market solutions
Mass market enterprise software solution or COTS (commercial off-the-shelf software) is a type of software, which is ready-to-use and available to the public by subscription. COTS products are designed for easy implementation in existing systems of customer companies without the need for configuration. COTS products meet the most common needs of customers (standard functions of CRM, ERP, task management, etc.). At the same time, they can neither meet some complex, diverse business needs nor be fully customized for the business processes of the company.
Pros:
the initial price is relatively cheap compared to custom software because the costs are distributed among a large number of users;
the ready-made enterprise software solution can potentially be quite advanced due to the resources that are invested in its development and often accommodates the necessary basic functionality package;
available immediately as implementation period is rather short;
less staff training is required;
trial availability.
Cons:
doesn't meet all customer needs while having a lot of features that won't be used at all;
may have a monthly/annual payment;
weak scalability, necessity to wait for new versions of a product which may not include needed functionality;
COTS is not configured individually, the company will have to adjust to the software;
license availability;
COTS developer may stop software support and development, and it isn't always clear how the enterprise software solution will be updated in the future;
a competitor may have the same enterprise software solution.
Example: Salesforce CRM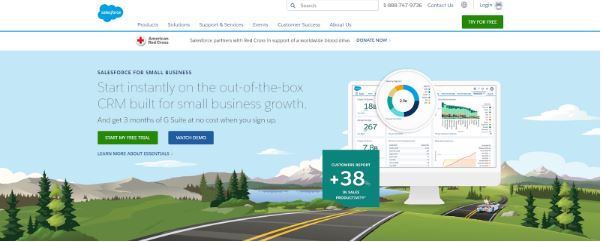 Salesforce is a universal cloud CRM system designed primarily for large multitasking projects. The US company Salesforce is considered a leader in the field of CRM-systems. It has the largest market share – over 14%.
The main advantage is that it takes into account the client's industry specifics. There is also a convenient set of analytical tools that allow you to track the traffic of potential customers and analyze sales effectiveness.
In addition, the system is able to assess the marketing strategy of the business, and then give some tips for its improvement. In general, the entrepreneur gets full control over the cycle of work – from receiving leads to sales statistics.
Choosing additional products to complement your solution with entails higher expenses. If you have extensive needs in sales, customer service, and marketing, and plan to see to them all with Salesforce products, the message is clear: get ready to pay.
2. Value-added resellers
These are companies involved in adapting existing enterprise software and providing customized solutions for consumers. They can also combine components from different suppliers to create a new system according to customer requirements.
The goal of VAR companies is to provide customized and ready-to-use IT solutions.
Pros:
VAR enterprise software solutions are generally cheaper;
the initial customer focus of resellers, which should provide better support;
developed solutions and cases in different areas of business that can be used for new customers, which speeds up and simplifies the work.
Cons:
there are limits to the functionality and customization of the products;
some features and functions of the platforms cannot be changed, even when it's crucial;
with a large number of added functionality there may be problems with the enterprise software solution speed ;
VARs are most often customized to solve problems in certain areas and are linked only to the platform itself;
long period of time required to integrate a VAR solution (up to several months);
such IT solutions are easier to crack, hackers are more likely to target them;
your competitor still may  have the same enterprise software solution.
Example: Solutions based on SAP ERP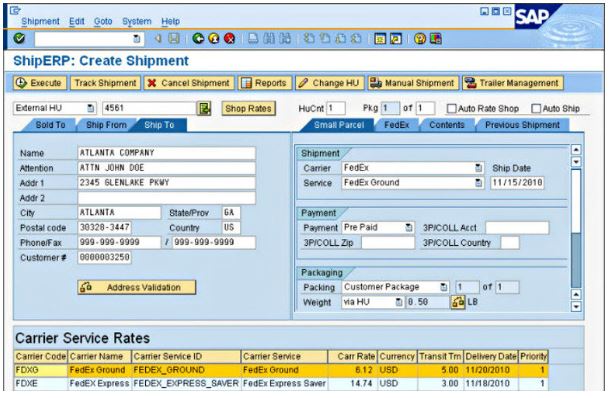 SAP has a unique fully integrated software system that allows to turn the company into a "smart" enterprise. In addition, thanks to the possibility of products segmentation by industry, SAP can be considered a universal solution for all.
Among ERP-systems, SAP provides programs for such industries as chemical, mining, oil, and gas industry, energy, banks, retail and wholesale trade, consumer goods etc. It's common practice to buy SAP solution and refine it to the needs of the company. Still, despite massive investments, SAP has been unsuccessful in keeping up with the industry in delivering disruptive technologies such as cloud ERP solutions. It also doesn't show great results in responding to increased demands for technology that supports business strategies
3. Low-code development platform
A low-code development platform (LCDP) is software that provides users without technical background with a platform and environment to create their own application. It is implemented through a graphical user interface and configuration, instead of traditional code writing. This type also includes iBPMS solutions, where the logical essence of the solution is thought out by business analysts.
Pros:
satisfies the company's needs regarding the implementation of solutions, when a person who knows the problem comes up with an IT solution and can implement it themselves, without deep technical knowledge;
allows developers to work on existing templates, which greatly accelerates the work;
faster development time.
Cons:
no possibility to create a full-fledged, functional IT solution – insufficient quantity and quality of functions, templates;
payment may vary depending on the required storage, server resources, number of pages, etc;
poor security of data within the created application.
Example: Appian Solution
Low code platform Appian allows you to create different applications on its basis. For example, in 18 months, Bendigo bank released 25 client-centric enterprise applications on Appian. In addition, thanks to an innovation program the bank has 12 more Appian applications from different developers.
Almost each of these enterprise applications is considered by the bank as Tier 1, a critical process that affects the client. Appian manages ATMs, credit card management, fraud management, dispute management, loans, mortgages, trade services, and many more. On the other hand, Appian is considered by its userbase to be a rather odd choice while creating large and complex software due to the lack of branching and all the necessary functionality.
4. Custom solutions
Fully customised solutions. It's a unique enterprise software solution that fully implements the ideas, goals, needs, and requirements of the client. This makes it possible to create an IT-product that will become a competitive advantage. Moreover, custom software is the only way to implement a unique idea. Such software will belong to you completely, and the solution itself will contain only the necessary functionality.
Some may say that custom solutions are a luxury that will pay off after an indefinite period of time, but this is nothing more than a misconception. First of all, when you develop a custom solution, you do not pay for unnecessary functionality. And secondly, as our experience shows and corresponding researches confirm, every dollar invested in custom enterprise software solutions has an ROI rate between $4 and $9 during the first year of use.
Pros
allows to implement unique, atypical ideas;
full adaptability of enterprise software solution to business processes;
enterprise software solution is a law property of the customer;
no monthly fee for the enterprise software solution use;
ability to qualitatively scale and develop an enterprise software solution, customize it and add new functions when necessary;
maximum cyber-security of created IT-product;
security in the storage and handling of customer data.
Cons
price in the short term is higher;
implementation speed is lower than competitive solutions.
Example: Inkasso
Inkasso custom enterprise solution for employees of financial companies is a nice example of such software. It is designed to help keep records of banks and other institutions' debtors. The system allows them to maintain and manage different types of debtor data, track payments, send messages and create reports.
It can synchronize with banks, insurance organizations, and postal services and import data from xls or csv files. Though the time and cost of its implementation were comparatively big, it has proven that a custom enterprise system development was the right choice as currently it is used in several countries.
Final thoughts
Despite the difficulties of software development while speaking of enterprise solutions, everything will work out with proper expertise and a good team. Each of the above-mentioned types of enterprise software solutions is good for certain situations, but those who are going to get a really serious solid solution for business should consider developing custom software.
In today's economy, where there is a crazy competition, and well-established business processes are almost a prerequisite for success, it is imperative to stand out. For this purpose, the custom software is the best fit.
---
Interesting related article: "What is Software?"