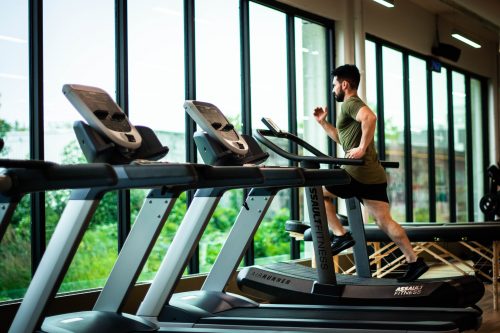 For the last decade or so, the humble treadmill has been one of the most popular forms of home exercise equipment.
It is simple, uncomplicated, and direct equipment that allows you to stay healthy, improve fitness and affordably burn calories.
Running, walking, or jogging on treadmills does not require you to get the help of a trainer that charges thousands per month. Using a treadmill is as DIY a home exercise set-up as it gets.
No matter how unhealthy and out-of-shape you are, you can always start using a treadmill right away. If you are looking to get in shape affordably and simply, you need a treadmill. If you don't have the budget to buy a new one, Abunda can help you with that.
In this resource article, we are going to look at the top 5 advantages of using a treadmill for regular exercises at home.
What is a Treadmill: Some Important Points you should know about?
A treadmill is a stationary cardio workout machine that consists of a moving strip and a motor. The strip moves as you walk, jog or run on it.
A treadmill comes in both manual forms as well as electronic-powered forms. Manual treadmills move according to the movement of the steps of an individual.
Electronic treadmills allow for adjustment of speed and move with the help of a motor. The motor's speed can be decided and the strip will move at that speed.
An individual then needs to work that extra hard to match up to the speed of the mat that is being run by the motor.
A treadmill is like an all-weather workout companion that allows you to work out no matter the kind of weather there is outside.
List of the Top 5 Advantages of using a Treadmill for Regular Exercises at Home
1. Allow for Gradual Progression in Workouts-
Whether you are just starting in the world of exercises or fitness, or are a champion marathon runner, a treadmill can serve your interests. You can migrate from slow walking to jogging to running on the same treadmill as you start developing stamina and endurance. This ensures that you do not have to change set-ups while adding a new tempo to the workouts.
2. Prevents Unwanted Injuries to Muscles, Bones, and Ligaments-
Most make the mistake of running on hard pavements, concrete roads, and other dangerous surfaces. To be honest, running on such surfaces with improper shoes can do you more harm than good. Running on a treadmill can help you avoid all these injuries. The mat is created to mimic the surface of mud that you would find in gardens and parks. This is the best for running.
3. Ensures Workout regardless of the Weather-
If you are living in a climactic zone that experiences extremes of weather, then you would know what we are talking about. 'It is snowing outside, can't run, or 'it is still raining' are common problems in many parts of the world. Using a treadmill ensures that you do not have to compromise on your workout or fitness for the day.
4. Helps you Stay in Complete Control over the Workout-
As we have already stated, when you are using the treadmill, you can keep pushing yourself. This means that you can control the speed. This can help you understand your level of progression. If you buy treadmills on sale in Singapore you also get access to so many other important pieces of data and information like distance run, calories burned, and so on.
5. Exercising becomes Fun and Engaging on Advanced Treadmills-
If you want to make your experience of using a treadmill to the next level, might we suggest investing in one that has a screen? There are several running simulations you can choose from that create a very engaging experience. You can also watch the news or catch your emails. Additionally, if you like to catch up on some reading, you can do that on the screen.
The Bottom Line
The humble treadmill has come a long way from the days it was first invented. Anyone that looks to set up a home gym needs to have a state-of-the-art treadmill in it. If you can add to the list of advantages of using treadmills for regular exercises at home, please do so in the comments section below.
---
Interesting Related Articles: "What You Need to Know About Coaching Runners"