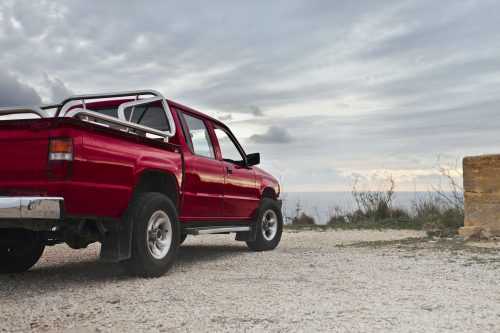 The Pick-Up truck might just be "The American Vehicle" if we ever dub one and it doesn't receive such high praise for no reason. The Pick-Up Truck audience in the United States is pretty much the most loyal clientele ever since over 80% of pick-up truck owners stick with their manufacturer throughout the years replacing their trucks with newer models. Such a cult-like following in the segment makes for good business and even better competition which is why all the domestic manufacturers offer such value on their pick-up offerings. The very idea of owning a Pick-Up does make a whole lot of sense since not only do modern pick-ups manage to be extremely capable on and off-road but also offer a supremely comfortable ride that is coupled with the latest and greatest tech which wraps up the entire ownership experience to be one of the best.
So which offerings from this cutthroat segment are the most loved by American consumers you ask? Well, let's dive in and find out!
The mighty Ford F-150 might just be the quintessential light-duty pick-up that everyone wants to lay their hands on, and it is all for the right reasons. The F-150 has managed to stake a reputation as a truly dependable workhorse that has been constantly evolving throughout its production cycle. The Ford manages to flex on all of its rivals a little too hard due to the fact that it has been outselling every other pick-up every year since 1981 by a significant margin. The 2021 Ford F-150 falls right into the footsteps of all of its predecessors and has plans to continue to dominate the segment like no other. Ford is also planning on releasing a pure EV variant of the upcoming F-150 which would be a huge leap in a new direction and since it is the segment leader, if the gamble pays off, it might become responsible for a huge industry shift.
2021 Ford F-150
MSRP: Starts at $28,940
NHTSA Safety Rating: 5 out of 5
Vehicles Per 10k: 250
Base Engine: 3.3L V6 (290 bhp and 265 lb-ft of torque)
Butting heads in most segments is a General Motors and Ford thing and the Pick-Up truck might just be where it all stems the strongest. The Chevrolet Silverado being the second-highest selling pick-up truck in the States clearly implies that the F-150 isn't just being handed the crown of victories without a fair fight. The 2021 Chevrolet Silverado 1500 is the most feature-rich pick-up truck that has ever rolled off of a Chevrolet production line and the consumers are gaga over everything that it has on offer. The Silverado somehow manages to be even more popular than its "luxury counterpart"- The GMC Sierra which is a true feat in itself.
2021 Chevrolet Silverado 1500
MSRP: Starts at $28,895
NHTSA Safety Rating: 4 out of 5
Vehicles Per 10k: 158
Base Engine: 4.3L V6 (285 bhp and 305 lb-ft of torque)
How could have Dodge stayed far behind GM and Ford when it comes to the light-duty space? The RAM 1500, therefore, goes head to head with the offerings from the other two automakers in a brutal race to be top scorer. The redesigned RAMs have managed to find a soft spot in our hearts as we do believe that as of right now, the RAM offers the best interiors as well as powertrain out of any of the pick-ups mentioned on this list. Dodge has meticulously worked out all of the kinks that would hinder the RAM from achieving success, and the way that its popularity is growing, it wouldn't be long before this third spot runner starts to but heads with the F-150. The 2021 RAM 1500 is also the only other truck on this list apart from the F-150 that scores a pristine 5 out of 5 stars in Safety which is a great bonus.
2021 RAM 1500
MSRP: Starts at $32,245
NHTSA Safety Rating: 5 out of 5
Vehicles Per 10k: 62
Base Engine: 3.6L Hybrid V6 (305 bhp and 269 lb-ft of torque+ Hybrid Propulsion Assist)
In a segment dominated by domestic brands, Toyota manages to stake a name for itself via the Toyota Tacoma which is one of the most reliable pick-up trucks on the market period. The Tacoma has long had a public image of being overengineered and supremely reliable which has lead to its mass appeal. If we were to choose a vehicle out of all the vehicles on the list that would be the least affected due to depreciation it would have to be the mighty Toyota. The engine choice lineup, as well as the power outputs on the 2021 Toyota Tacoma, are disappointing, to say the least on paper but due to their bulletproof nature, many prefer to keep the Taco as a sole work truck.
MSRP: Starts at $26,150
NHTSA Safety Rating: 4 out of 5
Vehicles Per 10k: 45
Base Engine: 2.7L Inline 4 NA (159 bhp and 180 lb-ft of torque)
Even though the Colorado is technically a different category pick-up when it comes to its size and overall accessibility and powertrain on offer, it still manages to punch above its weight class to be on this list. The Colorado is quite a modern rendition of their mid-size pick-up truck which gets a lot of attention due to its exterior alone which is worthy of applause. Not only does it feel more responsive and nimble on the road due to its relatively compact dimensions, but it also garners quite some buzz from the on-lookers. The inline 4 cylinder engine option on the base 2021 Chevrolet Colorado is somewhat of a miss as it has next to no oomph in our opinion, but if you just want a simple work truck that isn't like an elephant in an alleyway, the Colorado seems to be a popular choice.
2021 Chevrolet Colorado
MSRP: Starts at $27,100
NHTSA Safety Rating: 4 out of 5
Vehicles Per 10k: 18
Base Engine: 2.5L Inline 4 NA (200 bhp and 191 lb-ft of torque)
All of the mentioned trucks are the most loved pick-ups by American consumers and their latest avatars only make the competition even spicier! These trucks are a more or less common sight on our roads but since they have astronomical options that can be paired with a healthy selection of powertrains, customizing and building one to your taste isn't a tall order!
---
Interesting Related Article: " 10 Things to Consider When Buying a Pickup Truck"