To get a job done well, we all need the best tools that we can get our hands on. For new business owners, having the right tools and resources at hand is a prerequisite for a successful opening chapter.  
The crucial tools and resources needed can be broken down into 5 essential elements:
Organization;

Communication;

Email;

Design;

Analytics.
1. Organization: Asana
For startups, arguably the most crucial factor to have a handle on is organization. This popular project management and organization tool is an excellent choice. Being a startup, it's more than probable that you have a team of fewer than 15 people. In which case, you won't even have to think about touching your budget as you can benefit from Asana's base free plan. It's an ideal entry level. At zero costs for a small number of team members, with Asana's help, you will be able to nurture and grow your business in no time.

The free tier may lack some of the more complex features that Asana has tucked up its sleeve, but the ones that are available are nonetheless very useful for getting a firm grip on a fledgling business.

Top features include:
Task organization (including prioritization);

Project and task tracking;

Deadline reminders;

Project comment threads;

Resource planners;

Third-party application integration;

Available across multiple platforms (desktop and mobile).
The duties and responsibilities of each and every team member can be clearly delegated, as well as having the task deadlines set. The free plan has no limit on the number of tasks that can be created and dished out. For administrators, the progress of tasks and projects can be viewed with either the calendar view or a task list. Both are very tidily laid out and easy to understand and keep track of. 
Another plus is that Asana can be easily integrated with a wealth of other tools and resources, such as the various elements that comprise the suite of Google utilities, as well as Microsoft's Teams. At its core, Asana comes with a hub with which all manner of documents, images, and other files can all be stored, making it easy for all team members to access info and components when needed, even if you use business process outsourcing services

Though initially quite simple to use, it can get more complicated, however, bear with it and once you have become familiar with its UI, its full project management capabilities can be realized. For new managers of new startups, Asana is an excellent tool with which to begin the ascent of your company's project management and organization. 
Costs:
$0 Basic

: for small teams of under 15 members;

Premium $9.49

per user, monthly: for large teams and complex needs;

Business $20.99

per user, monthly: for multiple teams with multiple projects, is equipped with the most advanced Asana features. 
2. Communication: Slack 
Slack is a fun but work-oriented team messaging system designed to improve internal communication and file sharing. A quick glance may have you thinking it is a simple SMS app or a thinly-veiled version of Facebook's messenger, but there is a lot more going on in Slack than is immediately apparent.

Its popularity within small businesses is still soaring with close to a million companies now actively using it. Fun, efficient, and robust, with Slack, you can open multiple channels so element-specific users can remain in contact about a shared project. Therefore, design staff can communicate among themselves, marketing staff can brainstorm with each other, and so on. Private chats are also available.

Lightweight and easy to use, if necessary, it can also be integrated with other tools such as Google Drive, Trello, and other similar resources. For a startup, Slack provides a superb and fun medium for internal communication. 
Top features: 
Conversation management;

Improved communication between teams and team members;

Enhanced collaborations;

Voice and/or video calling;

File sharing.
Costs: After the free version comes the pro and business plan, which start at $6 and $12 respectively. An Enterprise plan is also available after a consultation. 
3. Social Media Management: SocialBee
SocialBee is a social media management tool for entrepreneurs, businesses, and agencies who are looking to enhance their social presence by putting their content on auto-pilot.
If you're looking for an easy-to-use and intuitive social media posting tool, SocialBee is for you. SocialBee allows you to add, organize and share content across Facebook, Twitter, LinkedIn, Instagram, Pinterest, Google My Business, and TikTok. 
With SocialBee, you can handle all your social media management needs from one place with ease and at an affordable price. Enjoy effortless posting to your socials, gain access to a rich list of features, and stay in touch with a highly responsive customer service team.
Top features: 
Set a posting schedule in a content calendar; 

Organize your posts into different categories and then automatically post them on all your socials at once;

Customize your posts for each social media platform; 

Reporting & analytics to analyze the performance of your accounts;

Recycle evergreen posts or expire time-sensitive content; 

Content curation through RSS Feeds;

Canva integration inside SocialBee's post editor; 

Real-time preview of your upcoming posts;

Use URL shorteners to track your links;

Have multiple workspaces and team collaboration features. 
Costs:
The pricing starts at $19 per month. This gives you unlimited scheduling & editing options, with the main benefit of saving at least 8 hours per week. 
If you are curious about the tool, SocialBee offers a free 14-day trial, no credit card required nor contracts, or commitments. SocialBee also has a 30-day money-back guarantee.
4. Email: MailChimp 
Every business needs an email solution, and the cheeky-looking cloud-based MailChimp is an ideal option for a startup.

MailChimp is a market leader and has been for a number of years. Enlisting MailChimp's help will grant you excellent, highly professional-looking bespoke emails with which you can really make your brand's uniqueness pop out. You will be able to design and build your own business emails, as well as schedule send-outs with the additional benefit of being able to track them.

Armed with some very impressive tools, MailChimp will also be able to provide reports while monitoring your email campaigns. These analytical abilities will tell you the open rates, click-through rates, and how many new subscribers you have. 
Top features:
Unbeatable free plan;

Abundant email templates with the option to import your own;

Can be integrated with third-party platforms and tools;

Excellent analytical capabilities;

MailChimp logo disappears after paid subscription (not all services do this).
With all the business email services on the market today, what makes MailChimp ideal for startups? The fact that it has an unbeatable free package, the likes of which you won't find anywhere else. If you have fewer than 2000 contacts on your mailing list, then MailChimp is completely free. If that isn't a huge helping hand for a new small company, then what is?

Costs:
Free plan:

(contacts list capped at 2000);

Essential:

$9.99 – $270 monthly;

Standard:

$14.99 – $540 monthly;

Premium:

$299 – $1,190 monthly.
5. Email: MarketingPlatform
One of the most efficient startup tools any business can benefit from is with MarketingPlatform. MarketingPlatform has developed an omnichannel marketing platform with an integrated customer data platform (CDP) giving customers a unified profile view. The luxury here is that by gathering all your channels in one place, customers can be reached at the right time, on the right platform and with the right message.
For any business to succeed, investing into the right personnel with the right tools & resources is a prerequisite. Without a solid foundation, climbing the ladder becomes a difficult and stressful task. That's why investing into a tool such as MarketingPlatform will not only assist you with several manual tasks, but it will also enable your business to grow and succeed.
Features include:
Email Marketing

SMS Marketing

Customer Data Platform

Omnichannel Marketing

Integrations
MarketingPlatform has built a reputable brand. In doing so they ensure delivery of your campaigns. Who doesn't want to avoid being marked as a spammer? They can also manage dynamic content, sending a campaign with different content for different segments. And the number of segments that can be added are endless. You decide how far to take your campaigns.
Leadscoring is integrated into MarketingPlatform, allowing every action to be registered and used. SMS is also fully integrated. MarketingPlatform also allows deep data integration enabling more in-depth flows.
To top it off, integrations can be done with countless web shops, POS (Point of Sale), CMS (Content Management System), ERP (Enterprise Resource Planning) & CRM (Customer Relationship Management) systems.
Subscriptions
Premium – Entry level with 14-day FREE trial.

Commerce – Premium plus purchase data from web-shop, artificial intelligence, custom templates.

Enterprise – Commerce plus custom fonts, dedicated support contact, extraction of tracking data via API (Application Programming Interface), customer data platform on all.
All subscriptions come with our features, social integrations, support, training, and data storage.
Artificial Intelligence feature is available with all subscriptions. There are 11 price categories to choose from to suit all subscribers.
SMS credits are available with all subscriptions. And credits do not expire.
6. Design: Canva
You'll want to make a mark with your startup and give your brand a boost as soon as possible – and Canva is just what you need to do it. This artistic tool has been built so that you can create eye-catching graphics and design attention-grabbing images with ease. As a master's degree in interaction design explains, it is imporant to challenge the status quo and produce well-rounded designs that can work across disciplinary, cultural and geographical boundaries

Exciting, innovative graphics, templates, and designs are a surefire way to make an immediate impression and (hopefully) stir up interest in your company and what it has to offer. Friendly to use with a gentle learning curve, it's ideal for those with no previous design experience or those who find Photoshop's learning curve to be too steep.
Your Canva creations can be used in a dizzying number of ways. For example, say you have settled on the final design for your brand logo. You will then be able to have your logo printed and used for virtually anything. You can use it on business cards, stickers, t-shirts, mugs, phone cases, flyers, hats – you name it. You can also create a logo animation to show off more of your brand's personality.

Top features: 
Custom design blueprints; 

Collaboration with other designers;

Rapid image creation for social media use;

Easy to understand and use.
A lot of fun to use, you could easily lose yourself while experimenting with it – you might even want to use a time-tracker while playing with it… Canva has been designed to help you with your own creations, and for a startup, there are few simpler resources out there to boost awareness of your brand. The creative possibilities are limitless. 
Costs: 
Free version available for non-profits;

Canva

free trial available

;

Canva Pro subscriptions start at

$12.99

per month (then

+$6.99

per month for each additional user).
7. Analytics: Google Analytics
Finally, analytics – and another cushion for your startup budget. Google Analytics is free. 
It's also incredibly powerful, as you would expect a Google product to be at this point. 
Google's analytical software is not to be underestimated: it can prove to be a massive and indispensable tool that you won't ever want your business to go without. 
With this tool in your box, you will be able to watch user sessions on your website. You'll learn what your website visitors look at the most, how long they look for, the time spent on your pages, the number of visitors to your website, where they came from, your bounce rates – you name it. No stone is left unturned and all the data will be available to you, so you can make adjustments accordingly and optimize your website. The fruits that Google analytics can harvest are bountiful and a massive benefit to any business, large, small, old – or new. 
Key features:
Filters ensure analysis of only genuine web traffic;

All website activity can be monitored;

Marketing campaigns can be tracked and altered for maximum results;

Detailed data reporting informs you of which demographics are responding – and in what numbers.



Costs: Free. 
8. Marketing Automation : Aritic
Aritic PinPoint is a unified marketing automation software platform for marketing operations teams at small and medium businesses. It helps you to build relationships with leads, automate marketing campaigns and convert leads to paying customers easily.
Aritic PinPoint integrates with CMS, like WordPress, Drupal, has bi-directional native CRM integration with Salesforce, SugarCRM, Dynamic CRM, Zoho CRM and social media platform integration with Facebook, Twitter, LinkedIn, Google Plus, Foursquare, Instagram.
Key Features:
Landing page builder

SEO tracking

Keywords tracking

Lead scoring

Lead tracking

Lead nurturing

Email campaign management

Email campaign automation

Push notification campaigns

Marketing campaign builder

A/B testing

Website tracking features with marketing assets management.
Costs: Free Version of Aritic PinPoint available.
Lite. Perfect for marketing automation beginners at $59; Starter. For growth-focused businesses at $219; Professional. Suitable for advanced marketing professionals at $249. Enterprise. For businesses with high-performance solution requirements. Contact Support.
9. Lead Generation : Aeroleads
10. Website Monetization: Setupad
Every website owner or content creator needs a way to support his online business. For example, you have this amazing blog about fishing that attracts 500K visitors each month. You might be asking yourself – how can I monetize it? 
The answer is simple – you can monetize it with ads, which ensures that people can still access your content for free. And this is where Setupad can help you.

Setupad is a monetization platform designed for online publishers who earn money by showing ads on their websites. They've got a suite of programmatic advertising solutions and a team of skilled experts who will guide you through a quick and simple implementation process. 
Setupad's solution can boost ad revenue by at least 30% compared to the popular Google AdSense. This is achieved thanks to the industry's most advanced technology–header bidding.
Top features:
Dedicated Account Manager and technical support;

Tips for choosing the best ad placement and ad formats for your website;

Advanced

header bidding wrapper

technology with 20+ premium demand partners, (including Google);

Ad blocker audience monetization;

Smart ad refresh;

Light tag-based solution to maintain ​​excellent website speed; 

Protection from malvertising and high-quality ads;

Advanced analytics dashboard with custom recommendations;

Free Google Chrome extension to monitor the bidding process and report unwanted ads;

Free website loading speed audit.
With all these amazing features, Setupad makes a great choice for both new and experienced publishers. If your website has at least 100K monthly visitors, you can sign up right now. Most importantly, you don't need any experience with programmatic ads. Setupad's team will take care of everything while you can work on creating great content.
Costs:
Setupad's solution is risk-free. They earn money by taking a revenue share commission. You'll receive your first payment 60 days after the first month has finished. If the minimum threshold of €100 isn't reached, earnings will be added to the next month until they exceed €100 and are paid out.
11. Social content marketing: ViralSpy 
Marketing for social media has become an inseparable part of any marketing strategy. Regularly posting on Facebook, Instagram, LinkedIn, TikTok, etc- is not only a way to share important information with your clients. But also an excellent way to get new customers. However, you need to know what to post. 
You can find business post ideas by spying on the content of the most successful companies in your niche. To do it manually can be exhausting. That's why many people use the help of software like ViralSpy. 
Viralspy is a research software for social media marketing that gives you content ideas and insights into what is the most engaging and trending. Creators use it to find data-driven content ideas and curators use it to find viral content to repost. 
It automates the process of finding what well-performed content to post. It does it by analyzing your niche competitors, their reels, hashtags, accounts, likes, comments on their posts, etc.
Key features: 
Analyze your competitor's best content on

Instagram

. You can sort the content by engagement rate and filter it by content type.

Create custom reports about the content you found. 

Download the best-performing content you found or reshare it on your account. 

Hashtags research to find accounts in the necessary niche or relevant content to analyze. 

Possibility to analyze Instagram reels to get more ideas or repost.
Costs: You can check it with Free 7 days Trial. Paid plans start at 9.99$/month. You can subscribe to a  monthly or yearly package. They offer a 72-hours refund policy on your first payment. You can cancel the renewal of your account at any time.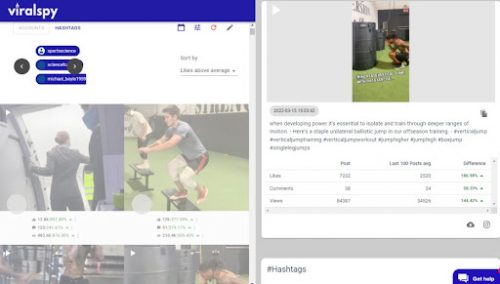 Conclusion
Doing business is never going to be easy and getting a new startup up and running smoothly and successfully is arguably one of the hardest parts. To make things easier, however, and to improve your startup's beginnings in general, you should try and use the tools and resources listed here.
---
Interesting Related Article: "The phenomenon of viral marketing or buzz marketing"