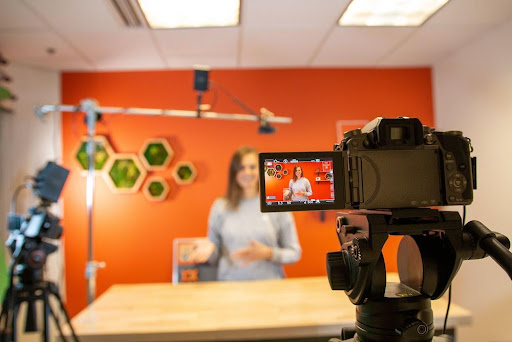 Whether you are creating educational content or product reviews, you may want to consider video content as part of your digital marketing strategy. According to data collected in the first quarter of 2022 by Statistica, the popularity of streaming video services showed online videos recording an audience reach of approximately 93% among internet users globally.[1] A video marketing survey found Youtube (90% respondents) to be the most popular, following Facebook (86% respondents) and TikTok (35%respondents).[2] 
Overview of key trends in 2023
TikTok

Instagram Reels

Live Streaming

Interactive Video

Clickable elements

Branching narratives

Video SEO optimization

Keyword-rich titles and descriptions

Video transcripts and captions

Virtual reality

360-degree videos 
Platforms
Benefits
Increased user engagement
While some lack of engagement may be due to social media algorithms, using Instagram reels and Tik Tok generally only has benefits. It's no secret that Tik Tok & Instagram reels is a great way to build a brand's online presence. And one of the best ways to do this is by using a strong hook, vertical formats, reshares, and getting discovered on the explore page, asking and responding questions to followers. By using daily reels with trending music, your brand is able to reach a broader audience, and more shares at no cost. The more comments and engagements the more rapport you build with your audiences. 
To increases user engagements:
Use vertical video

10-30 second videos

User-generated content (UGC): feature your audience in your social media,increase engagements to your brand by posting in their stories, Tik Tok accounts and Instagram

Use trending sounds 

Use hashtags to be found on explore pages 
Viral potential
If you think a sales pitch will win over your audience in 2023, you may want to rethink your strategy. Creating Instagram reels sets up an engagement boost and follower growth. Even if you are a small business starting out or a micro-influencer, you have the potential to become viral on social media. Businesses should consider the following elements for the potential to go viral. 
Elements to go viral: 
Connection:

Anything that evokes emotions relatable, such as a current event, laughing, fear, happiness, motivating, etc. Users become heavily invested, imprinting a memory. 

Relatable:

Creating a reel that relates to everyday life such as career, everyday struggles, life moments, milestones. Anything people can relate to. 

Inspirational:

There's no point of posting videos or pictures without a story. Storytelling can be anything from a journey or transformation. 

Educational:

Providing value. 

Expected the Unexpected:

Videos with a shock element outside of the norm tend to go viral receiving lots of replays engagements. 
2. Live Streaming
Platforms
Facebook Live

YouTube Live
Advantages
Real-time interaction with audience
While Youtube mobile live streaming generally requires 1000 subscribers, Facebook allows any user to live stream. Real-time interactions with audiences are cost-effective, and allow you to engage and have an actual conversation with your viewers.. Sometimes it is nice to see who the faces are behind the brand. This allows brands and users to exchange ideas, and allows users to feel more valued and part of the brand.  Additionally you can Interact during Q&A's and live chat to help grow your engagement. 
Authentic and unedited content
Sometimes you just cannot beat being "in the moment" interactions. Facebook live-streaming and Youtube live-streaming provides real-live data, viewer numbers, behaviors, and engagement. There's nothing more authentic and raw than when mistakes happen during a live stream. This provides brands with instant feedback; you can talk to your viewers no matter where they are. The ability to mention their name and have them react provides a genuine personal touch and builds audience trust. Besides, not everybody can attend the event. Live streaming is an opportunity for authentic engagement. The streams can later be used for promotions and posts. 
Interactive Video
Features
Clickable elements
Branching narratives
Benefits
Higher user engagement
Ever heard of the passive listener? In the video marketing world, there is a term for that as well; passive viewer. This is a consumer who is not paying attention to the video or might be multitasking. The interactive video introduces new elements: such as branching narratives and clickable elements. These may help in reducing distractions. Branching narratives personalizes the video experience by allowing viewers to choose and provide feedback. Clickable elements were created, such as taking quizzes, clicking buttons, and moving to the next page. Users are more engaged, rather than just skimming through text. The consumer doesn't have the opportunity to zone out. 
Increased conversion rates
Receiving a lot of impressions is great, but your video content needs to be converted to paying customers. Traditional methods might get the customer to view the text, read them, type in the website on the browser, and look for the product. Rather than doing all the work, consumers can take advantage of an easy, all-encompassing experience by clicking buttons on the videos. Announcements such as sales or testimonials have the call to action at a click. If your audience isn't engaged, they are unlikely to convert. 
Increase conversion rates by:
Asking Q&A polls during videos provides interaction & feedback

Adding buttons to products and links to increase sales during videos

Adjusting videos based on interaction & real-time analytics 
Video SEO Optimization
Importance
Improve search visibility

Drive organic traffic
Best practices
Keyword-rich titles and descriptions
Just like any search engine, the goal is to answer the searcher's specific query. Creating video content rich with keyword-rich titles and descriptions helps your brand rank on search engines. Inserting keywords and tagging popular relevant keywords allows viewers to know what your content is about. You're just not giving information to viewers; search engines use keyword tags to understand your content and associate your video with similar videos. 
Video transcripts and captions
If you think captions can't be read by search engines, think again. Today, companies aren't just looking at equality but equitability. That is, being fair and giving access to all. Video transcripts and captions provide accessibility for deaf or hard-of-hearing viewers. Approximately 48 million Americans have hearing loss. Video transcripts and captions allow more people to consume and have access to your brand. 
360-degree and Virtual Reality Videos
Overview
Immersive video experiences

Enhanced storytelling
Virtual tours
Have you ever wanted to see a hotel room before purchasing? Then you are in luck. 
A 360-degree provides the experience of viewing a location without traveling and is composed of a series of 2D images or videos from many different angles. Which are then "stitched" together, giving them a 360-degree effect. On the other hand, a virtual reality (VR) tour is computer generated and an interactive three-dimensional copy of its environment and objects. Virtual reality tours provide you with the ability to move around and interact. 
Both 360-degree and virtual reality tours are excellent tools for meaningful storytelling because they take the prospective customer to the experience you want them to have. These two video marketing tools provide a personalized connection, helping your brand become memorable.  Whether your brand is using a virtual tour to show students a university tour or viewing seats for a concert, using virtual tours has many benefits. VR is a unique experience because it entices individuals to feel like they are physically at the location. Your brand will definitely stand out from the competition by using VR. 
Key differences between Virtual Reality and 360-Degree
VR
Interactive scene 

Computer produced; spatially constructed 

Access is through wearing headsets 

Active engagement 

The user controls movement & location 
360-Degree
Immersive video 

The camera captures the environment 

Access is on mobile, web, or wearables 

Passive engagement 

Movement & location is limited 
Product demonstrations
With increases in online shopping worldwide, businesses need to level up their e-commerce. Traditional video marketing methods lack the interactivity for a lasting impression. On the other hand, physically bringing a product to prospective clients can be time-consuming. Immersive video experiences are emerging as the next-generation product demonstration tool. A 360 product view may improve your sales rate, customer experience, or user engagement. It visually demonstrates your product, inviting the audience to engage. Rather than reading about a product, a consumer may interact with the functions by clicking and rotating the product. Additionally, brands can post product videos on multiple social media. This may help increase conversions. 
Conclusion 
Times are tough in 2023, and gaining new customers is as important as maintaining existing customers. Both agencies and experts know this. Video marketing trends such as using Tik Tok, Instagram reels, Youtube live-streaming, Facebook live-streaming, interactive videos, video SEO optimization,  360-degree, and virtual reality videos have more pros than cons. Experimenting with new video formats and platforms has benefits such as: providing you with a diverse audience, wider reach, customer loyalty, and the opportunity to connect with fans. 
References
[1] https://www.statista.com/statistics/1254810/top-video-content-type-by-global-reach/#:~:text=During%20the%20third%20quarter%20of,educational%20content%20to%20product%20reviews.
[2]https://www.statista.com/statistics/1101966/video-platforms-marketing-worldwide/